Eva Longoria Shares Her Favorite Makeup On IG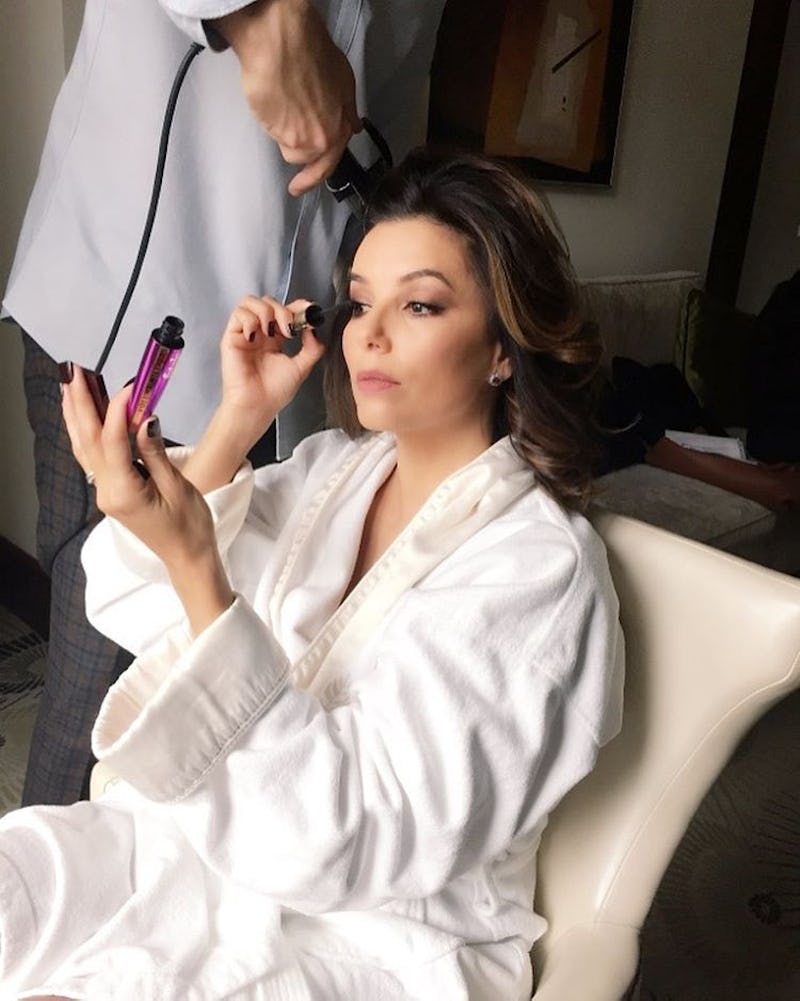 We've certainly become familiar with celebrities sharing their personal lives on social media. Like many of the celebrities and social media stars before her, Eva Longoria just joined those sharing their beauty routines on Instagram stories or Snapchat. From Kim K and Kylie Jenner's daily makeup looks, to actresses Bella Thorne's eyebrow microblading and Lea Michele's waxing ventures, it seems like celebrities are opening up about their go-to products and methods. But really, who doesn't want to know the tips and tricks of our favorite Desperate Housewife?
The actress and activist, in 10-second increments, shared her step-by-step makeup routine from her fresh-faced beauty to the finished product. All along the way, she took us through each product she was using and even added in the ones she has yet to try. Using L'Oréal products (Longoria's one of their brand ambassadors), she not only pulls off shimmery pink smoky eye, but also nails the perfect cat-eye like a queen. You know I was taking notes down throughout the entire progression.
Want to get your hands on some of Longoria's favorites she used and try them yourself? Look no further — I've rounded up a few of the products she mentions in her tutorial so you too can swipe on that eyeliner like the star.
Even Longoria is a fan of the beautyblender!
beautyblender Original, $20, Amazon
Look at that focus.
L'Oreal Colour Riche La Palette In Nude Intense, $15, Amazon
How gorgeous is her final look!? Here are some of the products she loves, according to her Instagram.
L'Oréal Infallible Pro-Matte Foundation, $11,Amazon
Longoria cannot stop gushing about how much she loves this foundation. It must be good!
2. Eyeshadow
L'Oréal Infallible 24 Hr Eye Shadow, $7,Amazon
Though she also used the La Palette Nude Intense, the star of this tutorial was the perfectly shimmery shadow the brought her pink smokey eye to life.
L'Oréal Voluminous Superstar Liner, $7,Amazon
The actress achieves the perfect wing when working with an eyeliner pen that has a felt tip. Her advice: "Be aggressive with your felt tips because it's like a sharpie, so you just fill it in. Just draw the shape you want; then, go back and fill it in later," she explains.
Can Eva Longoria just do my makeup everyday? Be sure to check out the full tutorial on her Instagram story before the video expires!
Images: Eva Longoria/Instagram; Courtesy of brands