7 Things We Loved Most About 'Aladdin'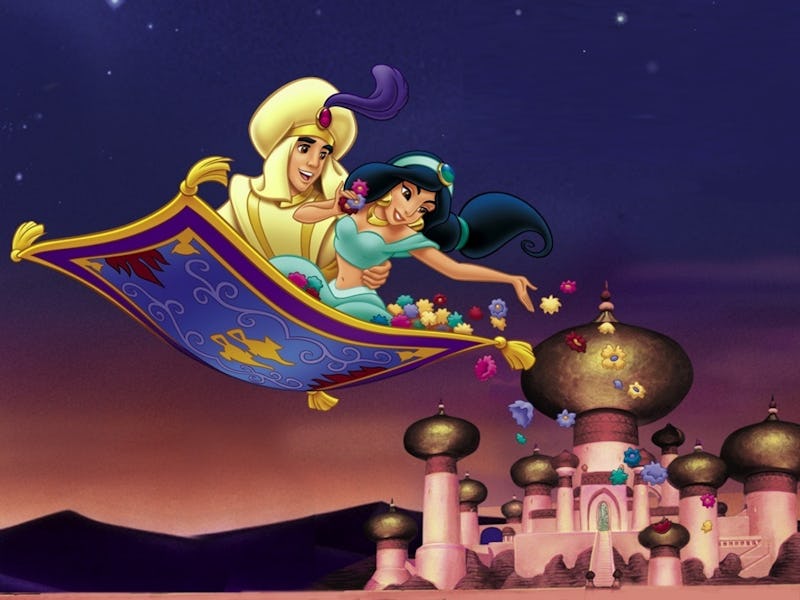 Apparently, the Broadway version of Aladdin isn't the most magical thing ever. Be still, our breaking hearts. What has come of our favorite vest-wearing-sans-shirt, breadline-jumping animated heartthrob? A round-up of reviews ultimately are mixed and lukewarm, which befuddles Disney fans who grew up wishing Aladdin asked them if they trusted him. (We did.)
While reviews said that the stage magic is undeniable, thanks to director Casey Nicholaw's adeptness when it comes to conjuring up theatrical trickery and stage magic (particularly with the show-stopping "Friend Like Me," and famous magic carpet sequence — yes, it flies!), and that the show will surely be a success thanks to its mouse-eared namesake, they say it fails to match the imagination of the Broadway adaptation of The Lion King, and that for all its majesty and million-dollar-sets, the animated film still reigns supreme.
Well, duh. There's something so '90s and magical about hand-drawn animated musical films that you just cannot capture on the stage. Sure, your favorite characters come to life, but in Disney's modern golden age (the era that's responsible for The Little Mermaid, Beauty & The Beast, Aladdin, and The Lion King) the real magic was drawn by hand.
Here are seven things we loved most about the original animated film.
1. We Had A Real Animated Heartthrob Who Wasn't A Stereotypical Prince Charming
Prince Ali, magical he, Ali Ababua, was in fact, a hoax. We were rooting for a street rat,a riff raff — with chiseled pecs, may we add.
2. We Had A Princess We Could Really Get Behind
Jasmine didn't just fall for any BS; she was no "prize to be won." Plus, she had a pet tiger. What a BAMF!
3. Peabo Bryson's Overwrought "A Whole New World" At The Closing Credits
This overwrought, syrupy R&B slow jam featuring Peabo Bryson (who's also responsible for the similarly over-the-top Beauty & The Beast duet with Celine Dion) and Regina Belle takes the song to weird levels of euphemisms ("don't you dare close your eyes!") is an odd guilty pleasure of a pop culture confection — nostalgia at its finest.
4. But The Original One Was Still Absolutely Magical
Sure, the lyrics are a tad saccharine, but it lights up the heart in a way that no other Disney almost-in-love song can. Don't lie — you wanted a magic carpet ride, too.
5. Steve From Full House Was Aladdin!
It's animated magic and television sitcom in quite a fine mash-up, as actor Scott Weinger was the voice of our hero. Here's a behind-the-scenes video about the voice actors who are immortalized in this classic film.
6. Robin Williams's Voiceover Performance As The Genie
Need I say more? His wild, off-the-charts performance as the shapeshifting magical being is eponymous with the movie.
7. This Moment On The Balcony
In a balcony scene that earns a seat on the Balcony Scene Throne alongside the scene in Romeo and Juliet, this moment captured hearts — and it still does. Yes, we trust you, Aladdin-slash-Prince-Ali-slash-Steve-slash-Scott-Weinger-slash-animated hero.
Image: Disney