32 Weird But Genius Things Trending On Amazon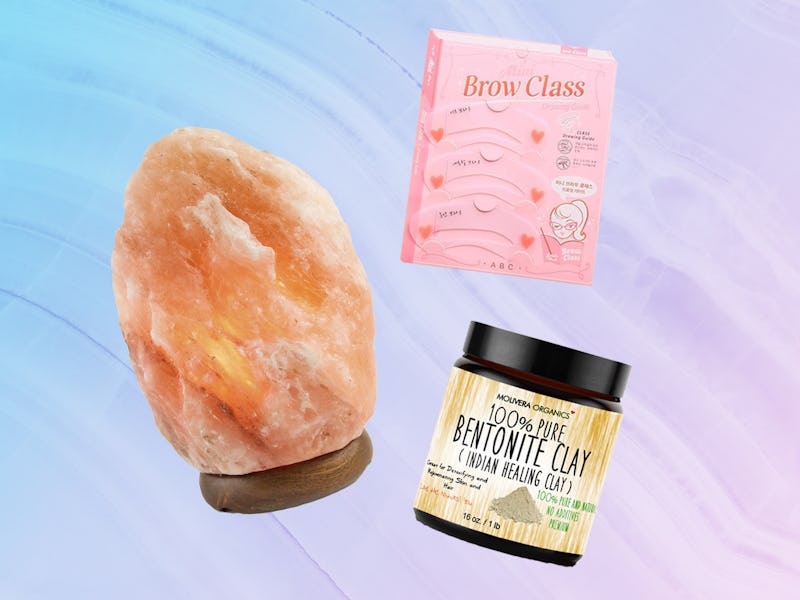 In August of this past summer, I wrote an article called "Weird But Genius Things People Are Buying On Amazon Right Now." The consensus? People's shopping patterns are a little bizarre, but I'm all about it because there's definitely a method to all that madness. It turns out that some trending items on Amazon (while admittedly pretty damn odd and random) have a relatively high usefulness factor once you lower your eyebrow long enough to read through all of the great reviews. These are the types of things that you had no idea you needed until you saw it advertised on the head of a stock image cat, and yes, I'm talking about this Lion Mane cat costume.
Nonetheless, I decided to do the whole thing all over again, as the Amazon Movers And Shakers page is always updating and changing. It showcases the products and items that have had a huge increase in sales over the past few days, and as a result, it's a great way to keep up with the products that are trending right now. Some of them are seasonal and some of them are always worth your time, but either way, check out these weird but awesome things that people have been buying lately.
1. Try Purifying Your Air With A Wad Of Salt
HemingWeigh Natural Himalayan Rock Salt Lamp, $30, Amazon
Perpetually trending, this gorgeous Himalayan salt lamp heats up negative ions in the rock that help to purify the air, and it makes an awesome desk lamp.
2. This Method Smells Way Less Than Garbage
Premium Quality Stainless Steel Compost Bin , $18, Amazon
Turn your trash into compost with this stainless steel compost bin, which is made with easy-to-clean stainless steel and charcoal filters to trap all the odors.
3. Like An Art Project For Your Brows
Aesthetica Cosmetics Brow Contour Kit, $24, Amazon
Like a kindergarten art project for your forehead, this 15-piece brow contouring kit helps you get even and professional-looking eyebrows that suit your face.
4. Turn Your Room Into An Oasis
Aromatherapy Essential Oil Diffuser , $36, Amazon
This adorable aromatherapy essential oil diffuser changes colors, works as a humidifier, and dispels your favorite smells to make your bedroom an oasis.
5. Enhance Your Mood Or Do DIY Beauty Projects
Top 6 Essential Oils , $18, Amazon
And for enhancing your mood alongside your diffuser or for DIY beauty projects, there's this 'Top 6' essential oils, which has six different high quality oils for everything from relaxation to immunity boost.
6. Grow Those Lashes To Kim K. Status
Eyelash Growth Serum , $19, Amazon
This eyelash growth serum uses Swiss apple stem cells to help your lashes and brows grow in fuller, faster, and with way more oomph.
7. Deodorize Your Underarms With Charcoal
PiperWai Natural Deodorant , $16, Amazon
This PiperWai natural deodorant absorbs odors and wetness naturally using activated charcoal, and people love how fresh it leaves them smelling.
8. Air Dry Your Clothes Anywhere Using Electricity
Signstek Portable Electric Air Drying Clothing Machine , $45, Amazon
Whether you're an avid camper or just lack a dryer, this portable pop-up electric clothes dryer uses two customizable settings to quickly air dry your clothes, which you can hang on the interior rod at the top of the nifty appliance.
9. This Total Body Pillow For Pregnant People (And Everyone Else)
Leachco Snoogle Total Body Pillow , $45, Amazon
Cuddle your body from every angle with this 'Leachco Snoogle' total body pillow. It's ridiculously soft, supportive, and ideal for side sleepers, TV watchers, and yes, pregnant people.
10. Turn Your Phone Into A High Quality Camera
CamKix Deluxe Universal Camera Lens Kit , $23, Amazon
The CamKix Deluxe universal camera lens kit comes with five great quality clip-on lenses and a carrying bag to turn any smart phone into an awesome camera.
11. You're Pretty Much Ariel Now
Mermaid Tail Blanket , $26, Amazon
Turn yourself into a majestic sea creature with this crocheted mermaid tail blanket, which comes in a whole bunch of colors and keeps you feeling warm, instead of confined.
12. These Epic Flashing Gloves, Because Why Not?
LED Colorful Flashing Finger Lighting Gloves , $19, Amazon
Whether you're cosplaying, raving, or shoveling the driveway, these LED flashing finger lighting gloves are really vibrant and a ton of fun.
13. Keep Your Air Fresh With Tea Tree
Tea Tree Air Purifier , $15, Amazon
Set out this Tea Tree air purifier on a flat surface and use the natural airborne antifungal properties of tea tree to rid your house of mold, mildew, and smells.
14. Never Deal With Calloused Feet Again
Heeltastic Intensive Heel Therapy , $10, Amazon
This Heeltastic intensive heel therapy has antifungal and antibacterial oils that deeply hydrate the bottoms of your feet, so calluses are simply no longer an issue.
15. Because You Need The Coolest Jack-O-Lantern On The Block
Pumpkin Carving Tools , $9, Amazon
Halloween's coming up real soon, and if you're not carving your pumpkins with this 21-piece pumpkin carving tools set, you're seriously missing out.
16. No Spills, No Matter What
Contigo Autoseal Travel Mug , $20, Amazon
This epic Contigo autoseal travel mug actually has a vacuum inside that seals itself when you're not drinking, so it absolutely will not spill, no matter what.
17. Your Cat Just Got Even Cooler
Lion Mane Cat Costume , $13, Amazon
Because nothing's cuter than this lion mane cat costume, and the Velcro adjustment strap allows you to comfortably fit any pet up to 15 pounds.
18. Fix All Sorts Of Skin Concerns With Clay
Molivera Organics Bentonite Clay , $12, Amazon
This Molivera Organics bentonite clay is incredibly effective for all sorts of skin concerns, like shrinking pores, and clearing up breakouts.
19. Mount Any Phone Or Device Anywhere
IPOW Desktop Cell Phone Mount , $11, Amazon
Move the hooks around on this IPOW desktop cellphone mount to fit any phone or device — ideal for watching movies or navigating in your car.
20. This Trending Emergency Solar Hand Crank
iRonsnow Dynamo Emergency Solar Hand Crank , $20, Amazon
This iRonsnow emergency solar hand crank is amazing for emergencies, as the hand crank and solar charger power the radio, LED light, and smartphone charger.
21. Make Your Dishwasher Look Like It's Stainless Steel
Appliance Art Instant Stainless Magnet Dishwasher Cover, $46, Amazon
This magnet covers any size dishwasher (you can customize the size to fit yours perfectly) to make it look way fancier than it actually is.
22. Build Your Personal Business
Square Credit Card Reader , $5, Amazon
Awesome for things like small businesses and freelancing, this credit card reader turns your smart phone or device into a credit card scanner, so you can accept all different forms of payment.
23. The Type Of Desk Lamp Iron Man Would Have
Avvio Touch Desk Lamp , $34, Amazon
This epic Avvio touch desk lamp is touch activated with a flexible neck, time display, LED energy bulb, and a USB connection for your laptop.
24. Razor Burn? This Classic Formula's A Classic For A Reason
Tend Skin Care Solution, $13, Amazon
Ten Skin may be a classic, but it's still climbing the beauty charts of Amazon's 'Movers & Shakers' list. The formula works to decrease ingrown hairs after shaving and waxing, so if that's a common annoyance for you, check this stuff out.
25. Never Again Wonder If The Dishes Are Clean
De Dazzle Dishwasher Magnet , $12, Amazon
Never again wonder if the dishwasher is clean or dirty with this De Dazzle dishwasher magnet. It's rust-free, leaves no marks, and definitely beats Post-It notes.
26. For The Dog That Destroys Literally Everything Else
KONG Rubber Ball Extreme , $6, Amazon
The KONG Rubber Ball Extreme is super bouncy, puncture-resistant, and holds up with even the strongest, biggest dogs.
27. No Mat Required With These Non-Slip Socks
Non Skid Yoga Pilates Socks (M-L) , $13, Amazon
Forget the mat. These non skid yoga pilates socks are engineered with non-slip pads on the heels and toes for added stability and balance.
28. Add This Chatpad To Your X-Box Controller
Ortz Xbox One Chatpad Keyboard , $25, Amazon
This Ortz Xbox One chatpad keyboard attaches right onto your controller so you can wirelessly chat on your favorite games – ideal for MMOs and RPGs.
29. Seriously Reduce Your Toilet Paper Use
Bidet Toilet Seat Attachment , $26, Amazon
Wash your butt like a European with this bidet toilet seat attachment, which uses fresh water to wash your behind for the freshest toilet experience ever.
30. Your Top Life Goal: This Adult Animal Onesie
WOTOGOLD Adult Animal Onesie (S-XL) , $38, Amazon
Whether it's for Halloween purposes or just to combat those cold weather months, these WOTOGOLD adult animal onesies are selling like hotcakes. You've also got 39 different options, from dragon to penguin.
31. A Swinging Hammock For Backyard Naps
Best Choice Products Hanging Chaise Lounger , $159, Amazon
This swinging chair with a built-in canopy is climbing up the trending charts. Whether you're in need of an outdoor nap space or just love futuristic-looking lounge areas, this chair could totally ramp up your backyard decor.
32. A Backseat Organizer To Keep Your Car (Or Stroller) Neat
RoadPal Backseat Organizer, $22, Amazon
Whether your wheels are a stroller or a car these days, this organizer is the perfect resource for keeping things tidy. It even comes with a bonus kick mat backseat protector to keep your car's interior's looking clean.
Design: Brit Phillips; Images: Amazon (32)
Bustle may receive a portion of sales from products purchased from this article, which was created independently from Bustle's editorial and sales departments.