Tarte's Kiss Bliss Lip Set Has Brand New Shades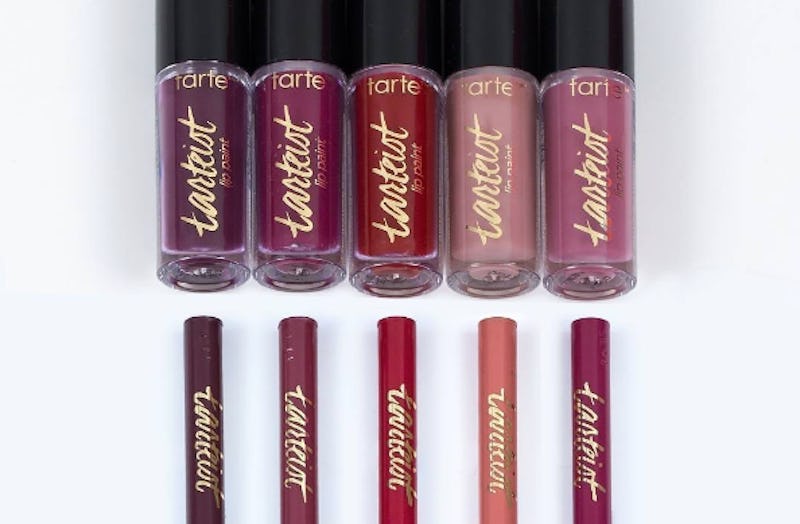 If you thought Tarte was finished rolling out brand new holiday makeup creations, then think again. The company has created tons of different lip, eye, and face collections, and they're not stopping anytime soon. Up next is a brand new lip contouring kit that is perfect for any lipstick lover. What's in Tarte's Kiss Bliss Lip Set? It has tons of brand new, limited-edition, and bestselling shades that you're going to want to add to your makeup bag as soon as possible.
As if their Kissing Squad Quad and Limitless Lippies sets weren't already enough, Tarte is here with yet another lip collection for the holiday. What makes this one different, you ask? Well, this one is for a particular lip trend — contouring. With the company's five different Tarteist Lip Crayons and Tarteist Creamy Matte Lip Paints, you can now get the perfectly curated lipstick look. That's ten products, people! Each shade of liner has a corresponding matte lipstick, so you can get the best pout possible.
The crayon will line and prime your lips while the matte lipstick will finish off the look. Plus there's a collection of bestselling, new, and limited edition shades. Basically, it's a one of a kind color selection that you won't be able to purchase anywhere other than this kit. I'd say it's definitely worth the buy.
Kiss Bliss Tarteist Creamy Matte Lip Paint & Crayon Set, $42, Amazon
If you're excited as I am to get your hands on this, you'll be happy to know that you can shop the set exclusively on Sephora right now. The collection of deluxe items will cost you $46. Considering it has a $70 value and never before seen lip colors, you really can't go wrong. Of course, like all good things, this set will eventually come to an end. It's limited-edition and there's no telling if Tarte will ever sell these colors again.
Kiss Bliss Tarteist Creamy Matte Lip Paint & Crayon Set, $42, Amazon
The only permanent colors in this selection are Thirsty, Bae, and Fomo. The other seven shades are all brand new to the set. Not to mention their formula is vegan-friendly and made without parabens as well. What more could you possibly ask for?
I don't know about you, but I'll definitely be adding this to my holiday wish-list. That is, along with the rest of Tarte's awesome holiday collection that never seems to stop growing.
Images: TarteCosmetics/Instagram (1), Sephora (2)