MAC's Latest Collab Takes Inspo From A Photog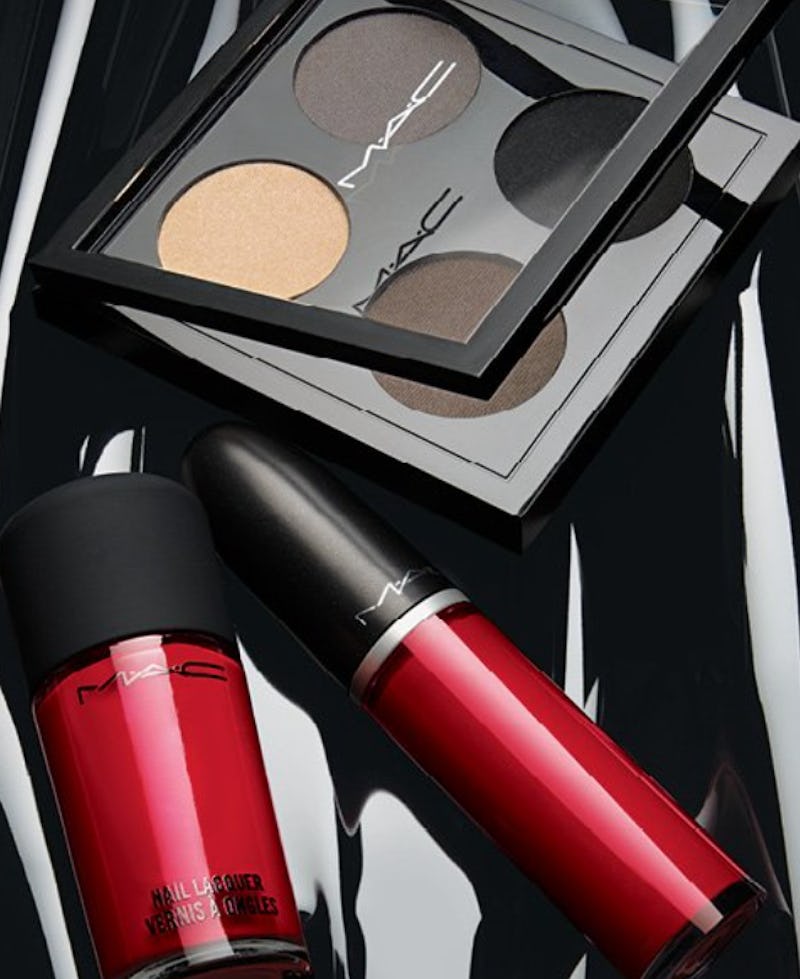 MAC's Selena collection is all the rage right now, understandably so. The MAC x Selena range, inspired by the late Latin singer's beauty and look, is sold out online, as fans anxiously await a restock. But MAC is known for having multiple co-existing collabs. The MAC x Helmut Newton collection is a limited edition range taking inspo from the famed fashion photographer's work. It's markedly different, in both imaging and packaging, than MAC x Selena. But both collections proudly and overtly display their source of inspo.
The MAC x Newton collection color story focuses on rouge-stained lips and retro red nails, along with dark, sultry, and smoldering eyes. So, when is the MAC x Helmut Newton collection available to shop?
MAC x Helmut Newton, which boasts iconic Newton photos on the bespoke packaging, drops online on Oct. 27. It's available in stores and on counters from Nov. 3 through Dec. 15. Therefore, you will have around six weeks to scoop it up.
If you are unfamiliar with his name or his work, let's amend that. Newton was a provocative snapper who worked in the '50s, '60s, and '70s. He shot regularly for Vogue and Vanity Fair and was known for his erotically charged yet elegant images and precise, glamorous, and empowering photography featuring women. That's why MAC is celebrating him with a collection, according to the press materials.
Those are classic eyeshadows right there. You cannot go wrong by mix and matching these hues for smoky, seductive eyes.
Red lips sink ships!
It's like a bottle of wine... in a lip gloss tube.
Red's cool!
Nothing says "Old Hollywood glam" like garnet-painted lips.
Nailed it!
Nailed it... with contrast!
This collection gives you the option to go matchy matchy with your lips and tips aka your mouth and your mani.
Another classic — liquid black liner! The cat-eye flick can be so vintage and throwback-y but in all of the right ways.
You can finish off your peepers with thick coat of mascara for eye emphasis.
MAC x Helmut Newton makeup is sexy AF. Those rich reds lippies evoke Old Hollywood screen sirens and the crimson-hued nail polishes are temptress-like on another level.
MAC x Newton is not trendy with its hues or its textures, finishes, or offerings. This makeup is from another, long-gone, much-missed era.
Some style is eternal. MAC x Helmut Newton is classic and classy.
Images: Courtesy of MAC Cosmetics (13)