What If Edward Gorey Wrote 'Game of Thrones'?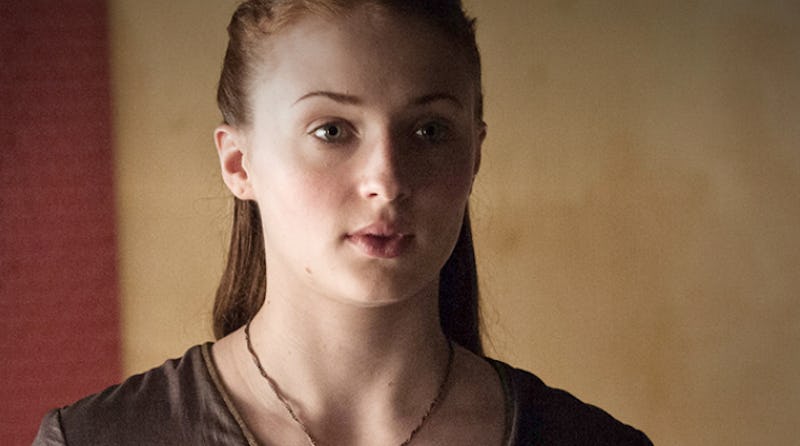 It's a dark time for Sansa Stark. As we gear up for the Season 4 debut of Game of Thrones on April 6, many fans are still mulling over the heads (and appendages) lost during the first three seasons. The Stark family, most noticeably, faced some truths that matched their name, and the family tree has been shorn of more than one branch at this point. So, while Winterfell smolders during the opening sequence, we should all offer a moment of silence for the losses in Sansa's history.
And who better to tell a story of death and loss than the inimitable Edward Gorey? This illustrator and author wrote an alphabet book in 1963 detailing the numerous ways that children could wander to their untimely deaths. From "A is for Amy who fell down the stairs" all the way to "Z is for Zillah who drank too much gin," The Gashlycrumb Tinies was a piece of morbid humor ahead of its time. Think of it as a precursor to the hit song and game, "Dumb Ways to Die" (I will never live down the shock of hearing eleven-year-old campers sing "use your private parts as piranha bait"). Yes, Gorey's style is perfect for a tribute to the deceased members of the Stark family, as well as those who are still living.
So, and without further ado, here are the Game of Thrones Tinies.
A is for Arya, on the run with a Hound.
B is for Bran, who encountered the ground.
C is for Catelyn, slain by a Frey.
J is for Jon, his love he'd betray.
(R is for Rickon, most useless, we'd say.)
N is for Ned, a Hand with no head.
R is for Robb, at a wedding quite red.
A comprehensive Game of Thrones Tinies would, of course, be much longer. Our challenge to you, dear reader or watcher, is to catalog the deaths (and ongoing lives, such as they are) of other houses so that they, too, can be included. Winter is coming, and so are the demises of many more characters. With Gorey as a creative influence, however, we can ensure that they live on in black and white.
Images: HBO