ColourPop Opal Highlights Are Packed With Pigment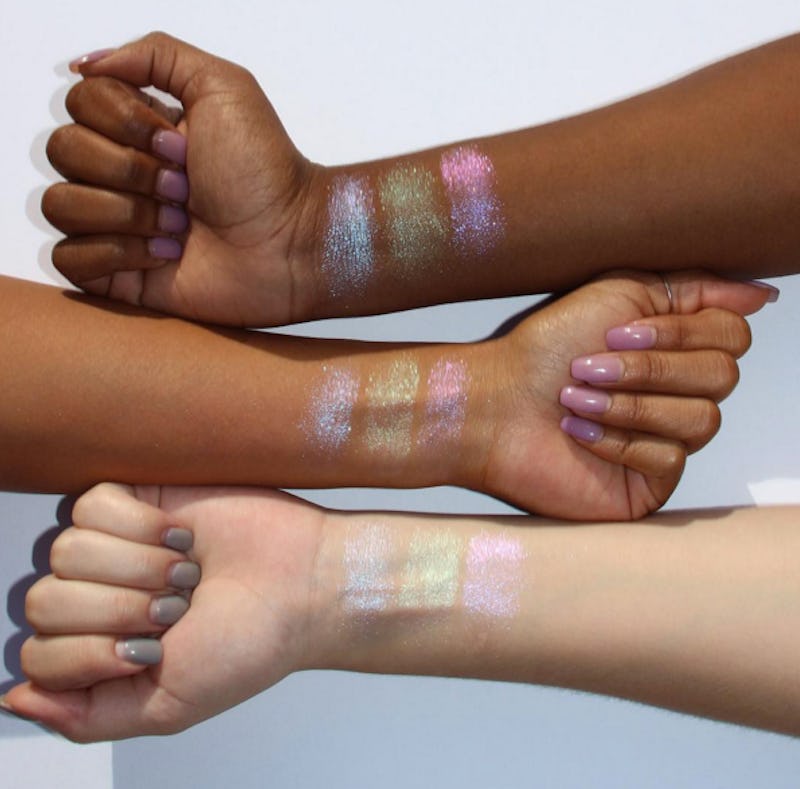 It's hard to describe exactly how amazing the new opal shades from ColourPop are, but I'll give it my best shot. For starters, they are sure to have major color payoff and give you an iridescent glow. What do ColourPop's Opalescent Highlighters look like on different skin tones? This is the best part of all — they look absolutely incredible on everyone.
In the pan, these look like typical champagne gold, pearl and rose gold shades. But when you put them on, you reveal a whole new world of color. Perilune is a champagne colored highlight that has a green undertone. It's sure to give you an out of this world shimmer. Meanwhile, Honeymoon looks like a white pearlized highlight, but when it's on your cheek, it gives off icy blue color. Over The Moon is a nice rose gold tint with tons of pink payoff. So, if you're looking for beauty items that will really wow, these are the products for you.
Perilune and Over The Moon were both out of stock at the time of publication. But immediately after Perilune sold out, the brand tweeted that they were working to restock the shade, so I have a feeling you'll see these colors again soon. Once you see the Opalescent Highlighters swatched, you'll be convinced that you need these in your life!
Just look at that intensity! That's everything you could ask for in a highlighter and more.
They've been a hit ever since they launched, and it's no wonder with color like this, you know?
They look great on each of these skin tones.
There's no hiding their brilliance.
Honeymoon is the only shade currently in stock on the ColourPop website.
So, you better rack up on that baby while you can.
These are selling out left and right!
Yes, they're that good.
Images: colourpopcosmetics/Instagram (1); ColourPopCo/Snapchat (5)