20 Genius Items To Make Your Bedroom A Sanctuary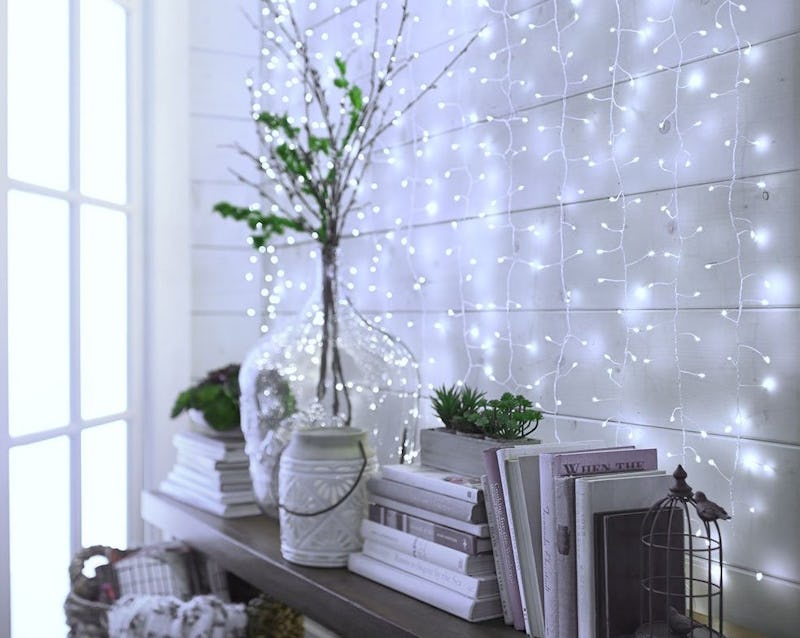 I recently moved out of my house and into an unfinished basement apartment, and while I'm waiting to renovate, all my stuff is still packed away. I'm totally the type of person who hates feeling uprooted. Consequently, I'm stocking up on things to make your bedroom cozier and feel more like a sanctuary, as after five months of living entirely out of a suitcase, I'm so desperately looking forward to having a relaxing, stress-free bedroom again. The day I unpack my candles, meditation tools, throw pillows, and yarn is going to be a happy day indeed.
When it comes to products that'll make your space feel more zen, everything should be a careful combination of aesthetically pleasing and functional. While a few subtle decorations have the ability to make your bedroom feel stress-free, too much useless clutter can actually make you tired, depressed, uneasy, and unfocused. For someone who works from home, like me, this is the absolute worst thing for productivity levels. When you're redesigning your bedroom to make it a sanctuary, look for things that you can actually use to improve your mood and relax your mind, like decorative lights that help you meditate or a sleek grass penholder that you can use for work. That way, everything is functional, yet totally conducive to all-encompassing relaxation.
1. Get Some Shut Eye On These Encouraging Pillows
Oh, Susannah Sleeping Eyes Pillow Cases , $26, Amazon
If you're the type of person who reads emails until they fall asleep, these pillow cases may just change your nighttime bed routine for the better.
2. Fill Your Room With The Scent Of Essential Oils
Oak Leaf Essential Oil Diffuser, $25, Amazon
Great alongside any of your favorite essential oils, this sleek and modern Oak Leaf essential oil diffuser delivers cool air, negative ions, and aromatherapy to any space.
3. An Enclosed Ecosystem To Bring Nature Inside
Back to the Roots Water Garden, $60, Amazon
Nature brings a relaxing feel to any bedroom, and this awesome 'Back to the Roots' water garden is a closed-loop ecosystem — your fish fertilizes the plants, which in turn clean the water for you.
4. A Place To Rest Your Body And Mind
Gaiam Zafu Meditation Cushion, $21, Amazon
Looking to get into meditation? This Gaiam Zafu meditation cushion has organic buckwheat hull filling that conforms to your body and can be added or removed to adjust to your liking
5. Bamboo Is One Of the Softest Materials Ever
Colourful Snail Bamboo Fiber Bed Blanket, $37, Amazon
I am hands down the biggest advocate for bamboo, as it's the softest and most comfortable fabric I've ever felt in my life. This fiber bed blanket is made from 100 percent bamboo rayon, and lightweight, warm, and easy to care for.
6. This Air-Purifying Crystal Lamp
Crystal Decor Natural Himalayan Salt Lamp, $18, Amazon
In addition to adding a really Zen decorative element, this natural Himalayan salt lamp actually purifies the air, because the lamp inside heats up the salt crystals which release negative ions into your space.
7. This Modern Decoration That's Actually Your New Pen Holder
Black Gel Ink Pen Forest, $9, Amazon
Every blade of grass in this black gel ink pen forest is actually a ball-point pen, so you can keep your desk neat, sleek, and fully-functional.
8. Cuddle Up With This Full Body Pillow
Naomi Home Cozy Body Pillow, $55, Amazon
Cradle your body from every angle with this Naomi Home cozy body pillow, which contours to your neck, back, and arms with a soft but supportive padding.
9. Re-Organize Your Life On A Weekly Basis
52 Lists for Happiness, $15, Amazon
An organized life is a Zen life, and this 52 Lists for Happiness makes for a great addition to any bedside table. It helps you to bring joy and balance back into your life by prompting you to create a list every week of the year.
10. Bring The Sounds Of Nature Into Your Bedroom
HoMedics Sound Soother Sleep Solutions, $49, Amazon
Bring the sounds of nature to your bedroom with the HoMedics sound soother. Whether it's for sleeping or just relaxing, it gives you 12 clear and ongoing sounds like 'rain,' 'campfire,' 'everglades,' and 'energize.'
11. A De-Cluttered Room Is A Happy Room
Collapsible Clothes Organizer Basket Bins, $29, Amazon
For me, a relaxing room is a clean room, and these collapsible organizer basket bins give you tons of extra storage for your winter clothes, shoes, or clutter. They fold up when they're not in use, and they've got durable handles to make your under-bed storage experience way easier.
12. Keep Everything You Need Within Arm's Reach
EasyAcc Gooseneck Device Holder, $21, Amazon
The EasyAcc gooseneck device holder lets you enjoy your laziest lifestyle by securely holding your phone or tablet at any angle that's most convenient. It clamps onto your table or headboard, and the flexible neck allows for 360 degree rotation.
13. These Worry-Free Candles
Flameless Battery Operated Candles, $30, Amazon
I'm in love with candles, but total relaxation + fire hazard = not an awesome idea. These flameless candles flicker like real candles and are made from wax, but they're totally safe to leave on because they're battery operated and have built in remote-control timers.
14. Hang These Globe String Lights Literally Anywhere
Silver Moroccan LED Globe String Lights, $13, Amazon
I'm in love with these silver LED globe string lights. They're longer than 10 feet each and entirely battery operated, so you can put them anywhere (inside or outside) where you need a little whimsical touch.
15. Disguise Everyday Tools As Pretty Art
MelonBoat Lotus Cotton Swab Holder, $9, Amazon
If your bedroom is also your getting-ready room, then you likely have a stash of Q-tips somewhere taking up precious space. Instead of storing them away, put them on display — so that their original hiding space can be used for items not so easily disguised as purposeful decor.
16. Watch Some Swallows Take Flight
Flensted Mobiles, Swallow Mobile, $35, Amazon
Whenever it feels like all four walls are closing in on you, it's time to get some perspective, in order to feel cozy and secure again. While taking a walk outside is one of the best ways to take a break, this mobile of soaring birds may buy you some temporary breathing space in between laps.
17. Wake Up Next To Your Inspirational Mantras
Vintage Inspirational Throw Pillows, $30, Amazon
These vintage inspired inspirational throw pillows tie the room together while providing motivational mantras and a cozy, vintage feel.
18. Get The Full Spa Treatment Right From Your Bed
Herbal Lavender Steam Eye Mask, $16, Amazon
This herbal lavender steam eye mask is a great at-home spa treatment because it has a relaxing lavender aromatherapy feature, and heats up and steams your eyes with a USB connection.
19. These Whimsical Lights For Any Wall Or Window
LED Window Curtain Icicle Lights, $17, Amazon
If you're looking to add a whimsical element to your curtains, desk area, or bed canopy, these LED window curtain icicle lights are bright, easy to install, and have eight different light patterns to suit your mood.
20. You'll Never Want To Get Out Of This Saucer Chair
Urban Shop Oversized Saucer Chair, $53, Amazon
Because it's cushioned on all sides and envelopes your whole body, this Urban Shop oversized saucer chair is awesome for meditation, gaming, reading — really any activity where you want to be entirely relaxed.
Images: Amazon (20)
Bustle may receive a portion of sales from products purchased from this article, which was created independently from Bustle's editorial and sales departments.