A New 'Iron Fist' Trailer Is Here & It's Major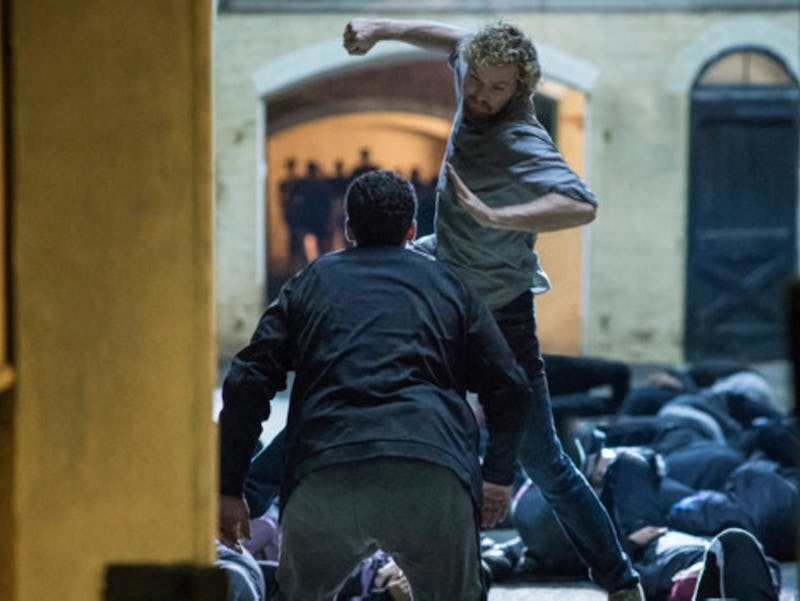 You might currently be obsessing over Luke Cage or re-watching Jessica Jones for the 10th time, but come March 2017, you'll have a new favorite Marvel show on your hands. Netflix's Iron Fist is set to premiere on Mar. 17, and the series, about a martial arts expert/secret superhero who uses his powers to avenge the death of his father, is already looking to be a Very. Big. Deal. Starring Game of Thrones' Finn Jones as Iron Fist/Danny Rand, the show is the fourth Netflix offering to lead up to the highly-anticipated Defenders miniseries, and judging from the new Iron Fist trailer released at New York Comic-Con, it's gonna be good.
Because the show only finished shooting its last scene for Season 1 at 9 a.m., there wasn't too much footage to show for Iron Fist — but what was shown was pretty damn cool. The official trailer doesn't give away too much info, but it shows Danny choosing to embrace his Iron Fist identity, and calls him "The Final Defender," a nod to the upcoming miniseries. It's a quick but enjoyable tease, and poises Danny to be an intriguing protagonist.
Then there were the clips. The first sees Danny, returning to New York after 15 years away, visiting the Rand Enterprises building in the hopes of seeing Harold Meechum. Yet he's told that it's not possible and is kicked out of the building, much to his confusion. So he re-enters, and is kicked out again — although this time, he fights back, using his martial arts skills to get past security and to the elevators.
In another clip, Danny is seen interrupting a meeting between Joy and Ward Meachum, his childhood friends and current adversaries. He's told by the duo that he's not wanted there and that they don't know the person he currently is, to which Danny responds by saying, "I have Hogarth now" — a nod to Carrie-Anne Moss's lawyer character, who's appeared in all of Netflix's Marvel shows so far.
Other footage sees Danny using his crazy-good martial arts skills to fight off a horde of men; another clip (possibly the coolest of the bunch) features Jessica Henwick's Colleen Wing, a friend of Danny's and skilled martial artist herself, kicking a few men's butts during a competition. Yet another sees Danny and Harold Meachum (David Wenham) meeting for the first time in years, with a confused Danny telling Harold — whom he thought was dead — that he was trained to be a warrior, and has a duty to destroy the Hand.
All in all, the footage looks intense and exciting, a great preview of what should be a must-see new show.
Image: Netflix