SNL Joke Acknowledges The Show's Diversity Problem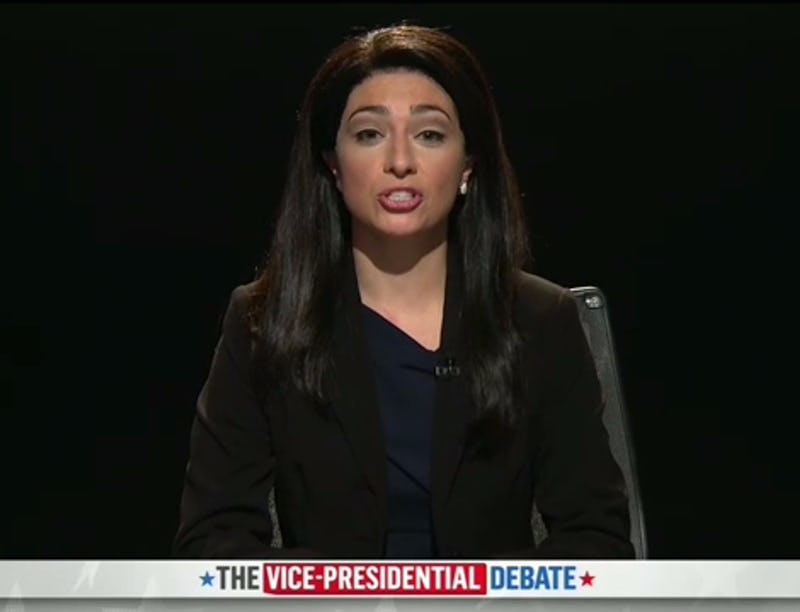 At the very start of the cold open of the second episode of Saturday Night Live's 42nd season, one of its newest cast members delivered a joke that was a significant nod towards the show's critics. Specifically, on the issue of diversity in the cast ― Melissa Villasenor skewered SNL 's diversity problem, acknowledging that she'd been cast in the role of Filipino-American VP debate moderator Elaine Quijano because she was SNL's "first Hispanic female cast member."
Villasenor, 28, is indeed the first Latina to ever join the cast of the decades-spanning NBC comedy series, and her announcement in the cast generated a lot of excitement ― she first gained national exposure as a contestant on America 's Got Talent , and now she's one of the most famed comedy programs of all time.
But she is not, as Elaine Quijano is, Asian-American. And that stands out, because not unlike the barrier Villasenor herself broke for Latina cast members, the show has never had an Asian-American cast member (excepting Fred Armisen, who as the Huffington Post notes, has Venezuelan, German, and Japanese ancestry). Villasenor pointedly teased the situation, saying that her being as Quijano represented "baby steps" for SNL.
On delivery, it was a pretty impressive joke ― Villasenor highlighted the controversy in a humorous way, while also adding in the meta twist of introducing herself to viewers around the country, specifically highlighting her barrier-breaking role on the show.
It's worth noting, however, that not everybody was thrilled with the joke, which completely makes sense. While it may have been funny, it remains true that hiring an Asian-American comedian or performer to join the show isn't really something SNL needs to crack jokes about ― rather, they could just go out and make some hires.
That was the sentiment the Asian-American Legal Defense and Education Fund voiced on Twitter following the cold open, tweeting that "more than baby steps" are needed to address the lack of Asian-American representation on one of the biggest platforms for comedic performance in the country.
Regardless of whether you loved the joke and it's self-aware nature, or whether you were a little irritated by the underlying message of it, it was nice to see Villasenor get more time on the screen. She's appearing alongside two other SNL on-screen newcomers this year, making their marks in their inaugural season ― she's joined by Mikey Day and Alex Moffat.