Tina Fey & Jimmy Fallon's Hilarious 'SNL' Return
Before The Tonight Show and 30 Rock, Jimmy Fallon and Tina Fey made viewers laugh about the headlines on Saturday Night Live's Weekend Update from 2000 until 2004. More than a decade later, the duo reunited on Saturday night's episode for commentary on the current 2016 presidential election. Tina Fey and Jimmy Fallon returned to SNL 's Weekend Update as Denise and Doreene, two undecided mom voters from suburban Philadelphia. It was such a perfect cameo that I almost didn't even notice Fey and Fallon's appearance was out of the ordinary — because I guess the Fallon and Fey years have truly endured.
The duo donned their finest pastel sweatshirts and Fey sported the most pitch perfect Philly accent, which should be no surprise — the actor/writer/SNL alum is from Upper Darby, Pennsylvania. SNL fans know that Fallon has always been known for breaking character and laughing during his sketches when he was a cast member. That was also the case during Saturday night's Weekend Update, when Fallon knowingly slipped out of his accent a few times and I didn't mind it at all — it felt like old times again.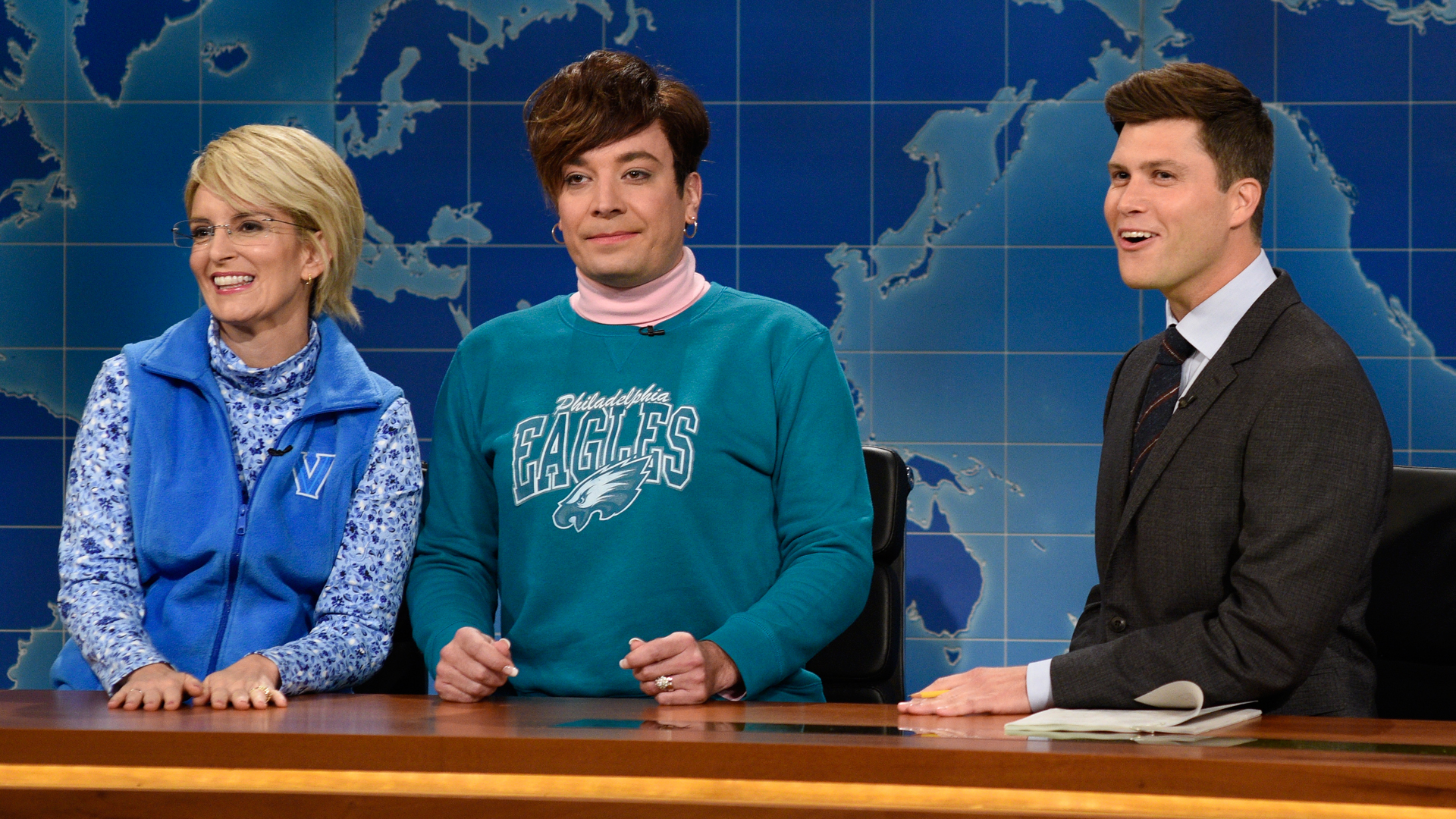 As Denise and Doreene, Fallon and Fey brought hoagies for current hosts Colin Jost and Michael Che, and then went on to discuss the presidential election.
Fey compared Republican nominee Donald Trump to "a drunk clown on the street" and his running mate Mike Pence to "Biff from Back to the Future." But she also wasn't crazy about Democratic nominee Hillary Clinton, who she says "lied about her emails, lied about Benghazi, and pretended be surprised on Steve Harvey."
Fallon's suburban mom says she would probably watch Sunday night's Presidential debate after the show Halloween Wars — and then there was some funny confusion about whether or not the debate was Halloween Wars. Fey added, "Why can't our country be like Halloween Wars? We're creepier together."
So while Fallon and Fey's suburban moms from Philly may be undecided voters, I think viewers can agree that it was so good to see these two back on SNL together again.