OPI Launched A 'Breakfast At Tiffany's' Collection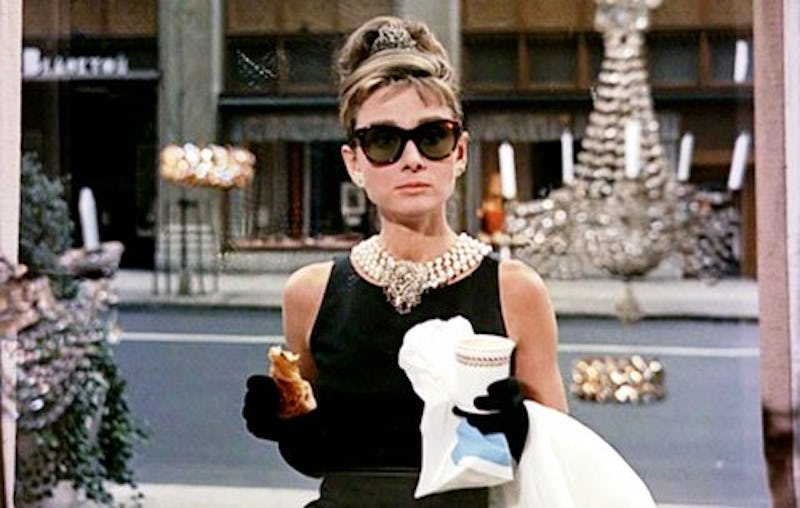 If you grew up idolizing fashion-forward Audrey Hepburn (and the iconic jewelry store her character Holly Golightly couldn't get enough of), then get ready to freak. OPI is launching a Breakfast at Tiffany's nail polish collection just in time for the holiday season.
"The lineup of 16 lacquers includes glowing neutrals, ultrafine glitters, and glossy colors that evoke lipstick and little black dresses," Teen Vogue reported in an article. Currently sold at Ulta, the inspiration behind the collection is that "there is a bit of Audrey in every woman," and the shades let you play out your own Holly Golightly fantasies.
The hues range from shimmery pales and deep wintery reds, to flirty pinks and spicy oranges — but the pièce de résistance of the collection is the robin egg's blue that's synonymous with the Tiffany's brand. Named "I Believe In Manicures," the polish brings the classic elegance of the Tiffany's jewelry box to your nails, all the while looking surprisingly modern and fresh.
Sure, Holly Golightly herself might not have run around Manhattan's streets with blue nails, but the shade is instantly recognizable and pays homage to the movie in the coolest possible way.
OPI Breakfast at Tiffany's Collection Set, $29, Amazon
If the idea of channeling your inner Hepburn isn't enough, the names of the colors might just sway you to give them a try. Cheeky and reminiscent of the lifestyle of a '60s socialite, we're treated to such names like "Firescape Rendezvous," a sparkly ruby shade; "Champagne for Breakfast," a silvery hue; and "Black Dress Not Optional," a sleek and shiny black.
Here's a peek at the incredible limited edition collection.
Meet My "Decorator", $10, Ulta
A saucy orange that will work just as well for winter as it does for summer.
Apartment for Two, $10, Ulta
A bold raspberry pink, the shade makes you think of those flirty moments Holly and Paul had in her small walk-up apartment.
Five and Ten, $10, Ulta
A shimmery champagne shade, this isn't for those nine to five office hours. Rather, it's for those fun moments packed into a happy hour that lasts from five to ten.
I Believe In Manicures, $10, Ulta
Sporting that iconic robin's egg blue, you can honor your favorite movie with this bright and fun color.
To see the rest of the shades in the collection, check out Ulta's website. If you want to live out your extravagant daydreams, you have to hurry — they'll be off the shelves before you know it!
Images: Paramount Pictures (1); Courtesy Brands