5 Ways to Remove the Worst Makeup Stains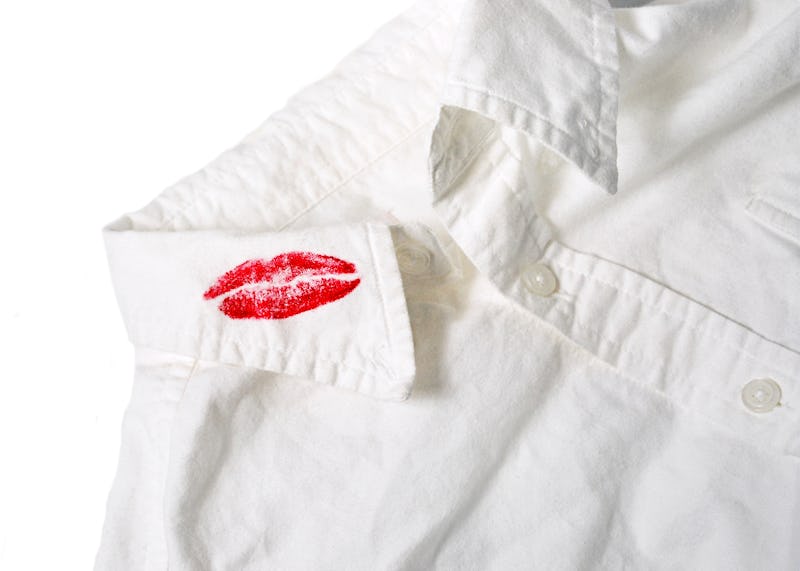 I have a love/hate relationship with lipstick. I love the kind that comes in a smooth tube and gives your lips a long-lasting stain of color, but I hate the kind that sets on your favorite clothes and worsens when smeared. Dealing with make-up stains of all types is truly a test of your patience and reflexes.
In most cases, grabbing the nearing napkin and vigorously smearing is an impulse you should avoid at all costs. Instead of lifting and removing the stain, it instead spreads the mess out and pushes it further into the fabric. To find out what you should do when faced with a makeup stain, we reached out to several stylists for these simple household solutions:
WASH WITH COLD WATER, NEVER HOT
For tough stains such as foundation or cream blush, always wash with cold water. "Cold water lifts everything up," raves Mecca James-Williams, stylist for the upscale New York clothing store Opening Ceremony, which also carries its namesake line. The stylist likes to rub an ice cube against the make-up stain, and not only because they're more readily available on location shoots than a wet rag. "It's not too much of a mess like water, and it helps clean the spot quicker." Avoid hot water at all cost. The warmth encourages the fabric to absorb the staining substance, making it much tougher to lift and remove the stain.
L'eggs Everyday Stockings (4 Pair), $6, Amazon
"The best way to remove powder or deodorant is nylon tights," says James-Williams. "When I say best, I mean it!" Removing powder make-up from your collar or the pesky deodorant build-up from pit seams is a cinch because you don't need any liquid to get the product out. To remove the powder-based spot, take a pair of old nylon tights and gently brush against the spot. It should take a few seconds for the makeup or deodorant to rub off. Time to add tights to your bag of essentials.
TRY HAIRSPRAY ON LIPSTICK STAINS
L'Oreal Paris Elnett Satin Hairspray, $9, Amazon
Style Network host Jeannie Mai has an unusual but surprisingly effective way of removing thick, pigmented make-up like lipstick: spray a little hairspray over it. "Hairspray can be a really good at removing make-up stains when used with a wet nap," Mai told Examiner.com. To remove lipstick, spray the stained area and let it sit for a few minutes. Once the hairspray hardens, use a wet napkin to wipe off the hairspray. The lipstick should come off with it! For quality hairspray that works wonders on both your hair and clothes, try the universally-loved L'Oreal Paris Elnett Satin hairspray.
Swan Hydrogen Peroxide, $6, Amazon
Blood isn't makeup, but we feel like we should help you remove the stain of all stains. You don't want to shell out tons of money on dry cleaning because a paper cut led to you staining your favorite work top. Fashion writer and stylist Christie Moeller uses hydrogen peroxide to remove blood stains. "Pour the hydrogen peroxide onto the area of the blood stain and allow it to foam for a few minutes," writes Moeller, "before wiping it off and laundering normally." It's also effective on older blood stains, but the stylist recommends multiple applications to "boil" out the stain.
Shout Wipe & Go Towelettes (24 Pk), $9, Amazon
"In all honestly though, Shout wipes are the best for any stain," says James-Williams. "I live by them!" Carrying these to-go wipes, which you can find at any drug store and online, is like carrying a dry cleaner's with you. Lightly rub the cloth against a stain until it lifts away from the fabric, flush the spot with cold water, then dab the wet spot with a dry napkin until the surface is dry. If the fabric is especially delicate or brightly colored, you may want to try the wipe on a hidden part of the garment first to make sure the fabric responds well.
Images: GVictoria/Fotolia, Liaurinko/Fotolia, Ilya Zaytsev/Fotolia