Mascots Deserve Associations Too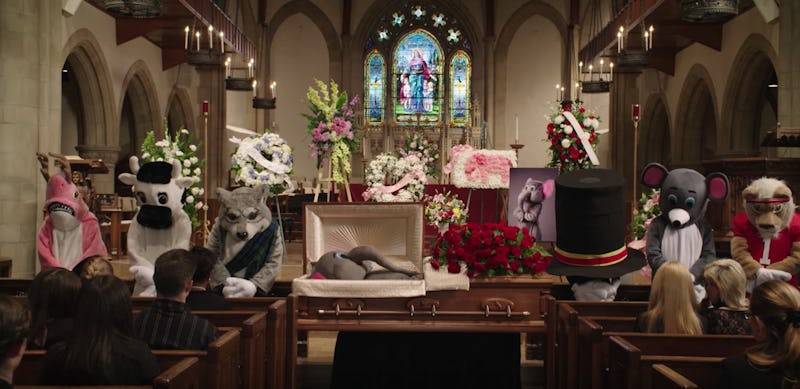 Mascots everywhere are about to have their moment. Christopher Guest, the king of the mockumentary, is focusing on the beloved, often furry, sporting event staples in his new movie Mascots. Premiering on Netflix on Oct 13, Mascots takes viewers into the fictional world of the World Mascot Association. More specifically, the 8th World Mascot Association Championships, where mascots compete to win the title of Best Mascot. The film features Guest favorites, Parker Posey, Jennifer Coolidge, Bob Balaban, Jane Lynch, and more as professional (or enthusiastic) mascots of all kinds. In true Christopher Guest fashion, the competition is slightly ridiculous, but feels real enough that it might actually be true (à la Best in Show). So, is the World Mascot Association real?
The World Mascot Association depicted in Mascots doesn't appear to actually exist, but there is a National Mascot Association. Formed in 2015 by professionals in the mascot industry, the National Mascot Association was created as a professional group for mascot makers and vendors. "There are a lot of mascots running around, but there's no sort of central spot where mascots can check in and come together," said Jennifer Smith, the founder of AvantGarb, a mascot-making company, via Associations Now. The Association was meant not only as a group for the business people behind the mascot industry, but also as a place for mascots themselves to set safety standards and communicate. However, it's unclear if this Association ever really got off the ground. The official National Mascot Association website appears to be still in development, and a Facebook page for the group has only has about 400 likes.
National Mascot Association aside, there is also a Mascot Hall of Fame. Now located in Indiana, the Mascot Hall of Fame existed online for about a decade before it secured a location in 2016. Members include Mr. Met, the Phillie Phanatic, and Clutch the Bear. "It makes me feel like a big deal," Robert Boudwin told The Wall Street Journal about when his Clutch the Bear was inducted in the hall of fame after his 20 years in the costume. But, don't be fooled by the apparent seriousness of a Mascot Hall of Fame — most in the mascot circle don't take themselves too seriously. When asked by the Journal about Guest's Mascots film, Boudwin took it all in good faith. "It's hard to begrudge someone for making fun," he said," We're a bunch of professional idiots at the end of the day."
We'll have to wait and see what Boudwin and his fellow career mascots think about the movie.
Images: Netflix