Mindy Kaling Wins Muppet Selfie of the Week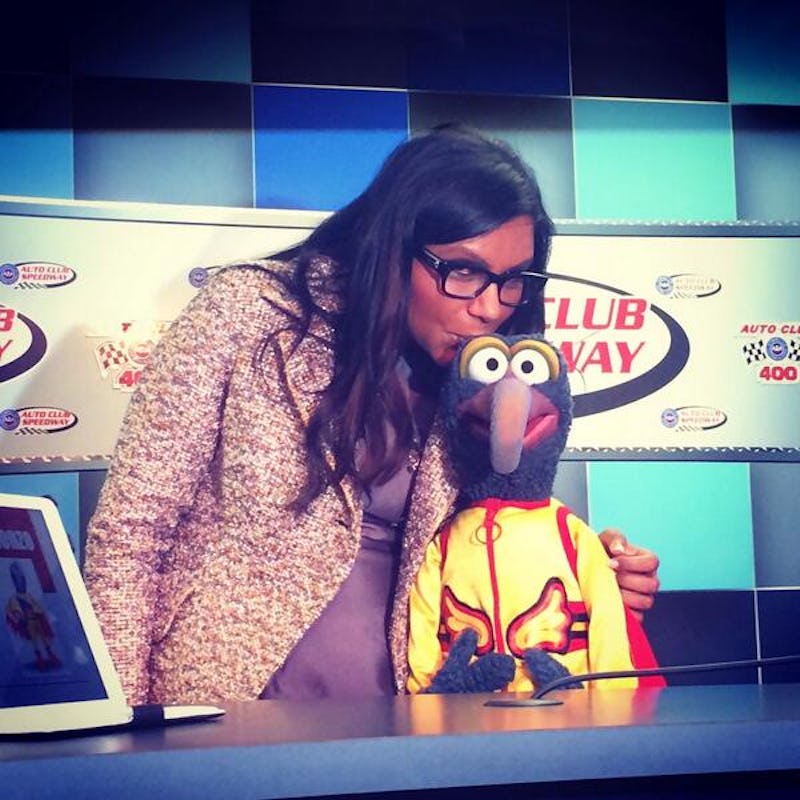 Mindy Kaling's Twitter has been full of surprises this weekend. Last night we all learned that the Mindy Project star likes cars, and volunteered to drive the Pace Car at the Auto Club 400 in Southern California. Although we know she's not really Dr. L, we have to wonder if her Manhattanite TV alter ego would approve of her presence at a NASCAR event. Before that, Mindy claimed that her Mindy Project co-star keeps condoms in an old rotary phone, which may have caused Twitter to giggle just a tad. But today, she brought out the big guns: Mindy Kaling took a selfie with Gonzo the Muppet.
Apparently, while Mindy sped around the track in the Pace Car, Mr. The Great was Grand Marshalling the 400 race. Even though his movie didn't do too well this weekend at the box office, Gonzo pretty happy to get a smooch from the always-adorable Mindy Kaling. We're not so sure Gonzo's main lady, Camilla the chicken, will be as happy to see her man (or alien?) getting some love from another woman. When Mindy tweeted this selfie, she included the hashtag #SorryCamilla, so we're hoping Camilla won't go all Muppet-chicken-crazy about this adorable moment of pop culture crossover.
Image: Mindy Kaling/Twitter