Meet Rory Mycek From 'The Letter'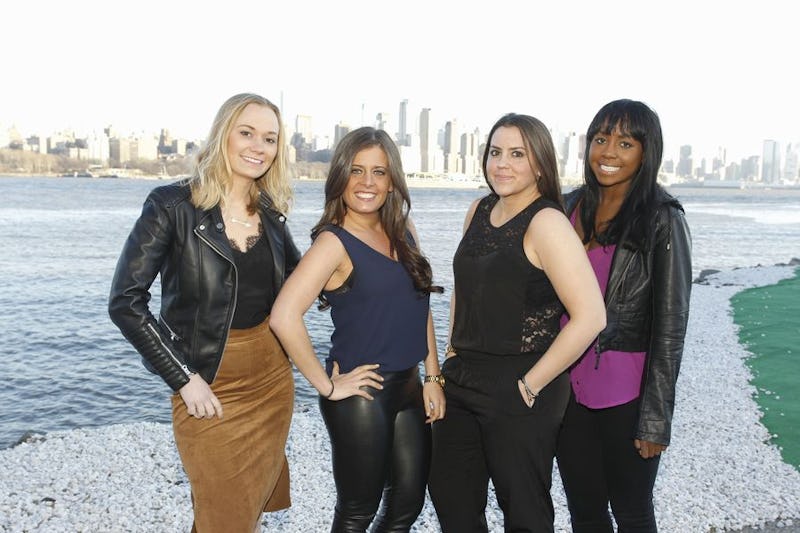 Proving that the network is capable of showcasing female friendships that aren't just plagued by mysterious murders, Freeform has decided to introduce a new reality series to its lineup that examines female friendships by having them write anonymous letters to one another about the boundaries they wish they would each cross. The first group of women to appear on this show include The Letter subject Rory Mycek, who will be featured alongside three of her friends in the premiere episode "Bridge and Tunnel," presumably a reference to the fact that these women live in, around, or just outside of New York City.
The series' premiere episode will feature Rory and her pals giving one another tough love, but so far, it's not exactly clear what exactly she'll be asked to do. While some of the women's issues are showcased in the season trailer — one is asked to put on old age makeup in order to show that getting old or losing one's youthful good looks is nothing to fear, another is required to do jumping jacks every time she mentions being "stressed" — Rory doesn't make an appearance in the season trailer. But, as we all are to some degree, Rory is on social media, which provides a handy way of guessing what major malfunction her friendships will help her overcome.
She's Living In Brooklyn
Maybe she'll get an intervention for being too trendy or too much of a hipster from her friends — she is in Brooklyn Heights, and that's a neighborhood where it's easy to get caught up in the latest trends.
She Has A New Puppy
Maybe it's a factor from The Letter (maybe she had a lifelong dream to get a dog, and only the advice of her friends finally pushed her over the edge!), or maybe Rory just happens to have gotten a new, super adorable dog recently. Sounds like she's been going through it based on the caption, but that's the price you pay for a face that cute.
She's Not Afraid To Get Away
Now there's something that a good BFF will remind you: Don't forget to take some time off, go somewhere fun, and treat yourself. Looks like Rory has some good people giving her advice, because this beach trip looks like the perfect way to say goodbye to summer.
She Knows What To Eat
I doubt that this will come up on The Letter, but she posts a lot of pictures of both homemade food and eats from around NYC that look delicious. I generally admire people who have great taste in food, so this endears me to Rory.
She's Not Afraid Of Adventure
Whatever Rory is encouraged to do on The Letter, I don't think it will have anything to do with her not having bravery or not being willing to take a chance on an adventure, because seriously, it looks she has literally no fear when it comes to doing something like fishing in Costa Rica.
She's Tight With A Lot Of Her Friends
In addition to the three BFFs that she'll be paired with on the premiere episode of The Letter, you'll see Rory hanging out with a ton of other close friends on her IG. It's easy to see why she was chosen for the show, because maintaining friendships with a big social circle is clearly important to her.
Image: Lou Rocco/Freeform (2)