25 Random But Amusing Items Trending On Amazon Now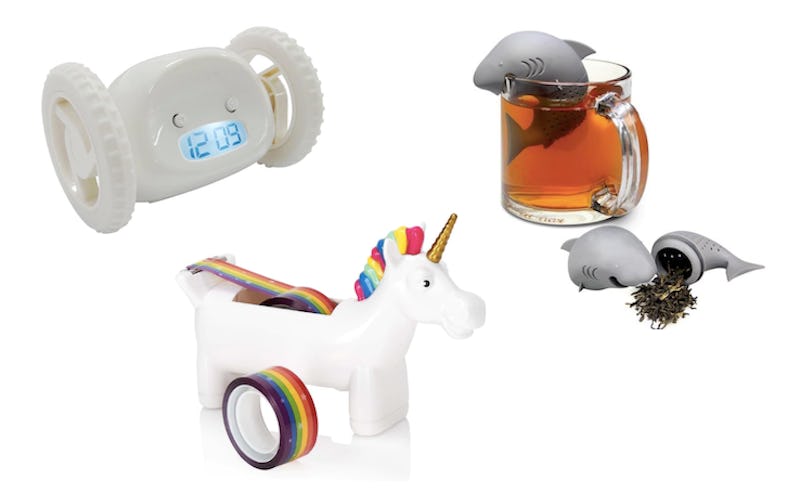 Online shopping is the absolute greatest. No lines, no price checks, no need for human interaction — just you, your favorite blanket, and a ridiculously impressive selection. Internet purchases are made even better by the countless random but immensely amusing things trending on Amazon right now. Now, I know what you're thinking: Why should I make my purchases based on the weird stuff that people are buying online? Well, trending purchases on Amazon are trending for a reason, and that's because enough people have decided that the weird factor has been trumped by the convenient, cool, or just plain amusing factors.
Personally, my favorite place to keep up with trends is Amazon's Movers and Shakers page. It shows you all the different categories of items that have experienced a significant spike in sales over the last 24 hours. Another great option is the Interesting Finds page, where you can see all the items that people have been purchasing and putting on their Amazon wish lists. Combined, you end up with a whole slew of weird but entertaining products that are trending right now, so you can get a head start on that holiday shopping list or fill your own space with the most bizarre yet amusing stuff.
Runaway Alarm Clock, $15, Amazon
Trouble getting up in the morning? This runaway alarm clock rolls amok around your bedroom until you get up, catch it, and turn it off.
Dead Fred Pen Holder, $12, Amazon
Get out all your rage with this Dead Fred pen holder, which is made from silicon rubber and warns all your coworkers not to bug you today.
Ocean Salt Face and Body Scrub, $55, Amazon
This Ocean Salt face and body scrub is made with great natural ingredients, and also, it's vodka margarita themed.
The Cook's Carrot Whisk, $13, Amazon
This carrot whisk is durable, easy to clean, and shaped like a carrot. Enough said.
Desktop USB Microphone, $85, Amazon
People are giving this desktop USB microphone rave reviews, as it plugs into your USB port and gives you a clear, reliable sound for your Skype sessions or podcast recordings.
Crystal Growing Experiment, $15, Amazon
Pretty sure this crystal growing experiment is marketed towards kids, but that hasn't stopped tons of science-loving adults from purchasing it, as it comes with everything you need to legit grow seven vibrant crystals.
Conair Battery Operated Fabric Defuzzer, $13, Amazon
It's almost sweater weather, guys, and that means that tons of people are investing in this Conair battery operated fabric defuzzer, so they can shave all the lint balls off their favorite winter clothes.
Hippo Bookmark, $11, Amazon
This hippo bookmark gracefully swims through your book, holding your page where you last left off.
TopCase Faded Ombre Series Wireless Keyboard, $6, Amazon
I don't know about you, but I'm not over the ombre craze. This TopCase faded ombre keyboard fits a whole bunch of Macbooks, looks awesome in the dark, and comes in 20 different color combinations.
Dachshund Dog Shaped Ice Cube Tray, $13, Amazon
People are weirdly excited about this dachshund dog shaped ice cube tray because they're easy to remove, retain their shape as they melt, and make an awesome conversation topic for any party.
Living Colors Aura Table Lamp, $67, Amazon
This awesome living colors aura table lamp lets you illuminate any room in your choice of 16 million different colors.
Ostrich Pillow, $11, Amazon
Whether you're at your desk or at the airport, this ostrich pillow supports your neck, covers your eyes, and lets you take a comfortable nap pretty much anywhere.
Unicorn Tape Dispenser, $18, Amazon
This bright and cheery unicorn tape dispenser comes with two rolls of rainbow tape.
Get Shit Done Thermal Ceramic Coffee Mug, $22, Amazon
Because nothing says "I'm ready for today" quite like profanity, hot coffee, and saving the environment.
Anker Extendable Bluetooth Monopod, $12, Amazon
Thought the selfie stick craze was over? Think again. This Anker extendable bluetooth monopod has been trending like crazy because of its adjustable angles, Bluetooth connectivity, and handle buttons.
ElleSye UBeauty 5-in-1 Blackhead Remover Kit, $8, Amazon
Few things are admittedly as entertaining as extracting blackheads, and this ElleSye UBeauty 5-in-1 blackhead remover kit gives you five stainless steel tools that are both professional and hygienic.
GUND Pusheen Snackable Donut Plush, $25, Amazon
Because everyone's favorite Facebook GIF is the cat, and this GUND Pusheen Snackable Donut Plush would look epic on your bed.
Playwin Mirror Speed Cube Puzzle, $9, Amazon
This Playwin mirror speed cube puzzle looks like something out of Men in Black, but it's really just a fun and interesting looking puzzle that you can use while brainstorming or blowing off steam at work.
Quidditch Couples Mugs, $26, Amazon
Pick up these Harry Potter themed quidditch couples mugs for your two favorite fans. They're dishwasher safe, microwave safe, and beautifully handmade.
Silhouette Temporary Tattoo Paper (2), $16, Amazon
Fan of the temporary tattoo look, but sick of how expensive the really cool ones can get? Make your own! Just use an inkjet printer to print your sketch onto the paper, then transfer the design with a little water.
Bluetooth Beanie, $35, Amazon
Warm and cold-weather friendly, this bluetooth beanie also wirelessly plays your favorite music into your ears and lets you make hands-free calls.
Outdoor Inflatable Lounger, $29, Amazon
If you're prone to falling asleep anywhere, then this portable inflatable lounger is going to be you next-favorite gadget. An air sofa anywhere, any time you want? Yes, please.
Shark Loose Tea Infuser, $6, Amazon
Not only does this shark loose tea infuser make a mean cup of tea, but it clings onto the side of your cup while looking particularly badass.
Dog's Lion Mane, $16, Amazon
People are pretty psyched over this dog's lion mane costume, which is made for any large dog with a neck that measures from 60 centimeters to 80 centimeters. It also comes with a free tail.
80 Colors Gel Pen Set, $15, Amazon
Um, who doesn't feel particularly nostalgic about gel pens? This set of 80 adds a bit of flair to your workday, or helps you seriously de-stress alongside your adult coloring book.
Images: Amazon (25)
Bustle may receive a portion of sales from products purchased from this article, which was created independently from Bustle's editorial and sales departments.