'Get Out' Is The Stuff Of Real Nightmares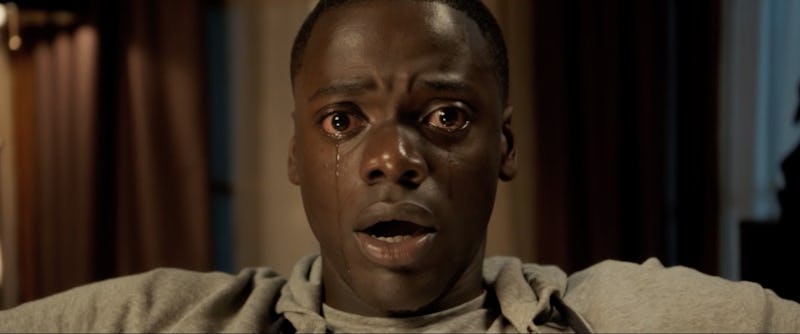 Of all the projects to tackle post Key and Peele, I was pretty surprised to learn that Jordan Peele wrote and directed Get Out , an out-and-out horror film. The first trailer from the truly chilling project is, tonally, presented as a pitch-black horror film with just the lightest touch of humor. But repeated viewings of the Get Out trailer present to the viewer a film that is actually a very real, very scary exploration of modern interracial relationship and racial politics in modern America. Ever the man to bring sharp social commentary (especially where race is concerned), Peele's newest project is going to have us regarding him in a wholly different light —and that's a good thing.
The first beats of the Get Out trailer present as a very typical indie rom-com. Rose (Allison Williams) comes to pick up her boyfriend, Chris (Daniel Kaluuya) at his apartment and asks if he's properly packed for their weekend trip to her family home in the countryside. While we think there will simply be the usual unspoken tensions that come with an interracial couple meeting the parents (think Guess Who's Coming To Dinner), what actually becomes evident very quickly is that Rose's family has some very, very old-school approaches to race and class. At one point, Chris calls his friend to see if he can dig into Rose's family history and, with mentions that black employees of Rose's family have gone missing over the years, Chris' suspicions about the family's true intentions begin to manifest into true paranoia. I don't know about you, but that game of Bingo looks suspicious AF and Bradley Whitford's use of surgical tools seems entirely uncalled for if this was just a casual family gathering. Something scary is definitely afoot.
And so, it looks like Peele has actually managed to blend the well-established tropes of a "meet the parents"-style comedy with the very real and simmering racial tensions that are surging through our country right now. With racial tension becoming a focal point of our news cycle and political landscape — especially where young black men are concerned — bringing those nuances to a horror film couldn't feel more timely or appropriate.
If you really want to give yourself a case of the creeps, take a look at the trailer below. It looks like Peele is going to relieve audiences of the comfort of our everyday lives with Get Out and, no lie, I'm ready for it.
Images: Universal Pictures/Youtube (2)