Amy Drinkwater Meets New People On 'The Letter'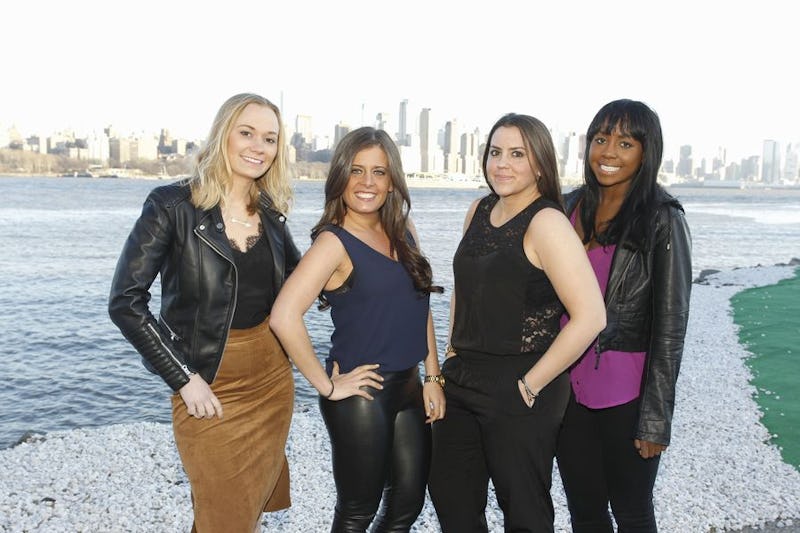 Confrontation is super tricky — especially with friends. You love your friends and want to help them make their lives better, but at the same time, you don't want to hurt their feelings. Freeform's new reality series The Letter premieres on Tuesday night and helps a group of friends take on that task with each other, but anonymously, in a show that sounds like Pretty Little Liars meets Awkward Season 1 or like having a caring Internet troll. In the real group of sorority sisters from Hofstra University on The Letter , who is Amy Drinkwater? According to a Freeform press release, she's "the shy one, who doesn't make any effort to meet people, shielding her heart after a toxic relationship."
I think that's something to which many people can relate. It's hard to get back out there and meet people after being deeply hurt, but sometimes you need a little push to realize there are other people out there to meet. Amy's challenge, according to an interview on TV Grapevine, is to go on some blind dates. "There was so much and I'm not really sure how to put it into words of how rewarding of an experience this was for me," she told the website. "But without giving any spoilers away, I'll just say finding my confidence in myself again." Aww. She continued: "I knew we would all take something away from this experience but I absolutely was not ready for some of the outcomes since we filmed."
According to her LinkedIn profile, Amy works as a Marketing and Sales Associate at a disaster recovery company called Maxons Restorations, based in nearby New York City. On TV Grapevine, Amy described herself as "a pretty simple, low-key girl" who has been based in Hoboken, N.J., for the past 6 years and she loves running. "I ran my first half marathon in Las Vegas and I hope to run the NYC Marathon one day," she told the site. According to a GoFundMe page from 2014, Amy and a friend ran the Las Vegas Rock and Roll Half-Marathon raised more than $1,500 to donate to the Crohn's and Ulcertaive Colitis Foundation.
Amy told TV Grapevine that the group decided to submit themselves to the show as a dare after seeing an ad on Facebook for it. "After that we kind of just went with it," she said. Amy and her friends — Jill Decker, Rory Mycek, Lekwon Imoke — featured on The Letter were all sorority sisters in Hofstra's Alpha Epsilon Phi and she told TV Grapevine that dishing out some real talk to them — even anonymously — was tough. "Honesty can be pretty brutal sometimes and we all wanted to come out of this still friends," she says.
On Twitter, Amy admitted that seeing herself in The Letter commercials on Freeform was kind of surreal.
Will the foursome still be friends after all that honesty was poured into the letters? Can longtime friendships stand the test of anonymous criticism? Those are questions that hopefully The Letter can answer, and maybe even help create more honest conversations between friends and loved ones.
Images: Lou Rocco (2)/Freeform