Jill On 'The Letter' Will Focus On More Than Looks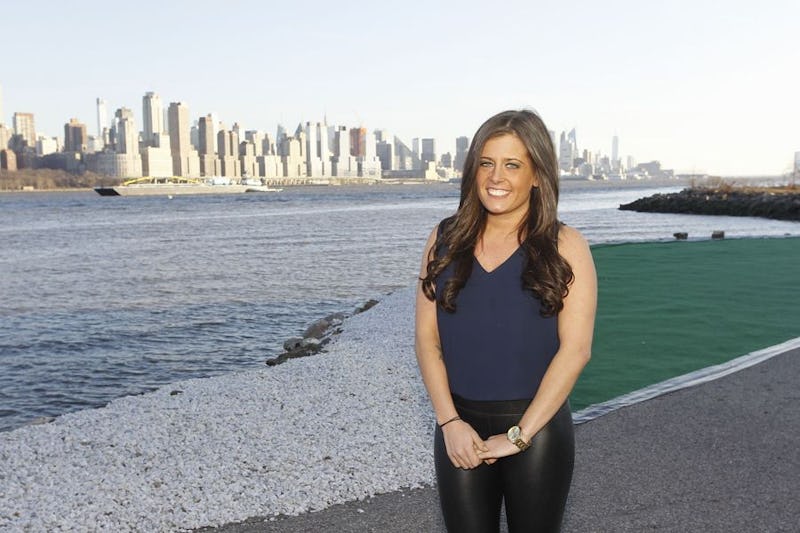 Freeform's new reality series The Letter premieres on Tuesday night and gives longtime friends a chance to give some helpful — but sometimes hard to hear — feedback in the form of an anonymous letter. It could either change their lives for the better or perhaps tear these friendships apart. In the premiere episode, four besties who graduated from Hofstra University together — Jill Decker, Rory Mycek, and Lekwon Imoke — exchange letters. So who is Jill Decker on The Letter ? According to a Freeform press release, she "is the outgoing one of the group, but her friends are concerned that she spends way too much time obsessed with her looks."
One of her challenges, according to an interview in TV Grapevine, is to cover all mirrors for a week. Not an easy task, especially since she works in fashion. According to her LinkedIn profile, she also goes by Jillian, works as an Assistant Buyer for Kate Spade & Company in New York City, and she's currently based in nearby Hoboken, N.J. Jill told TV Grapevine that she was totally game to try something new and improve her life based on the anonymous letter's suggestion. "The most rewarding thing to come out of this experience was how I completely changed I became in seven days," she told the website. "I'm much more confident in myself than I was when I started this experience. I view myself much more differently than I have in the past."
Jill and her friends met as sorority sisters Hofstra's Alpha Epsilon Phi and they applied to the Freeform reality series on a dare, according to TV Grapevine. "To be honest, I didn't really think I was going to get much out of the show besides a cool story to tell the grandkids when I got older," she said. "I laughed, I cried and learned more about myself and my friends than I thought was possible."
According to her Twitter account, Jill also gets pretty emotional on the show, humorously tweeting that she'll "Kim K cry all over national TV."
She told TV Grapevine that that the overall experience on The Letter brought out all the ~feels.~ "Even though I wanted to be helpful, I was nervous that my words were going to be misconstrued as hurtful or 'b*tchy,'" she said. "Not knowing for an entire week whether or not my best friend would hate me after she found out I wrote her letter was an extremely emotional and nerve wrecking experience."
Despite that rollercoaster of feelings, it seems like the foursome have remain friends post-filming, since they've been spending time on the Jersey Shore and enjoying a few (animated) cold ones, according to her Tweets and Instagram account. Jill has also recently traveled to France and Greece with her boyfriend this year and she posted scenic photos of it all to IG.
Whether or not this group of friends stayed together, viewers will perhaps learn just how brutally honest you can be with your friends.
Images: Lou Rocco (2)/Freeform