Cute Kids Singing Pop Songs Because, Friday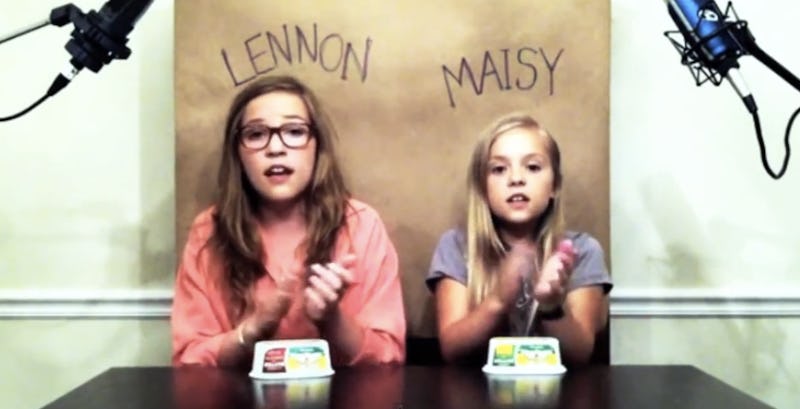 Kids are messy and sticky, but they're also sometimes extremely cute. Especially when they're belting out the words to one of their favorite songs. When their parents are lucky enough to catch these pint-sized renditions of pop songs on video, the rest of us get to share in their child's infectious adorableness.
Try to watch these 7 videos of adorable kids singing their own adorable versions of pop songs without rainbows literally bursting forth from your uterus. It's going to be hard, but these cute kids make it oh-so-worth it.
1. "Home" by Edward Sharpe & The Magnetic Zeroes
This catchy song is sweet to begin with, but gets about a billion percent more adorable when sung by Jorge Narvaez and his precious daughter Alexa. This one will probably jerk a few tears, especially if you're feeling homesick on your own.
2. "Let It Go" by Idina Menzel
There are lots of videos of kids singing the most popular song from Frozen, but none with more enthusiasm than 9-year old Annelise Forbes. Aside from her obvious love of this song, this girl has got some serious pipes. We'll probably be hearing more from her in the future, outside of YouTube.
3. "Call Your Girlfriend" by Robyn
Lennon Stella and her younger sister Maisy may now be the famous TV daughters of Connie Britton on ABC's Nashville, but they got their start on YouTube with videos like these. The Stella sisters harmonize beautifully together, and six-year-old Maisy sounds almost as grown up as her 11-year-old sister. Thankfully, they do plenty of singing without plastic butter tubs on Nashville.
4. "Someone Like You" by Adele
Ronan Parke got his start on Britain's Got Talent, and this video is obviously more produced than others on this list, but this kid is seriously amazing. Most adults won't even tackle singing Adele songs, and he does this acoustic version flawlessly.
5. "Super Bass" by Nicki Minaj
Sophia Grace Brownlee is the kind of child I imagine I was — obnoxious, and freaking fabulous. With her friend Rosie, Sophia Grace belted her way all the way to The Ellen Show, even though some parents thought the words of Minaj's song were a too adult for such little girls. Somehow, I seriously doubt that Sophia Grace's day care crush "probably sells coke."
6. "When I Was Your Man" by Bruno Mars
LOOK AT THIS CUTIE. HE HAS A FEDORA. THIS IS LITERALLY THE ONLY COMMENTARY I HAVE TO OFFER.
7. "Roar" by Katy Perry
When I hear Katy Perry's version of this song on the radio, I want to gouge my eardrums out with nails. When I hear Brianna Rose's version, I hear a girl with a serious future in musical theatre. Look at those gestures!
Happy Friday!
Image: Lennon and Maisy/Youtube