CoverGirl's First Male CoverGirl Is One To Watch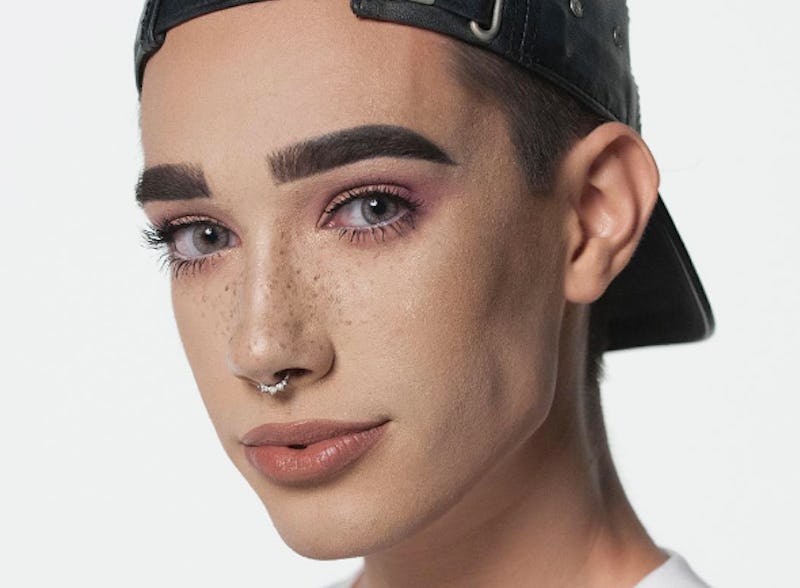 If you thought CoverGirl was just for ladies, well think again. Breaking beauty boundaries and living out his dream, James Charles is the first ever male CoverGirl representative. This 17-year-old social media star is featured in one of the brand's upcoming mascara campaigns, and his fans couldn't be more excited. Just one look at his makeup talent, and you'll see exactly why he's deserving of the beauty title.
According to The Huffington Post, Charles started using makeup only about a year ago, but believe me when I say that he's one to watch. As if his makeup tutorials and Instagram images weren't enough proof of that, he is now the very first male CoverGirl. Considering that in the makeup company's 55-year history, every single campaign starred someone who identified as a woman, this is pretty major news.
Katy Perry, who has her own beauty line with the brand, broke the news on her Instagram. She posted a picture with Charles saying she was honored to announce the news. Charles also posted a video to Instagram saying how excited he was to have this opportunity. One look at his YouTube channel, and you'll see that the title was long overdue. From classic glam to colorful creations, this kid can do it all.
"All of our CoverGirls are role models and boundary-breakers, fearlessly expressing themselves, standing up for what they believe, and redefining what it means to be beautiful," CoverGirl said in a statement to Huffington Post. "James Charles is no exception. One year ago, he boldly chose to launch his Instagram to the world, using transformative, dynamic makeup looks to showcase the many facets of his personality, serving as an inspiration to anyone who might have been afraid to do the same."
As Huffington Post points out, he can probably take the "aspiring" away from makeup artist in his Instagram bio. Looking at his talent, I can't believe Charles has only been at it for a year. His fans are equally excited too. Here's what they had to say about the very first CoverBoy.
It's an all-around win!
Same.
*insert all the hand clap emojis here*
This comparison is on point.
Wow indeed.
Instant obsession.
All caps is definitely necessary.
This is only the beginning of a big future for this makeup artist.
Images: covergirl/Instagram (1)