How To Care For Your Lips, According To An Expert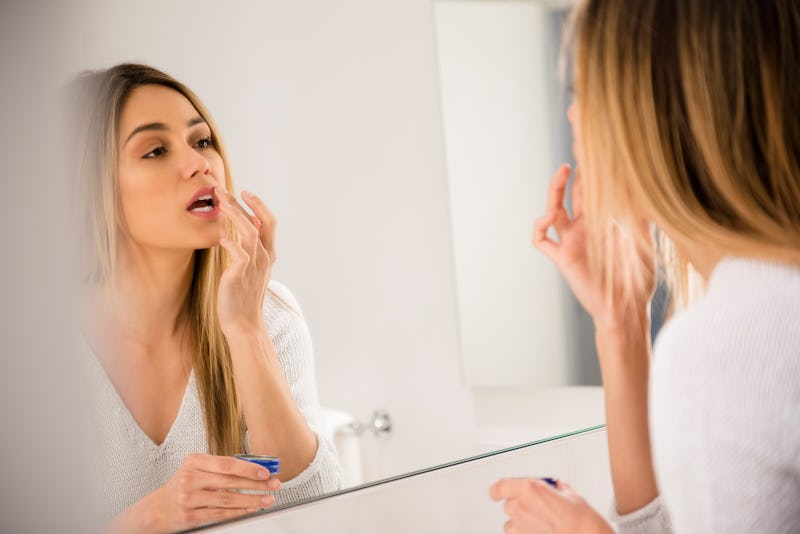 Jamie Grill/Tetra images/Getty Images
Thanks to Glossier's Balm Dotcom, Kylie's Lip Kits, and everything Pat McGrath, lips are having a serious moment. We have never had more options for dressing up our pouts (Mattes! Glosses! Metallics!), and putting on lipgloss has never been so much fun. But as much as we love decorating our lips, we often forget one crucial thing: taking care of them. So how are you supposed to take care of you lips? We all (hopefully) have morning and evening skincare routines (and if you don't... it's time to get on that, stat) but often forget that our lips need love too. Just like the rest of the skin on our faces and bodies, lip skin needs to be properly taken care of to prevent damage.
The most important thing you can do is learn to read your lips to make sure you're treating them right and keeping them healthy. "Healthy lips are slightly moist and pink, revealing your body's well-hydrated state and robust circulation," says Dermatologist Dr. Jessie Cheung. "Unhealthy lips are dry, cracked, and the surrounding skin is often wrinkly, red or irritated. Pale lips can signify nutritional deficiencies or anemia."
In order to keep your lips looking moist, pink and #smoochable, here are seven things Dr. Cheung recommends adding to your daily routine.
1. Overload On Balm
Glossier Set of Three Balm Dotcom, $36, Net-a-Porter.com
Tis the season for your lips to require extra special care. "Dry cracked lips are very common in the winter, and licking your lips just makes the dryness worse," says Dr. Cheung. "Reach for a soothing lip balm, and avoid potential irritants such as citrus, menthol, or camphor."
2. Hydrate Overnight
Kiehl's Lip Balm #1, $7, Kiehls.com
In addition to using balm during the day, it's necessary to make it a part of your evening routine, too. "Apply a good lip balm every night," says Dr. Cheung. "I don't like lips balms that have alcohol, which is drying, or fragrances or chemical sunscreens, which can irritate." Instead, look for organic occlusives such as beeswax, almond oil, or coconut oil to seal in moisture.
3. Invest In A Humidifier
HoMedics Personal Ultrasonic Humidifier, $19.99, BedBathAndBeyond.com
If the balm isn't quite cutting it, Dr. Cheung suggests using a humidifier in your bedroom while you sleep to add moisture to your skin overnight.
4. Skip The Plumping Gloss
Ultra Luxe Lip Liner, $2.99, Avon.com
It may be tempting to go for the bee-stung look, but it can be risky. "I see a lot of patients with lip irritation from plumping glosses," says Dr. Cheung. "They are often allergic or sensitive to the active ingredients that cause temporary swelling of the lip." Instead, use a lip liner to enhance the appearance of your lips.
5. Exfoliate, Exfoliate, Exfoliate
APA Lip Loofah, $18, apabeauty.com
I think we can all agree: There is nothing grosser than dead, flaky lip skin. To avoid it building up and falling off into your Pumpkin Spice Latte (see, I told you it was gross) you need to exfoliate. Some DIY lip scrubs can be too irritating for thin lip skin, says Dr. Cheung. It's better to stick with gentle sugar scrubs — you can add honey for extra hydration, and pamper yourself every week.
6. Don't Forget To Use Sunscreen
Elta MD UV Lip Balm, $8, DermStore.com
Yes — your lips need sunscreen too. "Remember to protect the delicate skin from the sun with a good physical sunblock," says Dr. Cheung, which means that it contains zinc or titanium dioxide, which work by sitting on top of your skin and deflecting the sun's UVA and UVB rays.
7. Skip The Kylie Jenner Challenge
If you really want fuller lips, please, please do not shove your lips into a Pringles can a la Kylie (2015 was a dark time for all of us) — invest in the real thing. "Putting a tiny amount of Botox into your upper lip will actually make it look fuller and enhance the pout," says Dr. Cheung. "It's a quick trick with no downtime — you may be satisfied with the volume and not even need a lip filler." This obviously needs to be done by a doctor (please, please don't try to inject your lips at home!) but is an option if you really want a bigger pout and want to do it the right way.
Images: Jamie Grill/Tetra images/Getty Images; Courtesy of Brands; Giphy