Tarte's Amazonian Clay Blush Color Wheel Is Here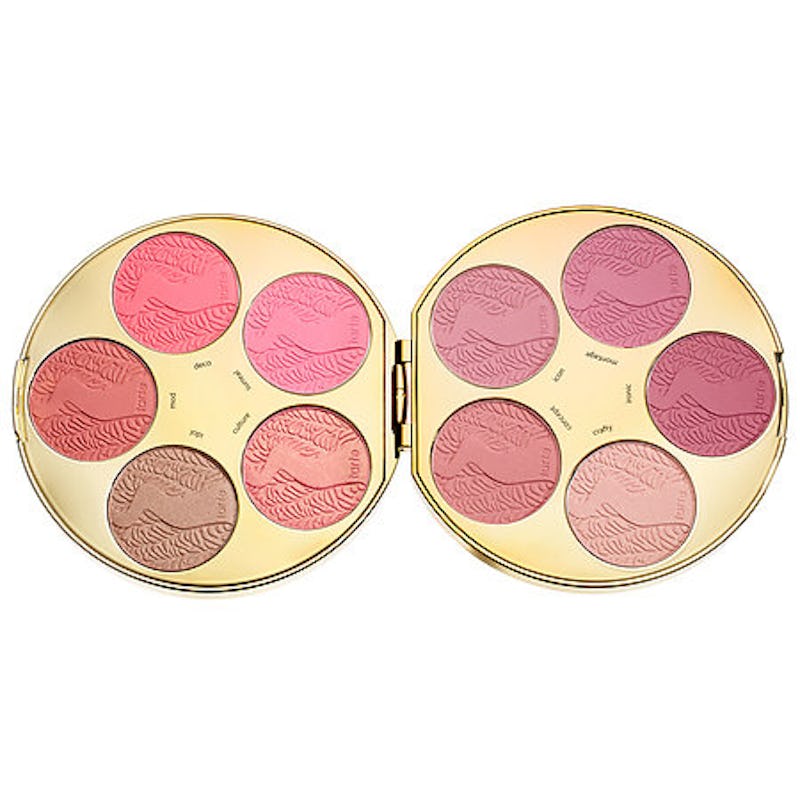 Tarte is at it again with yet another Holiday Collection launch. The makeup collection keeps getting bigger, and this time it includes one of their bestselling products — blushes. Ten of them, to be exact. Where can you buy the Amazonian Clay Blush Palette Color Wheel? You have a few options when it comes to this rosy beauty compact.
If you missed out on the Big Book Of Blushes that Tarte released earlier in the season, then this is your redemption. The adorable little on-the-go compact holds nine brand new shades of cheek tint and one highlighter, ranging from pops of pink to subtle pigments. Basically, with just one purchase you can be set on blushes for the rest of the year. The only downside is that it won't be around for long, since it's limited-edition.
Tarte's 12-hour Amazonian Clay Blushes are some of the best out there, in my opinion, so you really can't go wrong. According to the company's social media, there are only two places that you'll find this holiday launch. Unfortunately, one of those locations is already sold out. As of Oct. 11, the Color Wheel is unavailable at Tarte.com, but you can still shop it on Sephora.com. If that doesn't prove how great of a beauty buy this is, then I don't know what does.
Amazonian Clay Blushes, $33, Amazon
Amazonian Clay Blush Palette Color Wheel, $34, Sephora
The price tag on this item is $34, which breaks down to just under $5 a blush. Each shade is a deluxe item, not a full-sized, but that still a pretty great price. Plus there's a shade for every season. This is way more than just a fall blush palette.
Amazonian Clay Blush Palette Color Wheel, $34, Sephora
The adorable packaging matches the rest of the holiday collection as well. What sets this on apart is the on-the-go compact. You could easily slip this into a weekend bag or pack it into your travel makeup kit. It doesn't get better than that!
Amazonian Clay Blush Palette Color Wheel, $34, Sephora
Considering these are all brand new colors, you really can't go wrong with this buy. What are you doing still reading this? Go snag one before they're gone!