How To Use Lighting To Take A Perfect Selfie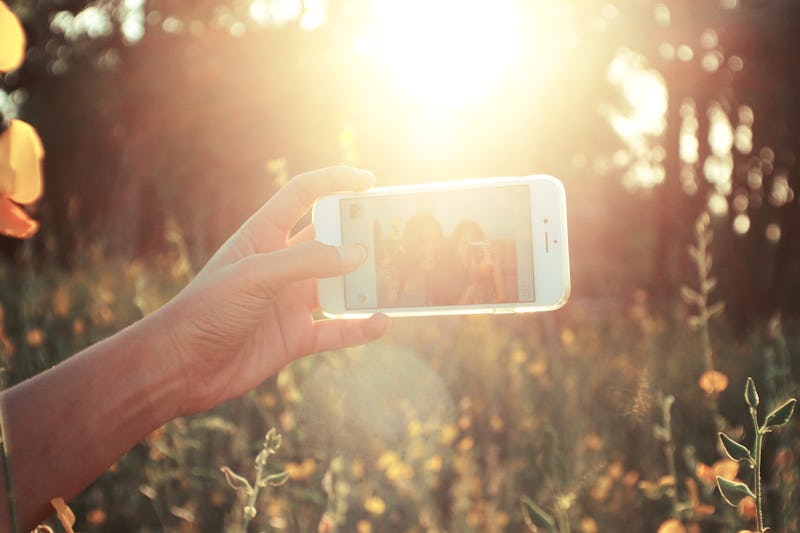 We've all heard the basics of how to take the perfect #selfie, and seen them implemented daily on Kim, Khloe, and Kylie's Instagrams: Tilt your chin down, hold the camera high above your head, and smize like your life depends on it. What you may not know, though, is that lighting — as in, the stuff around you IRL — can be just as important as camera angle and facial expression in the overall effect of selfies.
According to Rochelle Hartigan, a Marketing Manager at GE, lighting is important in the overall effect of selfies because front-facing cameras generally produce lower-quality photos, so better lighting helps cast you in the best possible light (pun intended).
"Make sure you are in a well-lit room with lighting being projected from different light sources in multiple directions or angles," says Hartigan. "To bring out the true colors of your clothes, your makeup, and your surroundings, consider lighting the room with a light bulb like the GE reveal, which brings clarity to surroundings by creating a greater separation between red and green hues, which has an overall effect on making colors appear more vivid, as well as highlighting detail with greater clarity."
Bulbs like the GE reveal help with red balance, which celebs like Gigi Hadid and Chrissy Teigen swear by. This can be achieved in the Instagram app using the color balance filter, but it helps to have the perfect lighting to begin with.
Here are five ways to utilize lighting for your next supermodel-esque selfie, no Valencia or Lo-Fi required.
1. Understand The Type Of Lighting You Need
Light comes in several color options, which is why our high-tech makeup mirrors have so many settings that none of us actually know how to use (but apparently, there is a difference between "office" and "day.") Bulbs called "soft white" can create photographs where colors may appear more yellow than in person; bulbs called "daylight" can create photos where colors may appear lighter than in person. Selecting a bulb (like GE reveal) can help to make the colors in your surroundings, and even you, look more vibrant!
2. Know The Limits Of Filters
Considering how easy it is to doctor a photo into looking perfect after the fact, it may seem like overkill to have to worry about the lighting when it's being taken, but filters can't fix everything. "It's hard to filter out some elements like shadows and colors with a filter," says Hartigan. "A filter can only work with what was captured as part of the original photo. Lighting can play a critical role in how a photo is perceived.
3. Angle Your Camera The Right Way
To use your surrounding lighting to your benefit, make sure your camera is placed between you and a light source. Taking a picture from above can sometimes help with lighting capture, but make sure to always keep the light source (so, the sun or the lightbulb) out of your frame.
4. Turn Off The Flash
For anyone who has ever taken an accidental forward-facing selfie with the flash on, this should be a welcome tip. Hartigan advises that once you've designed the lighting in your space for the perfect selfie, you should strongly consider turning off any flash or light from the photo source so your perfectly lit pic can shine on its own.
5. Smile!
We may not all be supermodels or celebrities, but we can pose like them in front of cool backgrounds with perfect lighting and achieve prettttyyyy similar effects, especially when we have a #sqaud member to back us up.
Images: Mink Mingle/Unsplash