Kylie Jenner's 'Complex' Magazine Is Fierce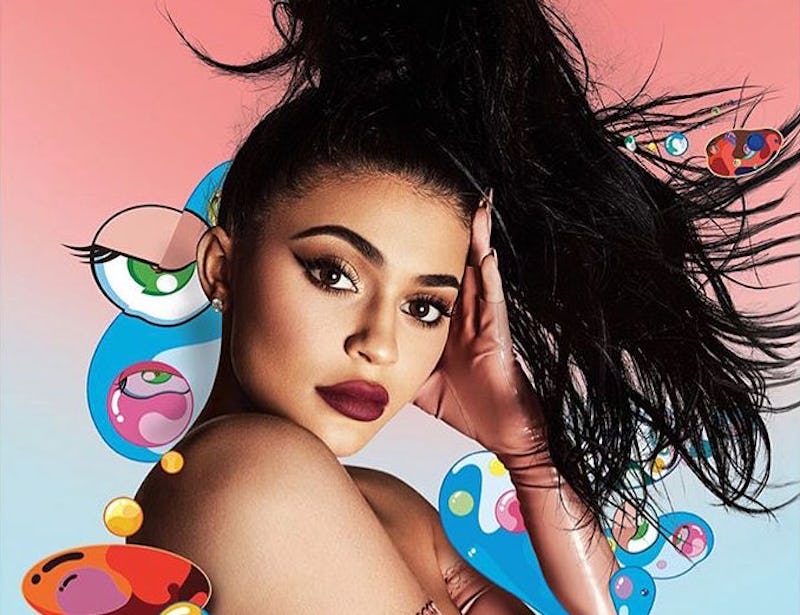 These days, it's hard to find a magazine that Kylie Jenner hasn't covered (Allure! Glamour! Us Weekly every other week!) and as of this month, she has another major name to add to her resume: Kylie Jenner is on the cover of the October/November issue of Complex Magazine, and it's super duper fierce.
You may remember older sister Khloé's sexy Complex cover shoot from 2015 when she showed off her post-Odom revenge body in the basement of an old boxing gym (you go, Khlo), but the youngest Jenner's shoot has a very different vibe. As in, lots of latex, trippy-looking artwork, and major glam.
On the cover, Jenner looks confident and gorgeous wearing nothing but fingerless pink rubber gloves and a sultry stare. Her hair is long and dark, and hairstylist Clyde Haywood swept up into a poppy high ponytail at the crown of her head. She rocks golden-bronze eye makeup that looks a lot like The Bronze Palette Kyshadow, a heavily-winged black cateye and a purpley-red matte lip that closely resembles her limited edition "Leo" lip kit. As of now, the verdicts still out on whether or not makeup artist Ariel Tejada used Kylie Cosmetics products or makeup from another brand, but my bet is that it's Kylizzle's own. Her nails are long and square, and painted in the same mauve shade as the gloves.
Throughout the shoot, Jenner is surrounded by imagery from artist Takashi Murakami, which you may recognize from his early-2000's collaboration with Louis Vuitton (which included the white and candy colored it-bags of the Paris Hilton era). The juxtaposition of Murakami's child-like artwork and Jenner's sophisticated glam seems to make a statement about Jenner herself: She may seem all grown up, but she's still barely a legal adult.
In the interview accompanying the shoot, Jenner is more candid than we've ever seen her before (which is saying a lot for someone who's life we've watched on reality TV since she was 10 years old). She talks about everything from her relationship with Tyga to bullying to going "too far" with her lip injections, which she says she wanted after a boy in high school told her, "Your lips are really small but you're a really good kisser. I didn't think you were gonna be good at kissing."
The full interview is online now over at Complex, and the issue will be on newsstands (and perfect for you to use as Kylie Jenner wallpaper) later this week.
Images: KylieJenner/Complex/Instagram