25 Weird But Genius Items For People Who Travel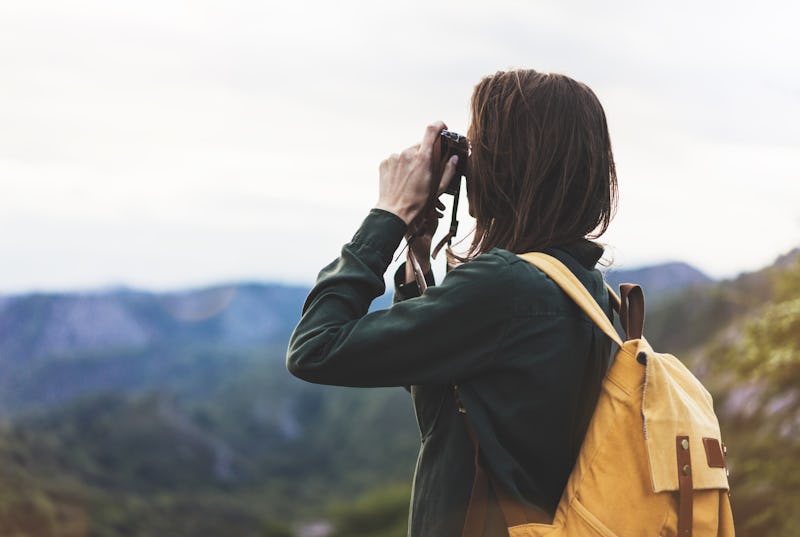 As an avid traveler that's been around the world over the past two years, I like to think I've become an expert packer. And surprisingly, I've found it's actually the uncommon travel accessories that have made my trips better than most. Speaking from experience, it's the weird gifts for people who travel that turn out to be the most useful. After all, you can bet your traveling friend already has the basic stuff covered.
While I continue to convince myself that I only bring the absolute necessities, there are some things that either make my life easier or grant me a bit of luxury while on the road (and they may seem like weird things to pack to other people). It could be a beauty product that seems overpriced and silly when I'm staying in hostels or sitting between two screaming babies on the plane. Or, it could be a quick drying towel that I can toss into my backpack and not worry about getting everything else wet.
One of my friends brings a hammock with her literally everywhere she goes. And while I may think that's silly, she won't leave home without it. Everyone has their things. And honestly, they make really great gifts for the traveler in your life, despite them being random or weird things to gift.
1. Dog Booster Seat
Kurgo Skybox Dog Booster Seat for Cars, $54, Amazon
If you know someone who loves road trips and will never leave home without their pup, a dog booster seat is a great gift. Let their little guy enjoy the sights while riding in the backseat.
2. A Bug Bivy That Protects Your Sleeping Bag From Water & Mosquitoes
Outdoor Research Bug Bivy, $79, Amazon
If you have a friend who is a big camper, then this bug bivy (or mosquito net) is the perfect gift. It keeps bugs out and also features a waterproof nylon floor, so you can place your sleeping bag on a dry surface
3. A Snail Hydro Gel Mask For Dehydrating Flights
Missha Super Aqua Cell Renew Snail Hydro Gel Mask (Five Pieces), $23, Amazon
Long haul flights can be pretty drying. Making sure your skin stays moisturized is super important. That's why a snail hydro gel mask can really brighten up skin and restore moisture in even the most damaging environments.
4. A Mobile Hotspot
Skyroam Mobile Hotspot, $100, Amazon
I've been to places where the WiFi is either terrible or nonexistent. If you're like me, and you need to get work done while traveling, WiFi is a big necessity. So, if you have a digital nomad friend in your life, this mobile hotspot is a perfect gift for them. You pay for WiFi when you need it and never when you don't.
5. A Portable Air Purifier
IonPacific ionbox, $60, Amazon
If you know someone who has terrible airborne allergies but loves to travel, getting them an ionbox is perfect. This little thing is a filterless air purifier that can be charged by USB. It can remove smoke, bacteria, pet odors and dander, dust, and more out of hotel rooms.
6. A Travel Steamer
Travel Smart by Conair Dual Voltage Steamer, $24, Amazon
Most hotels will have irons in the rooms, but I personally prefer to steam my clothes (I'm really bad at ironing). This one is compact, has worldwide dual voltage, and can quickly steam clothes and have you ready for your night out.
7. A Hoodie That Can Carry Everything
AyeGear H13 Hoodie, $105, Amazon
Do you know someone who hates carrying a bag around with them? Well, now they don't have to. This theft-proof hoodie has 13 discreet pockets, some big enough for even a 12-inch laptop. It's perfect for the festival goer or hiker in your life.
8. A Water-Resistant Bluetooth Speaker
Malektronic Rocket Bluetooth Outdoor Speaker, $100, Amazon
This isn't any old bluetooth speaker. You can actually answer phone calls wirelessly from any bluetooth smartphone with this thing. Answer them under a waterfall if you want, because of its highly water-resistant features.
9. A Portable Humidifier
Travel Ultrasonic Humidifier, $30, Amazon
There is nothing worse than getting a bad night of sleep because your room is too dry. That's why packing something as simple as a travel humidifier can make or break your trip. Simply attach a water bottle and get a great sleep, no matter what your bed is that night.
10. A Personal Fridge
Wigan 2577 Personal Fridge, $52, Amazon
If you're family is all about camping or road tripping, but they aren't about expensive rest stops, a great gift would be a personal fridge. It plugs into the car, fits up to nine soda cans or some water bottles, and maintains its temperature for two hours after you unplug it.
11. A Power Inverter For The Car
BESTEK 300W Power Inverter, $30, Amazon
Let's face it, everyone is glued to their phones these days. You use it for keeping in touch, for social media, and for GPS when traveling. Don't let anyone fight over the car charger anymore. This plugs right into the car and can charge up to four devices at once.
12. Luggage Compression Shelves
Valet Luggage Compression Shelves, $16, Amazon
Some people hate unpacking almost as much as packing. Now they can get both done at once. Simply hang up the collapsible shelves, fill them up, and then place them in your suitcase. All you have to do is pick it up from the top when you arrive at your hotel and hang it in the closet. So easy.
13. Travel Storage Case For Bras
JAVOedge Flower Pattern Fabric Travel Bra Storage Case, $16, Amazon
Finding the place for bras in a suitcase can be tough. But this storage case eliminates that problem. Bras fit perfectly in the case and there is a little pocket for underwear, as well.
14. A Multifunctional, Dual Voltage Hair Tool
2 in 1 Travel Hair Straightener and Curler, $27, Amazon
If you know someone who just can't live without glamming before they leave their house, buy them a straightener and curling iron. Even better, this one is a 2-in-1 tool and is dual voltage so they can use it wherever they go.
15. A Travel Surge Protector
Belkin 3-Outlet SurgePlus Mini Travel Plug, $18, Amazon
I literally never leave home for a trip without one of these. I don't know how many times I've checked in somewhere that only has one outlet. I'm a blogger, and I have a lot of electronics to charge each night. These things literally save me each time.
16. Silk Travel Sheet
Cocoon Silk TravelSheet, $44-$110, Amazon
Another thing I bring with me wherever I go is packable silk sheets. These little sheets are perfect for so many occasions. Use them camping, use them when you're only given a blanket and no sheets, and use them when you may be a bit irked out by the sheets on the bed you're sleeping on.
17. DoubleNest Hammock
Eagles Nest Outfitters - DoubleNest Hammock, $70, Amazon
This nylon hammock is super lightweight and portable (it's the hammock my friend refuses to leave home). She's strung it up on the porch of a bungalow, between two palm trees, in the woods, and more. Plus, two people can lounge on here.
18. A Water Bottle With A Filter
LifeStraw Go Water Bottle With Integrated 1000-Liter Straw Fliter, $30, Amazon
You never know when you're going to get thirsty. And whether you're traveling through a third world country, you're camping, or you've gone hiking, you can safely drink water with this bottle. The straw's replaceable filter can remove E. Coli, Giardia, and more.
19. A Microfiber Towel
Dock & Bay Microfiber Beach Towel & Pouch, $15-$20, Amazon
Microfiber towels are one of my favorite travel items ever. A lot of my friends thought it was silly that I purchased towels to travel with before I left for backpacking, but the joke was on them. They were lugging around heavy bath towels that took up so much space in their bags and took forever to dry. These dry super quickly and roll up into a tiny pouch for easy storage.
20. Removable iPhone Lens Kit
olloclip 4-IN-1 for iPhone 6/6s/Plus, $80, Amazon
Take professional quality photos with your phone with the help of this four-in-one lens kit. It comes with a fisheye, wide-angle, 10x macro and 15x macro lens and is compatible with all of your apps. Just clip on the iPhone in seconds and start shooting.
21. A Luggage With Built In GPS, Remote Locking, And A Battery Charger
Bluesmart One - Smart Luggage Carry On, $450, Amazon
Now you'll probably look at the price tag and say, "damn, that's one expensive carry on," but then you'll see the features. You can lock and unlock your bag using your smartphone. Plus, you can charge your devices with the two USB charging ports. And you can track your suitcase from your phone with 3G capabilities. It even has a built-in scale in the suitcase handle.
22. Skyrest Travel Pillow
Skyrest Travel Pillow, $30, Amazon
This highly portable travel pillow deflates and inflates in minutes. It'll definitely attract some stares in your direction, but you'll be the one sleeping like a baby on the plane.
23. An Outdoor Oven And Stovetop
Camp Chef Camping Outdoor Oven With Two Burners, $184, Amazon
Do you know someone who loves cooking and going camping? Then why not help them explore their culinary side and the great outdoors at the same time with a propane oven and stovetop.
24. Dream Water
Dream Water Natural Sleep Aid (24-CT), $48, Amazon
Sure, you could just pop a regular sleep aid tablet, but those can take a while to start working. When you're on a long haul flight, you just want to get to bed and this natural, gluten-free, kosher sleep drink is fast-acting. It's a delicious sleep and relaxation shot and it's only 2.5oz, so it complies with TSA regulations.
25. A ZzzBand For Better Sleep
NEW ZzzBand Pilot Created Travel Pillow And Eye Mask, $20, Amazon
This is one of those items that you see someone else using and you're just like, "what?" But the pillow and mask combo was created by a pilot to enhance sleep in economy seating. The strategic adjustable strap that connects to the adjustable headrest on your seat eliminates neck pain and head bobbing, ensuring you get a good rest on your overnight flight.
Images: Fotolia (1); Amazon (25)
Bustle may receive a portion of sales from products purchased from this article, which was created independently from Bustle's editorial and sales departments.