Where To Buy The OPI 'Tiffany's' Mini Kits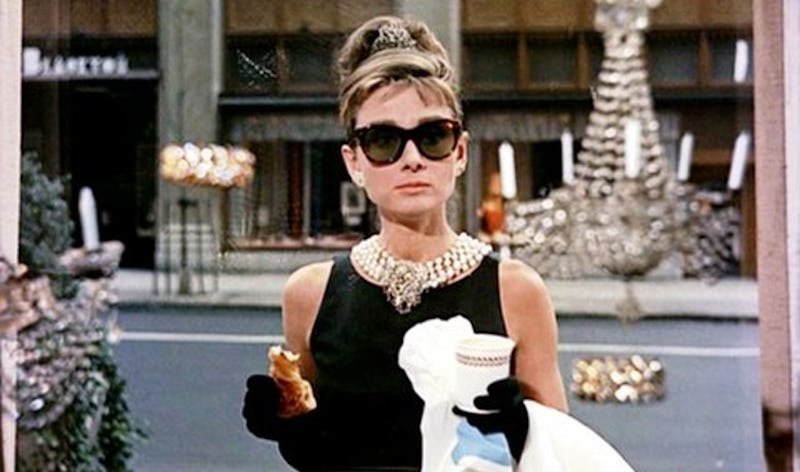 Tiffany blue is about to get a lot more accessible: OPI's new Breakfast at Tiffany's Mini Kits are here for the holidays, making the most of the iconic film's mix of playfulness and style. Available at Ulta, the Breakfast at Tiffany's collection features full-size polishes in spot-on hues of baby blue, deep red, purple, holiday party sparkle and the best polish approximation of Moon River that I've ever seen (although admittedly, there haven't been a lot of those just yet).
The formula is up there with the color story in excitement — OPI's Infinite Shine chemistry is the gold standard for not-quite-a-gel, but not-just-another mani longevity. Having trouble making up your mind about what's worth it heading into this holiday avalanche? Good news: OPI is also releasing six Breakfast at Tiffany's mini kits, grouped by theme, and available at Ulta.com.
The Breakfast at Tiffany's 3 Piece Infinite Shine Set is the classic color trio (in packaging), with a primer, Tiffany blue polish and glossy topcoat ($27.50). The "Style Icons" set is almost more lust-worthy, though — with the classic blue, party dress pink, multidimensional (like Holly Golightly's soul) burgundy and so good mean-red red, it's everything a fan could want for $14.50. A ten-piece, two-piece and four-piece kit round out the collection, along with an online-only set of cocktail-themed moisturizers with avocado and aloe juice, priced at $11.95.
OPI Breakfast at Tiffany's 3 Pc Infinite Shine Set, $27.50, Ulta.com
The trio — jewelry not included, unfortunately.
Breakfast at Tiffany's 4 Pc Mini Set, $14.50, Ulta.com
Audrey Hepburn would approve.
Breakfast at Tiffany's 10 Pc Mini Set, $28.95, Ulta.com
No orange for Holly's cat, unfortunately, but all the other bases are covered. This is the rare collection that I'd like even without being told the explicit theme — with a range of ultra-wearable neutrals (Holly by day) and gem tones with an edge (Holly by night) the sets have it all.
Or buy a standalone polish and go it alone — the most Holly move of all.