'90s Songs That Are Perfect For Your Fall Playlist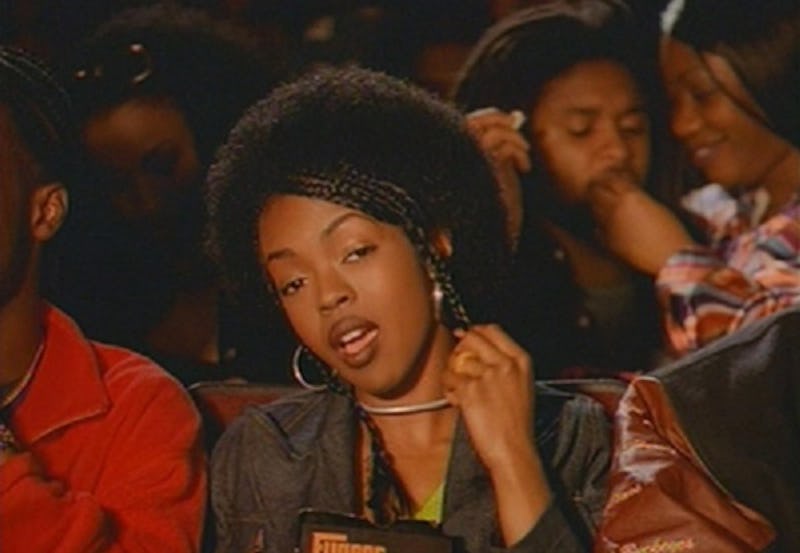 As every music lover is fully aware, when the seasons change, you have to switch up your playlists. And while spring can be full of optimistic, playful music and summer full of energetic, upbeat bangers, fall is more of a contemplative time, full of the brooding, the bittersweet, and the hauntingly beautiful. There are some amazing '90s songs that are perfect for fall, for this very reason — it was, after all, an era that delivered plenty of music that fits the description of fall perfectly. But it was also an era full of the sort of stunning, wistful, and honey-like vocals that feel as cozy to listen to as a spiced pumpkin latte is to drink. When it comes to the perfect songs for a fall playlist, you don't search for songs that reference the season. Instead, you hunt down songs that evoke it.
All 14 of these songs do exactly that. Not only do all of them provide the perfect soundtrack for crisp morning jogs through a colorful park or attempts at staying cozy on the commute home from work, but they all speak to the sentimentality of the season. Ultimately, fall feels ever so melancholic, but utterly enchanting, just as it feels haunting yet positive. Trust me. Add any or all of these '90s songs to your fall playlist, and you'll understand exactly what I mean:
1. Elliott Smith — "Waltz #2"
Listening to Smith through headphones on a crisp, fall morning is like covering your brain in a gigantic blanket. Though his music can feel melancholic, it also has a cathartic quality that feels private, cozy, and soothing, and "Waltz #2" is one of his finest for combining all of those elements.
2. The Fugees — "Killing Me Softly"
The Fugees' iconic cover of the Roberta Flack classic is like a drizzle of honey on an otherwise dry day. It's both bittersweet and blissed out, with Lauryn Hill's vocals parading sumptuously over a simplistic drum and bass.
3. The Smashing Pumpkins — "Drown"
If you've made the mistake of assuming that every Smashing Pumpkins song is as gothic and brooding as their later offerings, then you need to hear their 1991 album Gish. Upbeat and laid back, the album provides little musical glimpses of peace, tinged with a slight melancholic edge. "Drown" is the finest example of all that Gish has to offer.
4. The Cardigans — "Lovefool"
Probably one of the finest and most bittersweet pop songs ever written, "Lovefool" provides a perky melody alongside lyrics that explore the dark, obsessive nature of falling in love. That makes it the perfect blend of fall's cheerful optimism and ultimate decay.
5. D'angelo — "Brown Sugar"
Enough to melt you down to the sidewalk on the morning commute, "Brown Sugar" is instant, sumptuous warmth on a chilly fall morning. Simple as that.
6. No Doubt — "Sunday Morning"
When Gwen Stefani sings, "you came in with the breeze on Sunday morning," I can't help but relate it to a track of broken, dead leaves gusting in through the front door and that first bite of Fall creeping into the home.
7. Nirvana — "The Man Who Sold The World"
Still completely haunting, Nirvana's entire MTV Unplugged session is perfect for fall, but their cover of this David Bowie classic is perhaps the very best for soundtracking the season. Brooding and ever so slightly sinister, it evokes a season full of extreme yet beautiful changes, falling dead leaves, and the ghoulish presence of Halloween.
8. Lauryn Hill — "Ex-Factor"
This is Hill's second mention of this list, sure, but it's for good reason. Her vocals are powerful, evocative, and irrepressibly luscious. And "Ex-Factor" combines the sombre tone of a break-up song with the forceful optimism of a woman determined to find some peace of mind. It's all the light and the dark that makes fall so beautiful.
9. Semisonic — "Closing Time"
Containing the lyric "every new beginning comes from some other beginning's end," "Closing Time" may as well be a song signaling the end of summer and ushering the start of fall.
10. Erykah Badu — "Next Lifetime"
Honestly, make yourself a cup of spiced apple tea, go sit near a window, and gaze out at whatever fall view you can find while listening to this absolutely gorgeous gem. It's fall magic in a song.
11. Alanis Morissette — "Head Over Feet"
This might be as upbeat as Jagged Little Pill era Morissette ever got, and it shares similar bittersweet nuances as The Cardigans' "Lovefool" in identifying the ups and downs of love. All in all, it adds up to a snugly slice of alt-rock that feels oddly complimentary to the season.
12. Eagle-Eye Cherry — "Save Tonight"
All that talk of closing the curtains and drinking wine with a special someone by candlelight sounds exactly like the sort of cozy fall festivities that I intend on indulging in.
13. Counting Crows — "Mr. Jones"
I don't know if it's just all the brown hues in the music video, or the jangle of those acoustic guitars, that somehow speak fall to me, but "Mr. Jones" does it. Could it maybe be all that talk of "all of the beautiful colors" that maybe has me thinking of the jaw dropping hues of fall foliage? It seems likely.
14. Cat Power — "Rockets"
'90s acoustic-era Cat Power is my fall queen. Brooding, poetic, and just the right level of angst, she's my favorite musical companion for waving goodbye to summer and embracing the chilly, laconic days of fall. "Rockets" is dreamy, wistful, and just oh so gorgeous. Words can't ever do it justice.
Oof, I feel cozier already guys. Plug in your favorite noise-canceling headphones, turn up your fall playlist, and go forth and kick some crispy, fall foliage around while you enjoy a perfect walk in the best ever season.
Images: fhefugeesvevo/YouTube