Clarisonic X First Aid Beauty Will Save Your Skin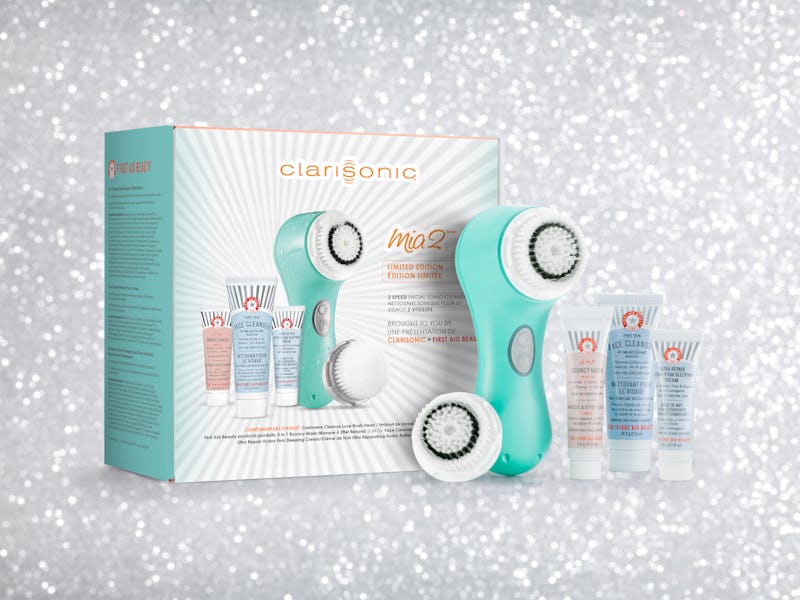 The cold weather throughout the fall and winter months can wreak havoc on your skin. So, the name of the game is skincare, skincare, skincare. Of course, this is always important, but you may have to pamper yourself even more from Oct. until at least Feb. But, hey, I'm not complaining! What's in the Clarisonic Mia 2 First Aid Beauty Set? It's got everything you need to keep you looking radiant all season long.
Clarisonic and First Aid Beauty have teamed up to bring you four products that will help you stay clean, clear and moisturized. The set includes the Sea Breeze Mia 2 Sonic Skin Cleansing Brush that is sure to give you a gentle, but deep cleansing. You'll also find a Pure Skin Face Cleanser, 5-in-1 Bouncy Mask and Ultra Repair Hydra-Firm Sleeping Cream from First Aid Beauty in the bundle. When you shop this set, you'll have everything you need to cleanse, hydrate and repair. So, get ready to say "hello" to a youthful, glowing looking you this winter!
You can shop this on the Clarisonic website and at Sephora. According to a press release, this is a $217 value, but you can snatch it for only $169. What are you waiting for? Better get to shopping! 'Tis the season of more intense skincare, after all.
The Sea Breeze Mia 2 brush also comes with the Sensitive Brush Head and the Luxe Cashmere Cleanse Brush Head. So, whether you have sensitivities or just need a little extra bit of hydration, this brush set has everything you could need.
Mia 2 Sea Breeze First Aid Beauty Set, $169, Sephora
Shopping this set will help solve your skincare woes all winter long. Sip some cocoa and slather on a face mask because baby, it's cold outside!
Images: Courtesy Clarisonic (3)