Here's What's In The Empire x Torrid Collection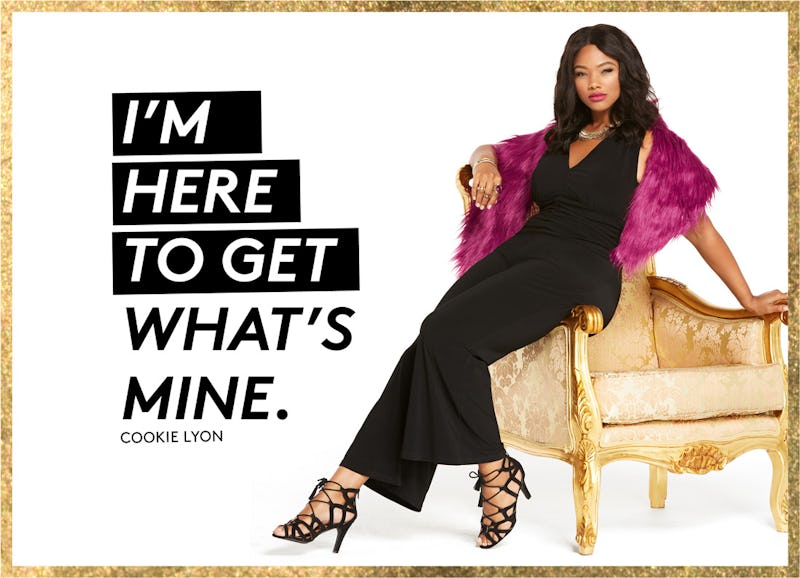 Whether she's showing everyone who's the boss in the boardroom or shaking it at the Lyon's Den, Empire's Cookie Lyon is inarguably the fiercest woman on television. Now, you can rock some of that swagger yourself with the Empire x Torrid collection.
The collaboration, which launched on Monday, has 18 original clothing and accessories inspired by the signature styles of the ladies of Empire. There's a plaid crop-top and skirt set for Rhonda, an embellished hooded sweatshirt for Porsha, a poppy a-line dress for Becky and fur, fur and more fur for Queen Cookie. There are also chic, structured bags and lots of gold jewelry so you can go all out with the full look. Considering that all of the women in the show's cast are hardcore HBIC's (what I wouldn't give to be any of them...) the collaboration serves up some serious power-lady vibes.
Prices for the pieces in the collection range from $18 to $118, so there is something at every price point. Here's a roundup of what you'll find in the Empire x Torrid collection, all of which will make you want to blast "Conquerer" on repeat, then go kick some ass at the office (... and/or the club).
1. A Statement Fur
Fox Empire Collection Ombré Faux Fur Coat, $118, Torrid.com
Cookie hardly goes anywhere without a majorly glamorous fur draped around her shoulders (seriously, she even lounges in her bedroom in them). The collection also features a hot pink faux-fur stole that will have you dead-seriously saying, "GET YOUR HANDS OFF MY FUR."
2. A Power Suit
Fox Empire Collection Faux Lace Up Ponte Blazer, $68.90, Torrid.com
Literally the perfect outfit for busting into boardroom unannounced and showing everyone who's in charge.
3. A Leopard Dress
Fox Empire Collection Leopard Print Asymmetrical Dress, $68.90, Torrid.cm
Three words for this get-up (which is inspired by Anika, obviously): Boo Boo, Kitty.
4. A Fierce Jumpsuit
Fox Empire Collection Crisscross Back Jumpsuit, $78.80, Torrid.com
I can so picture any of the women of Empire rocking this jumpsuit (Cookie, Tiana, Portia, Becky....) in their own way, and know that every single one of them would pair it with heels and some serious bling.
5. A Va-Va-Voom Red Dress
Fox Empire Collection V-Neck Bodycon Dress, $68.90, Torrid.com
Cookie's style is the perfect combination bossy and sexy, and this dress would work under a blazer during the day and on its own at night. #Girlboss at its finest.
Images: Courtesy of Torrid