This Online Safety Guide Slightly Misses The Mark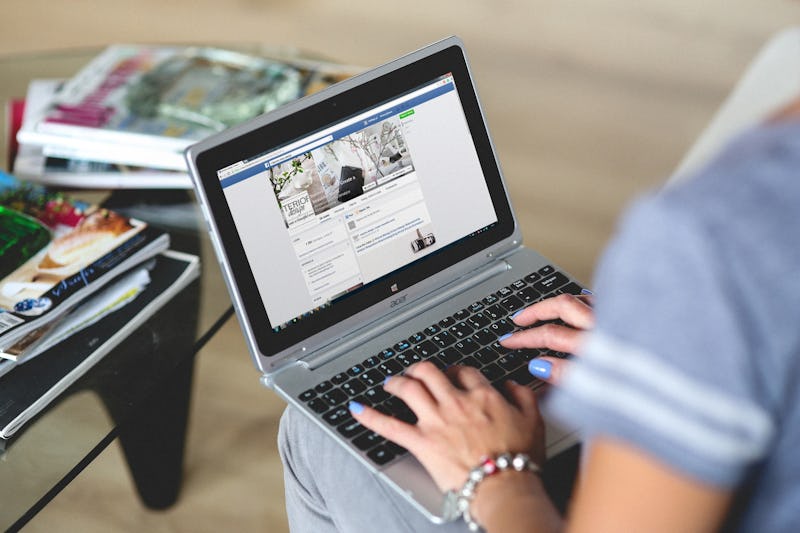 When we hear of tools intended to fight harassment, it's bittersweet. While drawing attention to the resources available for victims of harassment is both good and useful, the reality is that we shouldn't even need these things at all. Take, for example, a recent collaboration between the Irish charity Women's Aid, the National Network to End Domestic Violence (NNEDV), and Facebook on a guide for dealing online harassment: Yes, these online safety tools are important, and yes, it's vital to draw attention to them; however, although the guide's creation is a positive step, it's also a sad indication of a social order which still calls upon people to prevent other people from harassing them — rather than calling upon people not to harass others in the first place.
The guide, titled simply "A Guide To Staying Safe On Facebook," teaches readers how to use Facebook's many safety features to protect themselves online. Recently launched from Facebook's Dublin HQ, the guide uses gender-neutral language; after all, safety tools are useful for everyone. However, it's worth noting that women between the ages of 18 and 24 — which make up a large portion of Facebook's user demographic — disproportionately experience the kinds of harassment these tools are meant to combat: According to the Pew Research Center, 26 percent of women in this age group report having been stalked online, while 25 percent report being the target of online sexual harassment. As such, it's unsurprising that those who collaborated on the guide are focusing largely on its usefulness for women when discussing the project with the media.
The guide offers advice in three main areas. The first section focuses on security: How to set-up login approvals, decipher login notifications, develop a strong password, and maintain a network of trusted contacts. The next section focuses on how to conduct a privacy check-up, so you're aware of exactly how much personal information is being shared, and who with. The third section affirms the importance of only connecting with people you know and encourages the use of the block and delete tools to remove any online communication that is not consensual or abusive.
As important as it is to know both that these tools exist and how to use them, though, Margaret Martin, Director of Women's Aid, also said on Irish TV channel RTÉ's Morning Ireland that she wants to underline that the responsibility of reducing harassment still rests with the perpetrators — not the victims.
"Digital abuse in intimate relationships is real and it is harmful. We have long been concerned about disclosures of digital abuse made to our National Freephone Helpline and other services," she said according to The Irish Times. "The impact of this type of insidious abuse on women's lives cannot be underestimated." She continued, "Women's Aid is proud to partner with Facebook in Ireland to launch the new online safety guide for women. While this guide is for all women, it may be of particular importance and relevance to any woman experiencing online abuse and harassment from a partner or ex. It is an essential guide for women."
It's surely a welcome move from the social media giant; harassment is rampant not only online, but on social media in particular. (Fully four in 10 internet users have reported being harassed online, according to the Pew Research Center.) Furthermore, although — again — the guide's language is gender neutral, the statements from Margaret Martin and other creators of the guide very clearly underline the fact that women are disproportionately affected by many types of online harassment. This is also highly notable, because as far as I'm aware, no other social networks have attempted to protect the women on their platform from the special brand of harassment that is frequently lobbed at them. It highlights how social media platforms have repeatedly failed women, and attempts to rectify that fact.
But on the other hand, it also highlights the failing of our systemically unequal society which continues to center victim responsibility over that of the perpetrator. As women are continually forced to take measures to protect themselves, those guilty of the harassment and internet crimes will continue to operate as normal unless larger cultural changes focus on dealing with them or the root cause of the problem. Just once, I'd like to see a campaign targeted at educating trolls as to what really constitutes trolling, or an initiative focusing on why online stalking is crime. Perhaps that's too much to expect right now. But at least we're moving in the right direction in the meantime.
Images: Kamboompics/Pixabay; Giphy (3)