20 Random Expensive Products Trending On Amazon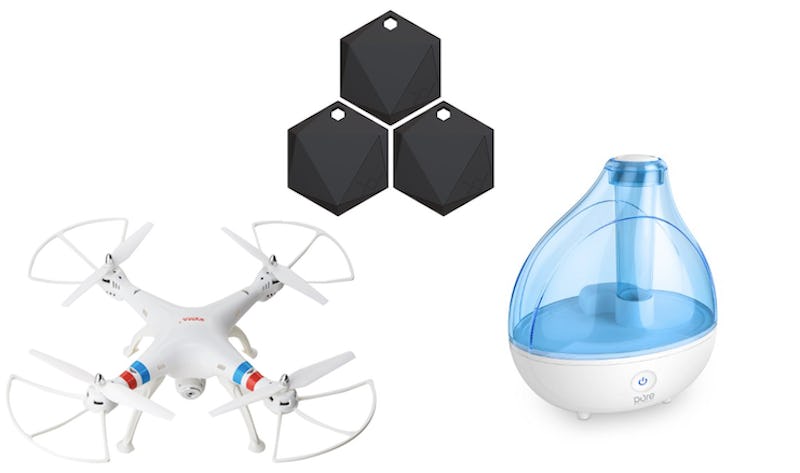 It's tough to know when an expensive product is actually worth the purchase. There are so many things people are buying on Amazon, for example, that despite their expensive price tags, are surging in popularity. You can actually find them by browsing through the "Movers and Shakers" or "Best Sellers" pages on the site, and I took some time combing through the reviews to figure out which popular expensive items were worth it.
I'm not someone who can buy a pricey product on an impulse — I have to make sure that it lives up to the hype. That's why when I know I need to buy something more than my well-planned budget allows, I always turn to Amazon to see what's trending, and I always check out the reviews before I press "Add to Cart."
If you're going to spend a lot of money on something, you want to make sure it actually works, and that it keeps working. The best way to do that is to buy things that other people are buying and to spend a little bit of time reading through what other people have to say about it. And people generally have a lot to say, so you can be confident that you're picking the right expensive product, whatever it may be.
1. An Entertaining Drone With Photo And Video Capabilities
Soma X8C Centure with 2MP Wide Angle Camera, $51, Amazon
Step up your Instagram game with a drone. Users say this one is incredibly easy to fly, and it takes awesome video and photos. Because of its colorful lights, you can even fly it at night and still see where it is.
2. GoPro HERO5 Black
GoPro HERO5 Black, $500, Amazon
The newest edition to the GoPro family has been released, and it's the perfect upgrade from the HERO4. The HERO5 is waterproof without housing, and it features gorgeous 4K video and 12MP photo. I will be upgrading to one of these very soon, and reviewers are saying that thanks to improvements like image stabilization and touchscreen, this one's definitely worth it.
3. Bluetooth Key Finder
XY3 3rd Gen Item Finder, $60, Amazon
Never lose your things again. The bluetooth enabled trackers help you keep tabs on your wallet, phone, keys, and anything else you may misplace frequently. Just use your phone to locate the different trackers, and if it's your phone that's missing, you can log onto the website, too, to find the location.
4. Anti-Aging Vitamin C Serum
Kleem Organics Professional Age-Defying Vitamin C Serum for Face, $35, Amazon
A serum that removes dark spots, has anti-aging properties, and is full of vitamin C sounds too good to be true. But, this serum is a best seller for a reason. Users say that you can notice the difference after a few weeks of use.
5. A Bluetooth Portable Speaker That You Can Talk To
Amazon Tap- Alexa-Enabled Portable Bluetooth Speaker, $130, Amazon
Talk to your speaker, and ask it to play music from Amazon music, Pandora, Spotify, or your own library. You'll get up to nine hours of playback, and you can even ask Alexa to order you some food or call you an Uber.
6. Ninja Master Prep
Ninja Master Prep, $40, Amazon
Make smoothies, chop vegetables, crush ice, and so much more with this high powered blender. And then when you're finished, pop everything in the dishwasher.
7. Stainless Steel Electric Wine Opener
Secure Stainless Steel Electric Wine Opener with Thermometer, $35, Amazon
At your next dinner party spend more time talking with your guests and less time opening bottles of wine with a corkscrew. Plus, this electric wine opener has a built-in thermometer that reads wine temperatures with a click of a button, so you can serve a perfectly chilled bottle.
8. An OtterBox For Your iPhone 7
OtterBox DEFENDER SERIES Case for iPhone 7, $43, Amazon
You just got this brand new phone, so you should probably put an awesome case on it, so it stays safe (don't be one of those people who shatters their screen after one week). This case keeps out dust and debris and has a built-in screen protector. Plus, it's shock-proof.
9. External Battery For Charging Your Devices
External Battery RAVPower, $33, Amazon
Safely charge your phone and your tablet at the same time. One user said, "This RAVPower thing is the best thing ever...It charges my iPhone from completely dead to 100% in about half an hour." Sure, it's a little pricier than your usual run-of-the-mill portable battery charger. But according to these reviews, it's worth it.
10. Fitbit Alta Fitness Tracker
Fitbit Alta Fitness Tracker, $130, Amazon
This fitness tracker has been the best seller on Amazon for months. Its sleek design and ability to track steps, distance, sleep patterns, and more makes it an all-around awesome tracker. Plus, you can get notifications on it from your phone when it's close by.
11. A Mirrorless Digital Camera
Olympus OM-D E-M10 Mirrorless Digital Camera, $400, Amazon
I can say from personal experience that I'm not surprised that this camera model falls under the "Movers and Shakers" list on Amazon. It's super lightweight, which makes it the perfect camera to bring with you while traveling.
12. This Rosemary And Eucalyptus Cleanser For Hair And Body
Jack Black Turbo Energizing Wash For Body & Hair, $50, Amazon
This pricier-than-normal wash may set you back a drink or so on Friday, but its invigorating formula of eucalyptus and rosemary are what's going to make mornings that much easier. Reviewers are pledging their loyalty, saying things like, "Expensive? Yes. But it makes you smell like an Olympian."
13. A Bluetooth Connected Electric Toothbrush
Oral-B Pro 5000 SmartSeries Electric Toothbrush, $100, Amazon
Now you can find out more about your brushing habits with a toothbrush that connects to your smartphone via Bluetooth. It syncs up to an app to help you learn how to better take care of your mouth and teeth.
14. Glycolic Acid Exfoliating Body Wash
Glycolic Exfoliating Body Wash , $32, Amazon
If you struggle with body breakouts, an effective exfoliating wash can really make all the difference. According to reviewers, this glycolic body wash is just that. Though it's price is practically double what your fruity wash may cost you at a drugstore, one reviewer said, "It has cleared up all my breakouts and prevented new ones. My scars are almost all gone."
15. A Premium Cool Mist Humidifier
Ultrasonic Cool Mist Humidifier, $40, Amazon
Keep the air in your room moisturized for up to 16 hours. You'll end up getting a great night's sleep, and you'll begin to breathe easier and not wake up all stuffy in the morning.
16. Single Serve Coffee Maker
Mr. Coffee Single Serve Coffee Maker, $47, Amazon
Make an easy and quick cup of coffee when you wake up in the morning. Use your favorite Keurig K-Cup packs for coffee, tea, or cocoa drinks.
17. Amazon Fire Tablet
Fire Tablet 7" Display , $50, Amazon
E-books, music, movies, TV shows, and more are yours at the touch of a button with this Fire tablet. Surf the web for up to seven hours, and soon, you can even have the Alexa voice capabilities, too. One reviewer pointed out, "Perfect size for Ebooks, and web surfing to alleviate strain on the eyes from my 5" phone display."
18. Stan Smith Sneakers
Adidas Stan Smith Sneakers (5-11), $65-$180, Amazon
Perhaps the most popular sneaker of the year, Stan Smiths come in a variety of colors and are perfect for adding a bit of street style edge to your outfit.
19. Daniel Wellington Watch
Daniel Wellington Classic Watch, $82, Amazon
These watches are the best. I have two of them, and they are the most comfortable watches I have ever worn. But don't take my word for it — one reviewer said, "I love this watch even more than I expected! The leather band is high quality and the face of the watch is thinner and lighter than I thought it was going to be, which is great." The watches are super chic and classic, so it's no wonder the slightly pricey pieces are also lauded by reviewers.
20. This Pricey Posture Correcting Bra
Leonisa Posture Corrector Wireless Bra (32B-40DD), $35-$37, Amazon
This posture correcting bra is completely wireless for an ouch-free day, and its widened straps adjust to fit in a way that's comfiest for you.
Images: Amazon (20)
Bustle may receive a portion of sales from products purchased from this article, which was created independently from Bustle's editorial and sales departments.