The 17 Funniest Halloween Movies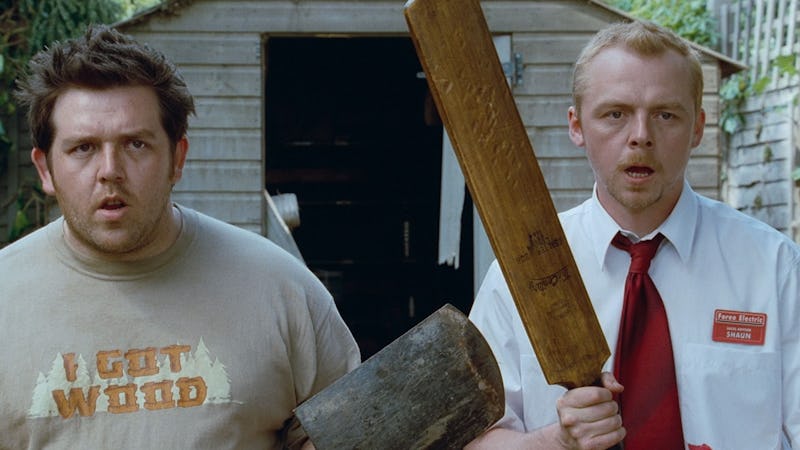 If you think that Halloween isn't for laughing, and rather only for screaming, then you've got it all wrong. Yes, horror movies and thrillers and suspense are an awesome way to embrace the vibe of the season, and I have scared myself silly and screamed myself hoarse in many a terrifying haunted house in my day. But trust me, you can also get in the spooky spirit by laughing your butt off, too. There really are so many different types of funny Halloween movies. You've got the sweet and kid-friendly, the brutal satire, the campy and outrageous, the subtle and dry, and the flat-out hilarious.
Halloween itself, with all the different types of paranormal creatures and otherworldly adventures, is kind of perfect for comedy. After all, anything can happen during this season. So I have put together a compendium of many of these fantastic, funny (and yes, sometimes a little freaky) Halloween movies for you to watch if you want a break from the nonstop gore of a slasher movie marathon. Instead, consider a marathon of the 17 funniest Halloween movies, listed below.
1. Nightmare Before Christmas
A bit twisted, a bit theatrical, and more than a bit darkly comic, this Tim Burton stop-motion masterpiece is a must for Halloween.
2. Hocus Pocus
One of those Halloween movies that literally everyone of all ages loves, this one will stay in your heart forever.
3. Casper
I have to be honest, that scene of the ghosts eating breakfast and having all the food fall out of their bodies cracks me up to this day.
4. Paranorman
This stop-motion beauty is way underrated. Original plot, great animation, fantastic voice actors — Anna Kendrick, Leslie Mann, Christopher Mintz-Plasse, and Elaine Stritch — and a warm, funny Halloween vibe.
5. Young Frankenstein
This Mel Brooks masterpiece is a classic in every category: classic monster movie, classic comedy, classic film, full stop. May Gene Wilder live on in our hearts forever.
6. Under Wraps
Nothing beats a Disney Channel Original Movie about a bumbling mummy and some goodhearted kids trying to stop money-hungry baddies. Harold the mummy will have you cracking up throughout.
7. The Frighteners
This one is legitimately a bit freaky (Jake Busey is a convincing serial killer), but Michael J. Fox's banter with the ghosts that keep piling up in his town — that only he can see — is delightful.
8. Shaun Of The Dead
The ultimate zombie satire, this film is perhaps comedian Simon Pegg's true masterpiece. Whacking dead bodies with blunt objects has never seemed so fun.
9. Tucker & Dale Vs. Evil
In the same school of horror comedy as Shaun of the Dead, Tucker & Dale is also big on blood, body parts, hapless heroes and major laughs.
10. Beetlejuice
Zany, gross, and totally classic. Michael Keaton's turn as Beetlejuice is an electrifying entry into the Halloween comedy pantheon.
11. Life After Beth
Aubrey Plaza plays a deeply charming young zombie girlfriend in this twisted zombie comedy. Plaza's got comedic chops and Dane DeHaan, who plays her boyfriend, is great at looking surprisingly nonplussed about dating an undead girl.
12. Fright Night
Fright Night isn't billed as a comedy, but its major campiness, super '80s effects, and self-awareness make it much more of a comedic take on vampires than a legitimate horror flick.
13. Edward Scissorhands
Everyone in this off-the-wall weirdo romance fantasy movie is utterly committed, making it a hilarious commentary on the suburbs.
14. The Addams Family
It's hard to beat The Addams Family's style or its wry, dark humor. Remember when Wednesday Addams asked if the Girl Scout cookies were made from real Girl Scouts?
15. Warm Bodies
Just your classic contemporary zombie-themed take on Romeo and Juliet.
16. What We Do In The Shadows
The best vampire mockumentary you'll ever see, What We Do in the Shadows hilariously explores how three dudes who drink blood and can't die handle the challenges and joys of everyday life.
17. Heathers
This searing, hilarious satire includes plenty of murder and a generous helping of gruesome and hilarious wit.
After watching a few — or all — of the entries on this list, you're sure to be looking on the bright side of this delightfully dark holiday.
Images: Buena Vista (2), Focus Features, 20th Century Fox (2), Disney Channel (1), Universal Pictures (2), Rogue Pictures (1), Magnet Releasing (1), Warner Bros (1), A24 (1), Columbia Pictures (1), Paramount Pictures (1), Summit Entertainment, Madman Entertainment (1), New World Pictures (1)