Fred Phelps' Death Sparks A Different Protest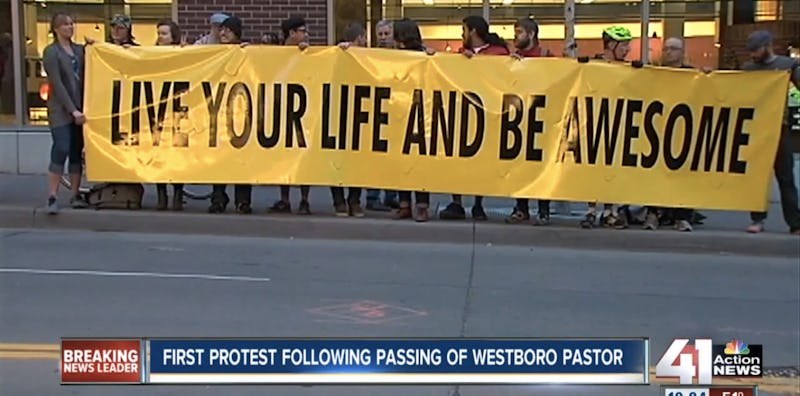 Last week, the death of Westboro founder Fred Phelps sparked discussion about whether his funeral would be protested, much in the way he and his family and church plagued memorial services for decades. As it turns out, anybody who wanted to indulge in that kind of revenge was disappointed: No funeral was held for Phelps. In spite of that, some Missouri residents took to a Lorde concert in Kansas City — which the WBC was there to protest — carrying a very different message.
It was one of caring and empathy, which stood in stark contrast to the late reverend's legacy of bigotry and rage.
Rather than express what had been feared in the aftermath of Phelps' death — a kind of mirroring, however understandable the impulse might be, of his twisted trampling of other people's grief — the counter-protest in Kansas City was one in which members of the WBC were confronted with condolences. Essentially, it was a caring comment that acknowledged the Phelps clan as humans, and doubled as a clear, implicit criticism of their worldview.
It's entirely possible that the condolences weren't welcomed. It's been reported that Phelps was excommunicated before his death for advocating a kinder approach between church members — most of them his own family.
It's not clear whether the lack of a funeral was a deliberate plan to avoid such a scene, or reflective of a broader attitude. Worship of the dead is one of the many things the Westboro Baptist Church vehemently condemns, which their Tweet following news of Phelps' death cites.
It's a fitting end to Phelps' life that he was given a remembrance of sort from the very people who rejected his hatred — not those who wallowed in it with him.
Image: KSHB-TV/NBC
SaveSave