10 Ways To Celebrate National Dessert Day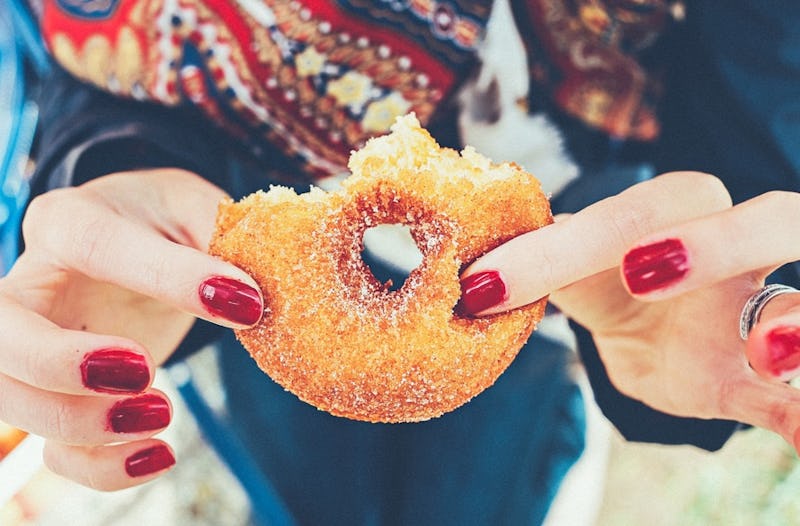 National Dessert Day is upon us, which means you have carte blanche to consume as much sugar as your little frosted heart desires, at least for the rest of this glorious day. If you're in the market for ways to celebrate National Dessert Day, look no further. I've got some sprinkle-covered inspiration ready to share, and you can trust me — I'm a bona fide dessert expert. You know the type — I've baked cookies as a meditative exercise, driven several miles for quality milkshakes after midnight, and have never turned down an ice cream sandwich, that I know of.
Technically speaking, dessert is a dish that concludes the main course of a meal, but I'll allow for an expanded interpretation that grants dishes traditionally relegated to dessert status main course privileges for one day and one day only.
National Dessert Day is made for people like you and me. If you've ever followed someone on Instagram solely because of their cupcake photo game, you know what I'm talking about. Whether your favorite dessert is pie, cake, or candy, I've got something for you. These are 10 irresistible ways to observe the food holiday that combines the best parts of birthdays (cake), Halloween (candy), and Thanksgiving (pies on pies) into one carbohydrate-packed 24 hours. Use it wisely.
1. Bring Doughnuts To Work
Your co-workers will never forget your jelly-filled, chocolate-frosted gesture of festive goodwill.
2. Pay A Visit To Your Local Cupcake Bakery
Basically every city has a cupcake artist who keeps the hits coming from red velvet with cream cheese frosting to the chocolate cupcake filled with peanut butter. Plus, you'll get to feel great about supporting a local small business.
3. Eat Loaded Pancakes For Breakfast
Brownies on top of pancakes are a genius play that I recently discovered. These legendary pancakes also had strawberries, whipped cream, and mascarpone cheese for good measure.
4. Have Froyo For Lunch
Yogurt is good for you. Frozen yogurt is even better for your soul. Take advantage of the special occasion and grab yourself a bowl of build-your-own soft serve frozen yogurt.
5. Double Down On Dessert
Check out this crazy recipe for Oreo-stuffed brownies from Averie Cooks. You can thank me later.
6. Throw A Cookie Baking Party
It's Friday. If you were gonna have people over for drinks anyway, have people over to make and decorate some fall-inspired cookies. Check out this recipe for Halloween monster cookies from My Baking Addiction.
7. Make A Sweet Drink
There's nothing better than chocolate, unless you count chocolate cocktails. Mix up something sweet like this double chocolate stout ice cream float from The Kitchn.
8. Freeze Some Popsicles
Not all desserts require baking. You can freeze a dessert into a popsicle form and enjoy your national dessert day served frozen and on a stick like these coconut key lime popsicles from Dessert Now, Dinner Later.
9. Throw Together Some Nutella Toast
This is a low-key option for you hazelnut enthusiasts out there. If you're a big fan of Nutella, you probably don't even have to go to the store to make this happen. A Spicy Perspective has the extremely simple details on this number with Nutella and cinnamon.
10. Buy One Get One Free Milkshakes At Steak 'N Shake
If you didn't know about this promotion, you sure do now. Steak 'N Shake is whipping up buy one get one free milkshakes until Nov. 20 for any customer with this coupon.
Images: Pexels (4); Jessica Learish; Averie Cooks; My Baking Addiction; The Kitchn; Dessert Now, Dinner Later; A Spicy Perspective