'Surviving Compton' Is Part Of Michel'le's Life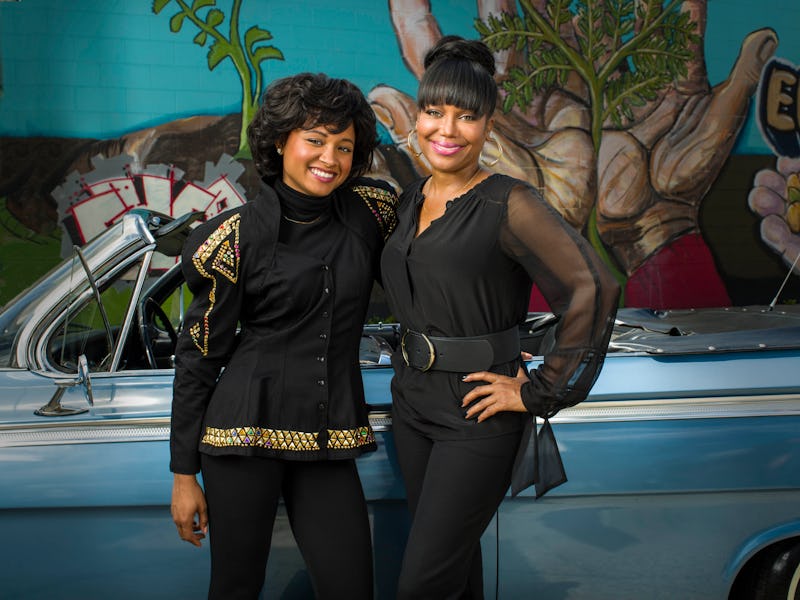 Surviving Compton: Dre, Suge, & Michel'le premieres on Lifetime on Saturday, Oct. 15 and offers a different perspective into the beginnings of the South Central/Compton hip hop scene than seen in Straight Outta Compton. The movie focuses on the life of Michel'le, who worked with Eazy E from NWA and was in a relationship with producers/rappers Dr. Dre and Suge Knight. But it's been years since then, so where is Michel'le today? Back in the '90s, she was mostly known for the men surrounding her, but there's much more to her than her relationships and now, she is making that known.
By the time she and Knight divorced in 2007, Michel'le hadn't released music in years and largely retreated from celebrity life. In the years since, she has struggled to reclaim her place in the spotlight, and unfortunately she hasn't released a full album since her 1989 self-titled album. It's disheartening, especially when you consider Michel'le's immense talent and place in hip hop history. But she is still persevering to this day, and has been carving out her own niche in hip hop's future. Here's what Michel'le has been up to recently.
She's Made Claims Against Dr. Dre
Michel'le has claimed that she was physically abused by Dr. Dre during their six-year relationship in multiple interviews, like the one with VladTV above, and Surviving Compton portrays the alleged abuse; Dr. Dre has denied these allegations. When, following the release of Straight Outta Compton (which does not portray abuse), Michel'le and other women claimed that Dre had beat them in the past, he said in a statement to the New York Times, "I apologize to the women I've hurt. I deeply regret what I did and know that it has forever impacted all of our lives." However, in a statement to Jezebel, Dre's attorney clarified that this apology was not addressing Michel'le's claims and said, "I can assure you that Dre's August 2015 apology for things he did decades ago was not in any way directed to Michel'le. Her false claims of being a victim arose for the first time more than 25 years after their relationship ended, coinciding with the success of Straight Outta Compton and her own efforts to sell a life story."
TMZ reported that Dre also threatened to sue Sony Pictures if Surviving Compton depicted him as abusing Michel'le and a title card at the end of the film states: "Dr. Dre, through his attorney, denies abusing Michel'le and challenges her credibility."
She's Shared Her Struggles With Depression
In 2015, Michel'le spoke to The Daily Mail about a difficul period in her life. "Two years ago I tried to kill myself as I was at such a low point in my life," she said. "Looking back I didn't even know I was depressed, I was just so used to feeling that way and thought that was what life was." But she was optimistic about her future and happy with everything she has going on right now. "I am having a beautiful life and I am so excited about what the future holds for me and my family," she said.
She's Raising Her Children
Michel'le has two children, Marcel, her 25-year-old son with Dre, and Bailei, her 14-year-old daughter with Knight. seems that she is the primary parent to both. She told the Daily Mail that she took Bailei to visit Knight while he was in prison and said, "Bailei is not terribly close to her father, but she loves him, he is the only dad she has." In her VladTV interview, she said that Marcel, who wants to score music, has a good relationship with Dre and has worked with him in the studio.
She Has Released A Few Singles
In 2011 and 2014, Michel'le released new singles, though she hasn't released an album since 1998's Hung Jury. Both singles, Freedom to Love" and "It Still Hurts," are testaments to her talent, so I hope we see more music from her soon.
She's Making Surviving Compton
That's right, Michel'le is behind the Lifetime movie, which she narrates, and the whole script is from her point of view. According to her interview with Jezebel's The Muse, the script was based on her own recollections.
And She's Claiming Her Place In Hip Hop History
Michel'le wasn't really portrayed in Straight Outta Compton, which is the most popular representation of the early South LA rap scene to date. Watching the film may have given audiences an idea of the basics, but through Surviving Compton, interviews, and the frequent times she shares throwback photos, Michel'le is proving that she was an important member of the scene that defined the hip hop audiences still love today.
Images: A&E Television Networks (2); Katherine Thornton/Lifetime