Make Up For Ever's Highlighters Are High End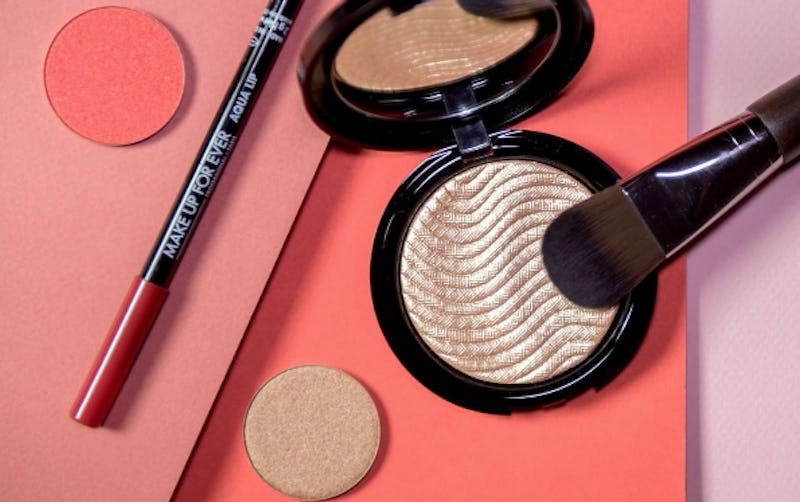 As if there wasn't enough cheek shine out there already, Make Up For Ever launched two highlighters. Everything from the gorgeous colors to the print on top of them is completely gorgeous, so you're definitely going to want them in your makeup bag. Before you bust out your credit cards, you probably want to know exactly how much The Pro Light Fusion Highlighters will cost you.
Just when you thought that the season wasn't glow-y enough, it just got even more intense. This isn't the first time that Make Up for Ever has come out with powder highlighters, but it is the first time they've had a full-pan devoted to themselves. Until now, you could only get the brand's cheek shine options in their Pro Sculpting Duo Set.
Thankfully that has all changed. Their two new highlighters are well worth the wait. For $39 each, there are two different gorgeous colors to choose from that both come in adorable packaging. As of now, both shades are only available at select online shops. Thankfully, Sephora.com is one of them. The launch is so exclusive that they don't even have them available on the Make Up For Ever website.
What makes this highlighter different than others, you ask? Well, it's a gel formula. Somewhere between a liquid and a powder, the products give off a natural glow, according to the brand's Instagram. You can tell just from the photos that the Pro Light Fusion Highlighters have a glow like no other.
Pro Light Fusion Highlight in Golden Pink, $39, sephora.com
One of the two shades is Golden Pink. Just like the formula, the hue is a hybrid between two of the most popular cheek shine shades. The other is Golden, which is more of a classic color. Fingers crossed they come out with even more stunning shades, because these two are great.
Pro Light Fusion Highlight in Golden, $39, sephora.com
A new formula and gorgeous colors? I'd say that these highlights are well worth the price.
Images: makeupforeverofficial/Instagram (1), Sephora (2)