Here's What's In Rag And Bone's Fragrance Line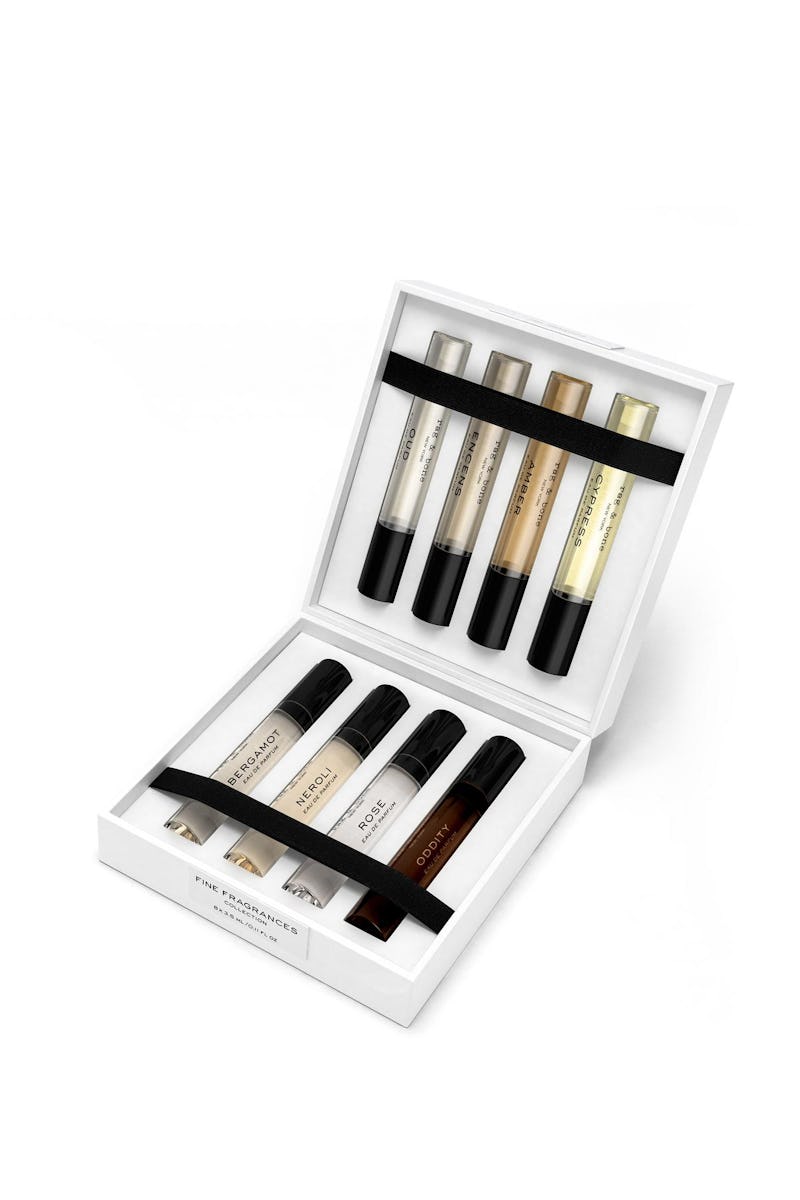 We've spent years lusting over Rag and Bone's booties, bags, and denim for our closets, and as of today we can add the fashion-favorite designer to the list of our beauty cabinet must haves, too. On Friday, the brand made their first foray into beauty when Rag And Bone debuted their fragrance line.
The collection includes eight unisex eau de parfums in minimalist bottles (that come from a 400 year old glass factory in Italy) that you'll want to make the centerpiece of your vanity. "We wanted to create a line that could appeal to the masculine and the feminine, very much like what we do with our ready-to-wear collections," designer Marcus Wainwright told WWD.
The scents are meant to be a blend of masculine and feminine notes (hence, unisex) with floral, pepper, citrus and woodsy under and overtones.As of now, the fragrances are only available on Rag and Bone's website and in their boutiques. Eventually, though, the brand plans to expand sales into department stores and other retailers. They go for $140 a pop (hence, lustworthy), but there is a $95 travel pack that includes samples of all eight scents.
Here are all of the Rag and Bone unisex fragrance options.
Safe to say I will be buying one (or all eight) of the scents for my boyfriend for Christmas, then stealing them back to use on my own (sorry, babe).
1. Oddity
Oddity, $140, Rag and Bone
Oddity, with its vanilla and black pepper mix, is the best of both worlds — a little sweet, a little spicy.
2. Rose
Rose, $140, Rag and Bone
Rose is seemingly the most feminine of the scents with a combination of rose, tea buds and white musk.
3. Neroli
Neroli, $140, Rag and Bone
Neroli (not to be confused with a Negroni, which is delicious) is a floraly citrus scent made up of orange and pink pepper.
4. Bergamot
Bergamot, $140, Rag and Bone
A "bergamot" is a citrus that looks like an orange mixed with a lemon, and this citrusy scent combines its fragrance with amber.
5. Cypress
Cypress, $140, Rag and Bone
Looking for something more "fresh" than woodsy? This cyprus and geranium combination will give you a citrus floral scent.
6. Amber
Amber, $140, Rag and Bone
For something sweet, try Amber, a combination of vanilla and liquor (it makes for a delicious scent, but also sounds like an amazing ice cream sundae).
7. Encens
Encens, $140, Rag and Bone
Woody, spicy and masculine, this scent of myrrh and incense will have you dreaming of a winter by the fire.
8. Oud
Oud, $140, Rag and Bone
What do you get when you mix leather, exotic spices and ancient wood? A smooth, amber scent you won't be able to stop sniffing.
Images: Courtesy of Rag and Bone; ragandbone/Instagram