7 Ways To Simplify Your Favorite Appetizers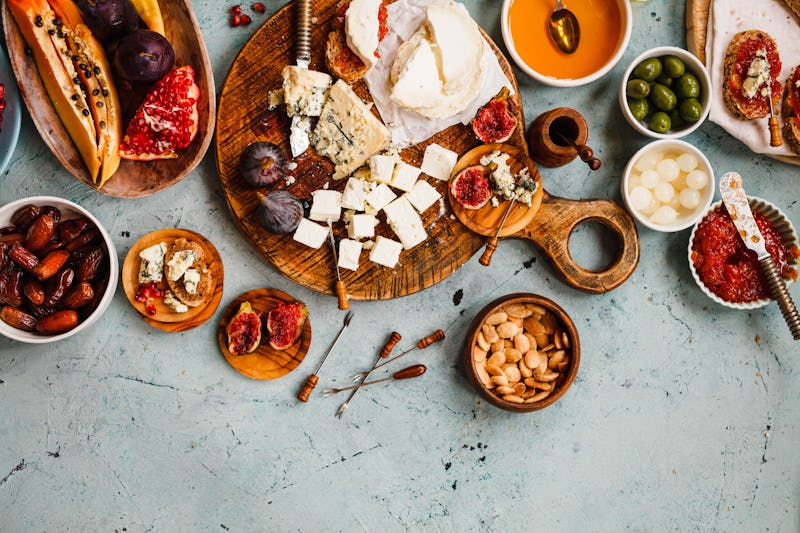 I'm going to let you in on a little secret. Sure, the appetizers I serve at get-togethers with my friends look like they're complex and took a ton of time to put together. But in reality, through some trial and error, I've learned how to game the system and figure out a few handy tricks for putting together a spread that looks totally time-intensive — without actually slaving away in the kitchen. How is that possible, you ask? Because I've mastered the art of simplifying all of my favorite appetizer recipes.
I, too, used to think that the more complex the recipe, the better the dish. But I'm here to tell you all that this line of thinking is completely flawed. In fact, some of the most well-received appetizers I've made have consisted of just a few ingredients and some creativity — and most are done in less than 20 minutes. Ready for some pro advice on how to take your appetizer game to the next level? In partnership with Smucker's® Fruit & Honey™ Fruit Spreads, we've compiled the best tips for creating simple appetizers that are as easy to make as they are delicious and Insta-worthy. Here are seven ways to simplify all of your favorite apps. Your guests can thank us later.
1. Simplify Sauces And Marinades With Unexpected Staples
When you're pulling together a spread of food for a big group of people, a crockpot is your best friend. Just throw in all the ingredients, let it cook, and serve the dish right out of the pot for minimal cleanup. Think that it couldn't get any easier? Think again. Pare down your ingredient list by swapping in a ready-made alternative into your sauces and marinades. My personal favorite? Instead of going the traditional route and using brown sugar, honey, and chili powder in my BBQ sauce, I sub in Smucker's® Fruit & Honey™ Strawberry Jalapeño fruit spread. Whether you're making slow cooker pulled pork or baby back ribs, your dish will be the perfect balance of sweet and spicy — with fewer ingredients to add to your shopping list.
2. Embrace Make-Ahead Components
The secret to being the least stressed party host ever? Making a few dishes the night before that you're able to whip out and serve up just as your guests are all arriving. The trick is to choose recipes that'll keep well overnight. Pinwheels made from deli meats and cheeses, puff pastry concoctions, and small bites like marinated olives or mozzarella balls are all MVPs when it comes to dishes that taste just as good (if not better) when prepped in advance.
3. Doctor Up Your Store-Bought Favorites
There's no shame in serving store-bought appetizers—as long as you're adding your own personal touch to each dish. Plus, saving time on food prep opens you up to experiment with different sauce recipes to accompany your apps. Planning to serve store-bought spinach spanakopitas? Make your own homemade tzatziki sauce to pair them with. Want to add some flair to those frozen Swedish meatballs? Save the drippings, whisk in some sour cream, and artfully drizzle it over them before serving.
4. Never Underestimate The Power Of Dips
Virtually all dips are easy to make, and more often than not, whatever it is you're dipping with usually takes little to no prep work at all. Depending on what else you're planning on serving for appetizers, your dip can be as simple as a semi-homemade onion dip made with sour cream and powdered onion soup mix, or as hearty as a quick-to-make layered bean dip that consists of ready-made ingredients. Pro tip: Make sure you're serving a sturdy chip or variety of veggies that stand up to the dip's consistency. There's nothing sadder than snapping your chip in half mid dip, am I right?
5. Put It On A Stick
Smart party hosts know all about the pros that come with serving apps on sticks. For starters, it allows you to cut down on paper plates, and gives your guests the benefit of mobility—so that they're not balancing a plate and a drink and also struggling to maneuver a fork. Not to mention, pulling these recipes together is beyond simple. All you need is a few fresh mozzarella balls, cherry tomatoes, and fresh basil leaves for color, and you've got an app on a stick that's eye-catching and delicious.
6. Create Your Own Crostini
What has three ingredients and is done in less than 10 minutes? Pretty much any crostini appetizer you can possibly dream up. Just top these little toasts with your favorite meats, cheeses, and spreads, and you've got an entire tray of party apps that are ready to serve. My personal favorite? A crostini recipe that pairs the sweet with the savory. Smear brie cheese onto freshly toasted crostini, then top with a teaspoon-sized dollop of Smucker's® Fruit & Honey™ Triple Berry fruit spread for a simple app that's a total crowd pleaser.
7. Mind Your Temperatures
This tip is key for ambitious party hosts who want to serve up an extensive menu to their guests. If the apps you're making are all going to need dedicated time in your oven, do your homework and plan to serve recipes that can all be cooked at the same temperature. It'll shave off the time you would have spent waiting for your oven to heat up (or cool down) after each dish is done. Plus, you won't be tempted to cook something at a temperature that's not recommended (big no-no!) in order to get everything out on time.
This post is sponsored by Smucker's® Fruit & Honey ™ Fruit Spreads.
Images: Shutterstock (6), Courtesy Smucker's® Fruit & Honey ™ Fruit Spreads