15 Halloween Ideas From Your Fave Beauty Vloggers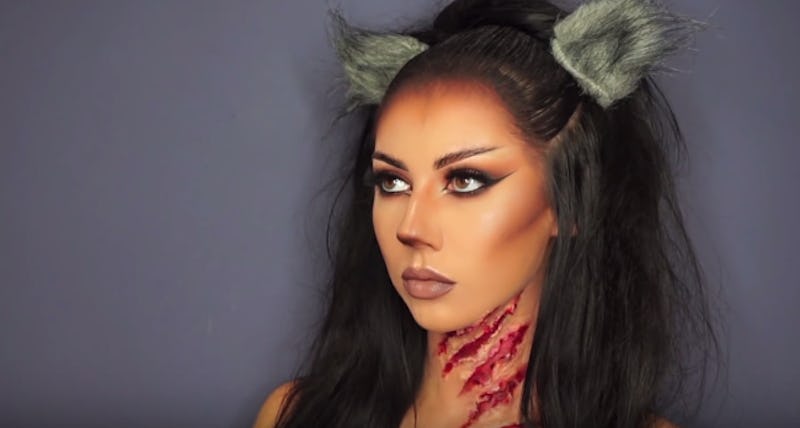 Halloween is almost here, and while we have to wait for the actual night of Oct. 31 to see what our friends and celebs are wearing, beauty vloggers Halloween makeup tutorials mean that we get to see their Halloween looks weeks in advance. That means, of course, we can copy said looks for our own Halloween makeup and by following professional YouTubers' advice, have the best costume at any Halloween events you're attending this year.
Not only are these looks amazingly done, but there's a massive range of styles to keep you satisfied. If you want to keep it pretty and clean, there's a tutorial for that. If you want to look like the scariest thing from a childhood nightmare, there's a tutorial for that, too. Equipped with the skills that they have, there's no limit to what a makeup vlogger can create. Their ideas work well during the rest of the year, but there's something magical about the combination of Halloween and professional-level makeup skills.
These looks are the best of the best from some of the most prolific and popular beauty vloggers. They have those subscriber counts for a reason: These YouTubers are brilliant at what they do, which gives you all the more reason to pay attention and follow their makeup tutorials.
1. Melting Skull
This melting skull tutorial from Desi Perkin is a clever take on the countless skeleton costumes you're bound to see year on year. By adding her own little flair, you can keep your Halloween look traditional as well as contemporary.
2. Cleopatra
For a queen from before portraits and photos existed, there sure is a set look that people associate with Cleopatra — blame Liz Taylor if you must. This decadent gold look is the perfect glam homage to one of the first feminists.
3. Werewolf
Another Halloween classic, but vamp it up with some pretty gruesome claw marks and it's the perfect balance of gory and gorgeous.
4. Paint Splatter Skeleton
This neon splatter skull tutorial is perfect for anyone attending a club with a blacklight this Halloween. If you're going to do something pretty standard, you should do it the best you can. And that's precisely what Nicole Guerrero has done.
5. Harley Quinn
Who doesn't want to be Suicide Squad's Harley Quinn this year, right? This tutorial includes body painting too, so you can take your look to a whole new level.
6. Scream Queens
Everyone's favorite YouTuber Nikkie Tutorials has killed it again this year with this pop culture relevant Scream Queens inspired tutorial. This look is perfect for anyone who wants to keep it a little more low-key with their Halloween makeup.
7. Miss Peregrine's Home For Peculiar Children
Inspired by the newest Tim Burton movie, this tutorial doesn't even necessarily have to be connected with the film. It just looks damn cool and that's all you need to slay this Halloween.
8. Plastic Surgery
Why spend thousands on plastic surgery when you can achieve the same look with makeup, right? Take that concept one step further with this botched surgery tutorial.
9. RuPaul
Don't be a drag, just be a queen! This drag queen tutorial from Patrick Starrr is a perfect homage to everyone's favorite drag queen reality show — RuPaul's Drag Race.
10. The Joker
A huge step away from the traditional glamor --GLAMOUR that we expect from Jeffree Star, but executed with all the skill that the makeup mogul always gives us.
11. Spider
Look your arachnophobia in all eight eyes with this pretty campy spider makeup tutorial.
12. Zombie My Little Pony
Zombie anything is sure to kill it on Halloween, but this My Little Pony YouTube tutorial is too cool not to include. Plus, who doesn't want to take makeup tips from a kid as charming as this?
13. Snapchat Filter
How on trend do you want to be this year? Because nothing is going to be as current as showing up to a Halloween party as a Snapchat filter.
14. Cruella De Vil
This cartoony Halloween makeup tutorial is perfect for all lovers of Disney (and haters of dalmatians.)
15. Ouija Board
Why come as a ghost when you can come as the portal to the ghost realm? This super creepy Halloween tutorial is sure to scare more than a few people at your next Halloween party.
If you're undecided on your Halloween costume this year, this list is sure to have inspired you by now. If you already knew what you are going as? Hopefully these looks will serve as inspiration for all the weird and wild things you can manage with your makeup kit.
Image: Bella Makeup/YouTube