What's Inside The Tarteist PRO Glow Palette?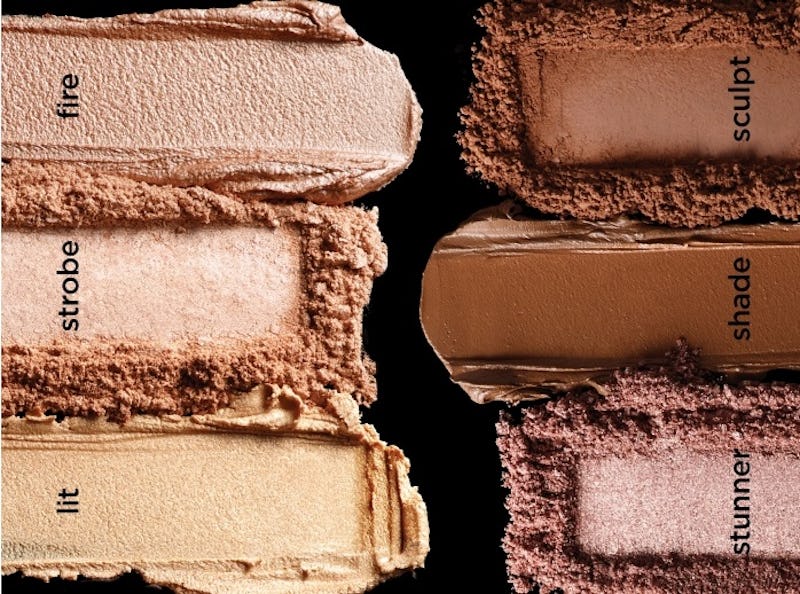 Tarte Cosmetics decided to surprise beauty lovers with a new product, the Tarteist PRO Glow Palette. Immediately following the launch of the Tarte Tarteist Pro Amazonian Clay Eyeshadow Palette, this contour and highlighter kit promises to round out your makeup drawer the same way the eyeshadow collection does. But what's inside the Tarteist Pro Glow Palette? A whole lot of goodness, of course.
Inspired by makeup artists' obsession with strobing and contouring, this palette offers four different highlighters and two matte contouring shades to help you DIY those flawless looks at home. Each shade is carefully selected and has a "rich, cool undertone to mimic real shadow and light reflection for the most natural look," according to Tarte. That means that the colors won't go on too strongly or leave you with harsh, noticeable lines.
Instead, the four highlighting powders deliver a buildable, micro-shimmer strobing effect, and the two matte contouring shades glide on smoothly in cream and powder formulas that can be easily blended or layered.
The actual shades you can find in this glow palette are called "Lit" which is a champagne highlight, "Strobe" which comes in a pearl highlight, "Fire" which is tagged as a bronze highlight, "Stunner" which is an opalescent highlight, "Shade," the cream contour of the kit, and finally "Sculpt" which is the powder contour.
Tarteist Pro Glow Highlight & Contour Palette, $45, Tarte Cosmetics
Each shade is soft and workable, and can be layered for more intensity or worn subtly.
This kit also promises to use healthy ingredients, letting you create a chiseled and glowing look "without the icky, bad stuff," as Tarte explained on their website. Curious what that might mean?
Just like in the eyeshadow palette, this kit is powered by nutrient-rich Amazonian clay, which is to give you a better, longer, truer wear. Other bonuses this kit has is the use of mineral pigments which soothe and soften skin, shea butter which helps retain skin elasticity, coconut which delivers intense moisture, and vitamin E.
If you're in the market for a new glow pro kit, the Tarteist palette retails for $45 and is currently only available at on Tarte's website. As of right now, this item is not eligible for discounts or promotions — so you have to put your coupons away — but it's a great value for the amount you're getting. Pick it up and become the dewy, glowing goddess of your wildest fantasies.
Images: Tarte (3)