These Quay Shades Are A Great Alt To The Desis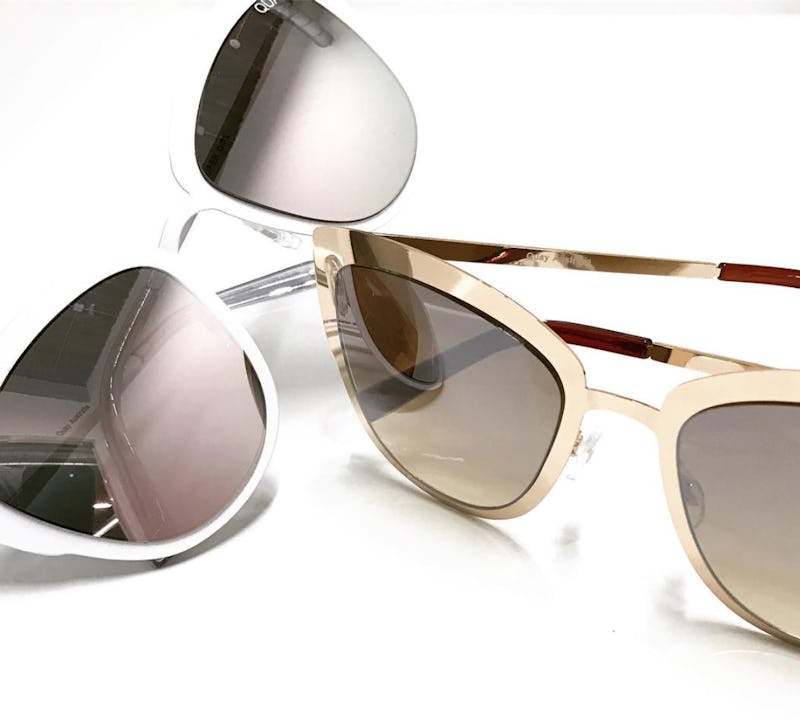 Did you miss out? The Quay x Desi Perkins sunglasses encore was a smashing success, with three pairs of mirrored aviators made available. If you didn't scoop up a pair of shades from the reprise of this blogger x brand collabo, well, don't despair. Or des"pair," as the brand is offering a new silhouette that's not too different, is certainly a suitable alternative, and allows you to remain brand loyal. All. Good. Things.
Quay's Super Girl sunglasses launch on Wednesday, Oct. 19 in the U.S. There are four color options available. The Super Girls come in white, black, gold, and rose gold, the latter of which is a super hawt color for fall. The Super Girls are also equally as stylish as the Desi shades. They have cat-eye shape but are also mirrored. They are also a "sister" to the best-selling My Girl silhouette. Since Quay sunnies are as affordable as they are trendy, you won't feel guilty about building up a collection of Quays. Plus, this shape will never go out of style, so you will wear them forever.
Quay, which is pronounced "key," has added a modern flair to a vintage style with the Super Girls.
Observe the Super Girl Quay sunnies below.
They are classic, cool, and on trend.
They will be here before you know it. If you are in need of a fresh pair of fall sunglasses, these are it. Hit up the Quay site on Oct. 19 and get yourself a pair before they sell out. I know I totally want to wear these on my face.
Images: Quay Australia/Instagram (1)