Don't Lose Hope For 'Sex And The City 3'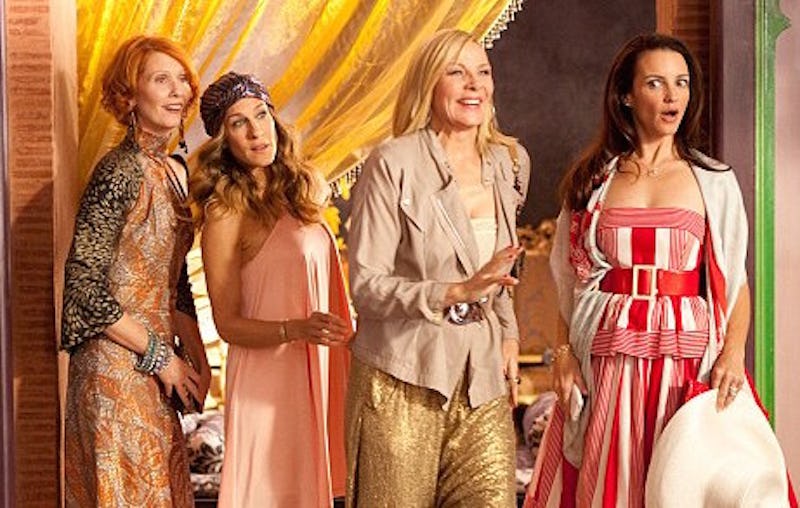 Pour yourself another Cosmo for this one. Even after Carrie Bradshaw's 2010 adventure to Abu Dhabi with the girls, the New York columnist's story might not be over after all. Or, at least, it's not over yet for actress Sarah Jessica Parker. In an interview with CBS' Sunday Morning, the fashionista herself revealed that an idea for a Sex and the City 3 is in the works. Even if the official script isn't yet set in stone, this news will still leave fans anxious to find out what's next for Carrie, Samantha, Charlotte, and Miranda.
Sex and the City 3 "rests in the butler's pantry" said Parker. "It's not on the table, but somebody is holding it fairly nearby." When interviewer Jane Pauley brought up the possibility of a Golden Girls-esque continuation of the show, Parker explained just how much the girls aren't ready to look back on their lives just yet. Mainly because, well, I don't think their New York City lives will ever slow down. "I would have sort of imagined that those women have only interest in looking ahead, while being informed by the past," said the actress, "and in a way, maybe that would be the best for all of us — living people, nonfictional as well!"
However, there are a lot of things standing in the way of a third SATC. For one, Parker has returned to HBO without her usual girl squad for the new series, Divorce. Instead of looking for love, her character, Frances, is falling out of it. That's certainly going to keep her busy enough, but, then again, Divorce could be what makes the idea of returning as Carrie an even bigger draw from Parker.
The rest of the cast are all busy with their own careers as well, but the actress behind Miranda, Cynthia Nixon, gave fans hope about a third film in an interview earlier this year, when she didn't deny that such a thing could happen. Plus, Kim Cattrall (Samantha) and Kristin Davis (Charlotte) certainly love their characters — even if the overall Sex and the City concept is a bit dated, according to Cattrall.
Parker's assurance that the third film is "fairly nearby" is more than enough for me for the time being. If things continue to move quickly from here on out, then another brunch with the girls is just around the corner. Don't lose hope, SATC fans.
Images: Warner Bros. Pictures; Giphy