21 Things For When You Like Cats More Than Humans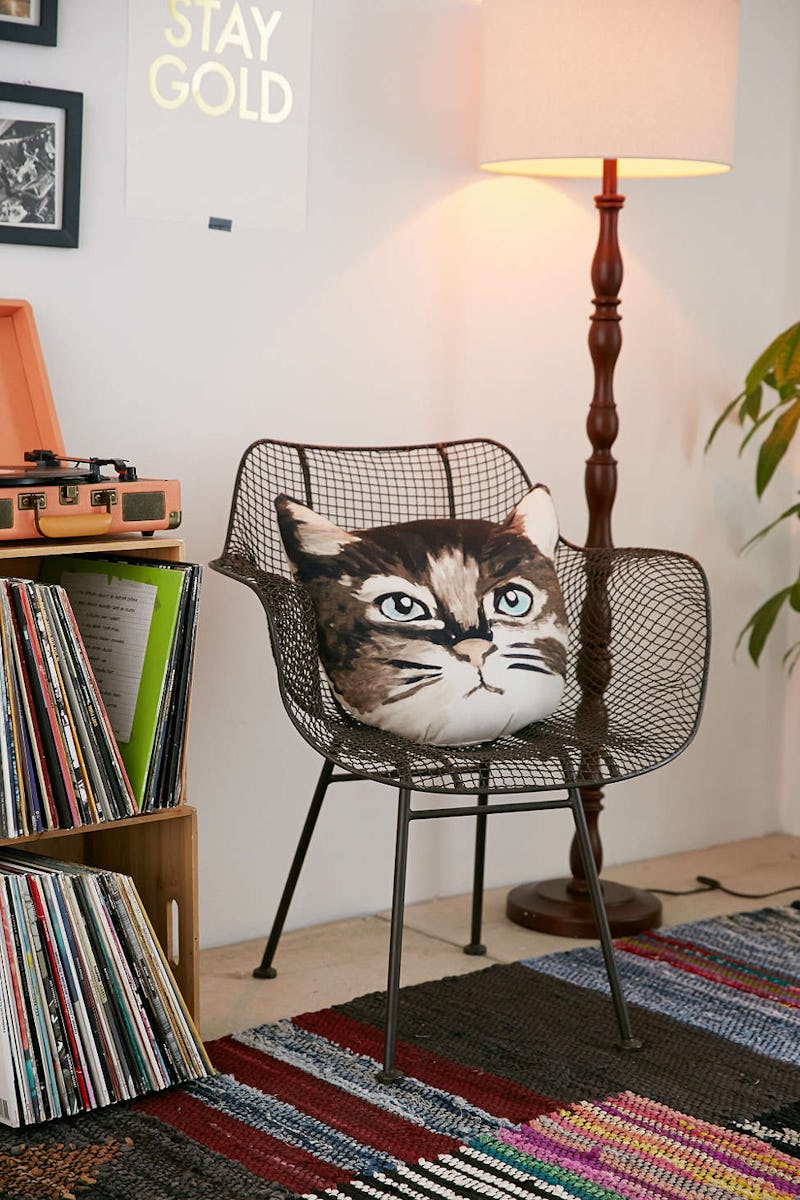 There aren't too many things in the world that are as adorable as cats. They're fuzzy, lovable, and pretty much have the IDGAF look down pat. That is why they're the most perfect little creatures, and it's also why cat themed gifts are the best themed gifts. People of the internet, I bring to you the ultimate gift guide for cat lovers.
I don't know about you, but I have a good amount of friends who are bonafide cat ladies. It's a phenomenon that's unexplainable. Some friends tell me it's because they're just cute, while others credit their low-maintenance lifestyle. Cat videos are without a doubt the most popular videos to watch. And now, stores are capitalizing on the cat lady craze by making home decor with little cat ears, clothes with adorable faces and even jewelry showing off the love for our felines. While I may not personally identify with the full-on cat lady persona, I will never not crack a smile every time I watch an adorable cat video.
So whether you're the cat lady or you know someone who is, you'll find these items to be the cat's meow. Scroll through these amazing products that you need in your cat lady life.
1. Cat Headphones
Cat Headphones, $35, Urban OutfittersGet kitty with it! These cat headphones show off your cat pride at the gym, at work, and even during your commute. Even non cat lovers will want a pair.
2. Cozy Cat Socks
Fluffy Cat Ankle Socks, $6, Topshop
You can't go wrong with a pair of warm, cozy cat socks. Not only are they comfy, but they'll always remind you of your furry feline friend. It'll almost feel like you have a cat cuddling your feet at all times.
3. A Kitty Coffee Table Book
The Cats On Instagram, $17, Amazon
For those who can't stop liking cat photos. Cats Of Instagram presents this coffee table book to give you more of what you love; Cats! In these pages, you'll find cats with bowties, cats napping, cats with their tongue sticking out, and more! Warning non-cat lovers: don't be surprised if you come in one day to three extra roommates because, well, you live with a cat lady.
4. Stickers To Share Your Love Of Cats
San-X Kutusita Nyanko Mini Puffy Stickers , $28, Amazon
Show your love of cats to the world. No person is a bonafide cat lady without having these stickers on every item they own. *Uses ALL the stickers.
5. An Adorable Cat Print Shirt
Cat Print Ruffle Shirt, $80, TopshopWear your cat on your sleeve. No cat lady's wardrobe is complete without this purrfect blouse from Topshop. Featuring multiple faces of your favorite pet, there's no better way to show to the world what truly matters in life. #Cats4Ever.
6. A Charming Table Mirror
Tabletop Cat Mirror, $16, Urban Outfitters
This cat mirror has a delicate design that goes with everything in a cat themed room room. Ultimately, this mirror captures the true essence of a cat lady, ears and all. Yeah, I think I'll take one for every room in my home.
7. A Crazy-Cute Cat Mat
Cat Face Bath Mat, $24, Urban Outfitters
The more cat stuff in your home, the better. This bath mat's soft cotton will keep your feet feeling cozy, and the cat is just so darned cute. Non cat-lovers, I dare you not to smile.
8. A Cool Cat Watch
Top Plaza 'Because Cats' Wrist Watch, $8, Amazon
That's one cool-looking watch, and it shows it's actually cat time all the time, which you already knew.
9. These Adorable Cat Tumblers
Yarn Cat Tumblers, $35 for a Set of 4, Uncommon Goods
There's nothing cuter than watching cats get frisky with their ball of yarn. The tumblers in this set each show a cat getting silly with a ball of colored yarn, leaving a huge tangled mess. Let's just hope you never find this mess in your apartment.
10. Kitty-Looking Thigh Highs
Cat Ears Thigh Highs , $22 for 2, Urban Outfitters
These thigh highs will make your outfit the cat's meow. The fuzzy cat face proves that all you need is a feline to make anything look cute.
11. Decor Pillows
Illustrated Cat & Dog Pillows, $38, Uncommongoods
Maybe you live with a roommate who's a dog lover or maybe you want to show some love to your canine pal. Whatever the case may be, these decor pillows show that cats and dogs can live together in harmony. More love, less fighting, am I right?
12. A Vintage Cat T-Shirt
Truly Madly Deeply Cat Breeds Tee, $34, Urban Outfitters
All cats are cute; a statement that's as factual as the sky being blue. This adorable tee shows love for all breeds of cats, reminding everyone that they're all equally beautiful.
13. A Cat-Tastic Coloring Book
A Million Cats: Fabulous Felines To Color By Lulu Mayo, $10, Amazon
Seriously, what's more therapeutic than coloring books and cats? Lulu Mayo combined the two to create this amazing adult coloring book. Genius. Color your way through adorable pictures of chubby cats, cats napping, and cats straight-up chilling. Need I explain more? You need this cat book, especially if you had a rough day dealing with pesky humans.
14. Some Slippers That Really Get You
Grumpy Cat Plush Slippers, $40, Amazon
Bad day? These Grumpy Cat slippers will instantly make your day a thousand times better, because, well, cats!
15. Cat-Themed Office Decor
Butler in the Home Animal Cat Shaped Paper Clips, $12, Amazon
Yes, you need these cat paperclips in your life. You'll never use an ordinary paperclip again to bind your papers together once you have these. They're simply just not as cute.
16. Adorable Sticky Notes
Yosoo Cartoon Cats Sticky Notes, $7, Amazon
To go with your awesome cat paperclips! Chances are, these sticky notes will be too cute to use, but they make great office decor, right?
17. A Cozy Cat Pillow
Plum & Bow Cat Pillow, $39, Urban Outfitters
No cat? No problem! This cat pillow will be the only thing you'll ever need in your life. Who says you need a real feline friend to cuddle with?
18. The Purr-fect Gift For Book Lovers
Smartkitch Cartoon Cat Bookends, $13, Amazon
Books and cats basically go together like peanut butter and jelly. No bookworm is complete without these adorable cat bookends. They're a subtle but thoughtful way to show off the two things that really matter in life.
19. A Cat Onesie
NEWCOSPLAY Cat Onesie Pajamas, $28-30, Amazon
You haven't reached your true cat lady potential until you've danced around in your apartment wearing this onesie. Your cat may not understand what's going on, but it's OK. You're just showing off your cat lady status.
20. Cat-ty Cotton Buds
Cat Cotton Buds, $4, Topshop
Sure you can buy ordinary cotton buds, but do they have a picture of a cat's face on them? Nah, I didn't think so. Always go for cat ones, they'll never do you wrong.
22. A Giant Cat Head
Giant Cat Head, $68, Urban Outfitters
For the truly die-hard cat ladies, I present to you this giant head. Now, you can finally show the world who you truly are, and that's a proud cat lover.
Images: Amazon (10); Urban Outfitters (7); Topshop (3); Uncommon Goods (1)
Bustle may receive a portion of sales from products purchased from this article, which was created independently from Bustle's editorial and sales departments.