15 'RPDR' Makeup Tutorials To Copy Your Fave Queen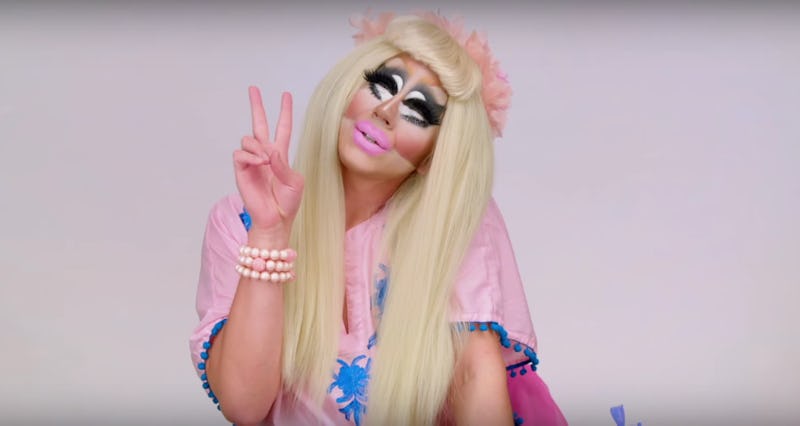 The wise words of RuPaul, "If you don't love yourself, how in the hell you gonna love somebody else," are totally applicable to Halloween, too. In other words: If you don't have a good Halloween costume, how in the hell you gonna have a good Halloween? By following drag queen makeup tutorials, or more specifically, RuPaul's Drag Race makeup tutorials, the internet has made it oh so easy for you to dress up as your favorite queen this Halloween.
Dressing up as a drag queen is the perfect Halloween costume for numerous reasons. Firstly, to fans of the show, you're going to be instantly recognizable. Secondly, to everyone else, you're going to look amazing, because these looks are killer — drag queen knowledge or not. Thirdly, there is absolutely no way this isn't going to look good, because looking good is something drag queens are extremely skilled at.
And even if you don't especially want to dress as the cast of RuPaul's Drag Race this year, these tutorials can be applied to totally different costumes altogether. Either way, your face is going to look absolutely stunning, whether you choose to be Trixie Mattel or you're just going for Barbie doll vibes in general.
1. Raja
Previously head makeup artist on America's Next Top Model as well as winner of RuPaul's Drag Race season three, there was never a doubt that Raja wasn't brilliant with makeup. This chocolatey makeup recreates one of the looks Raja wore on the main stage of Drag Race, and if you copy it step by step, your look will match the one on television perfectly.
2. Trixie Mattel
Arguably (definitely) eliminated too soon in her slot on season seven, Trixie Mattel was the first queen ever to return to the series and not be eliminated the next episode. Her look is OTT Barbie doll — what did you think the Mattel stood for? - and is the best choice for anyone looking to go all out this Halloween.
3. Kim Chi
YouTuber Lucy Garland has an amazing collection of makeup tutorials on her channel that recreate iconic RPDR looks. This one, of Asian drag queen Kim Chi from season eight, gets all the details down pat. If you love glitter, you should go for this look.
4. Violet Chachki
Winner of season seven, Violet Chachki slayed the competition week after week with her astonishingly complicated and iconic runway looks. Looks that included Chachki's own signature makeup style, which you can recreate from following this video.
5. Adore Delano
If Kylie Jenner has taught us anything, it's that overdrawing your lips can look amazing. So don't worry if you don't have that classic Adore Delano pout — with the right makeup tutorial, you'll be able to get her look for yourself.
6. Alaska
In case you've been living under a Drag Race-free rock, Alaska just won RuPaul's Drag Race All Stars 2 in a pretty controversial decision. Whether you love her or you hate her, you'll recognize that makeup look anywhere. So why not recreate the current reigning queen's look this Halloween?
7. Latrice Royale
Body positive queen Latrice Royale is a fan favorite for many a good reason — she's charming, she's funny and she always looks amazing. Pay homage to this season four queen this year by following this killer tutorial from the queen herself.
8. Courtney Act
Australian beauty Courtney Act is all about looking fishy (aka, as similar to a lady as possible). This look is a lot more subtle than the rest of the makeup on this list, so be sure to match your makeup with a totally Courtney Act costume so everyone knows who you are this Oct. 31.
9. Naomi Smalls
This stunning look is so recognizably Naomi Smalls that any self respecting Drag Race fan will know who you are immediately. Pair with the shortest shorts you own to get that real Naomi Smalls vibe.
10. Detox
This queen just made it to the final three of RuPaul's Drag Race All Stars 2 for good reason: Her looks could come fresh off a runway and that includes her makeup. You may not be able to afford all the surgery Detox has had — she's even had her shoulders done — but you can recreate it by following this tutorial step by step.
11. RuPaul
Why be any queen when you can be the queen herself? This stunning tutorial from Patrick Starrr makes it super easy to act like the namesake of RuPaul's Drag Race.
12. Miss Fame
Miss Fame has toured America and Europe giving makeup classes, as if you needed further confirmation that this queen is talented. This blue look is so out of this world, you don't even need to strictly use it for a Miss Fame costume. It'd totally work as an alien or sea creature outfit too!
13. Raven
Known for her fantastic makeup skills, Lucy Garland does brilliantly in paying homage to Raven's iconic look. And you can too - just follow this YouTube tutorial closely. (And maybe have a practice run before Halloween is actually here.)
14. Ginger Minj
Although she's undeniably a comedy queen, Ginger Minj's makeup is actually super pretty and professional too. Pair with the perfect sequin dress and the highest hair imaginable to get the perfect Ginger Minj costume.
15. Alyssa Edwards
In the immortal words of Alyssa Edwards, "I don't get cute, I get drop dead gorgeous." And she isn't lying; This queen sure knows how to paint her face to look like a jaw dropping drag queen.
All of these queens have found such success because they've stayed true to themselves and their vision of drag. Whether you want to go OTT or you want to keep it simple, there's a queen here that represents you. Or if you're just looking to dress up as your favorite? Let's hope they made this list.
Image: Logo/YouTube