17 Smart Grooming Gifts For Guys With Beards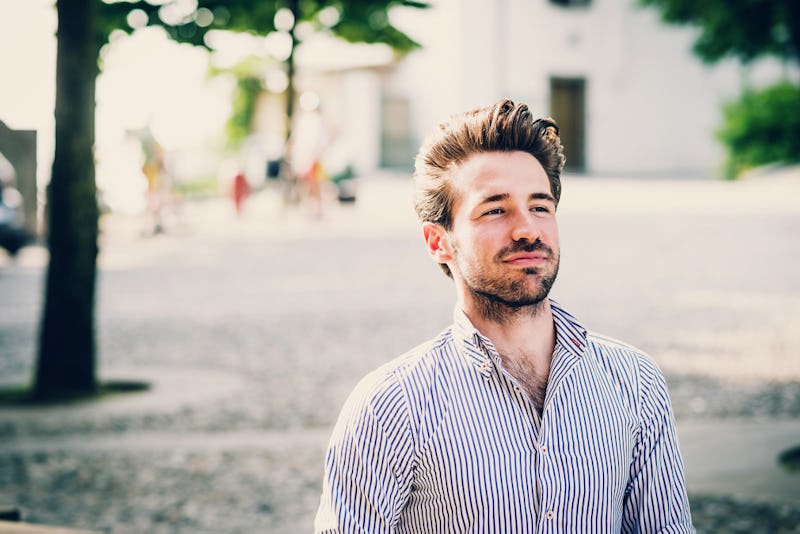 Men's facial hair, which fell out of style for much of the 1900s, is having a moment. Long associated with blue collar work and craftsmen of all stripes, the beard made news in 2014 when The New York Times declared that beards had a place in the boardroom. The term "clean shaven" lost some of its prestige.
The catch is that the "business beard" needs to look good. It needs to be soft and trim, full but not frizzy and above all, clean. You probably have a few colleagues who are wandering haphazardly into the world of men's facial hair, and it shows: a neckline dotted with ingrown hairs; a few beard hairs that always manage to avoid getting trimmed; constant itching. This isn't just a wash, rinse and dry situation. A great beard needs a grooming regiment, and a regiment is only as good as its tools.
Some guys resist turning their bathroom sink into a clearing house of soaps, scissors, oils, pomades, conditioners, razors, and tweezers. But there's no way around the maintenance an attractive, professional beard requires. Here are the best grooming tools to help patchy scruff turn into full bodied beards (along with some you should steal for your own use).
1. A Traditional Double Edge Safety Razor
Muhle R89 Double Edge Safety Razor , $50, Amazon
Sometimes innovation is unnecessary. Mühle, based in Germany, has sold the perfect safety razor for decades. Tell him to ditch the cartridge shaving systems, which pull at skin, leading to ingrown hairs, harbor bacteria between uses and, most importantly, cost a fortune in the long term.
2. But Don't Forget the Blades
Merkur Double Edge Safety Razor Blades, $8, Amazon
These German blades are the premier choice for most safety razors. At $8, they tend to be a bit pricier than some other options, but he'll appreciate that you didn't cut corners when it comes to his face.
3. Pre-Shave Oil for a Smooth Shave
American Crew Ultra Gliding Shave Oil , $11, Amazon
Often overlooked but completely necessary, shave oil should be applied before shaving cream to create a friction-free layer next to his skin. Best for the guy with a constellation of razor bumps on his neck.
4. Silvertip Badger Shaving Brush
Edwin Jagger Handmade Silvertip Badger Shaving Brush , $141, Amazon
Shaving brushes create creamy lathers while softening and lifting facial hair before the shave. This brush is handmade in England using silvertip badger hair, which, by holding more water and cream in the bush, helps protect his face.
5. A Dopp Kit With Patina
Bosca Old Leather Zipper Utility Kit, $215, Amazon
Sure this dopp kit is expensive, but a good dopp kit will last a lifetime, and more importantly, it's what sits on the bathroom counter whenever he visits friends and family, or in his hotel room for a business trip. Plus, Bosca's leather will develop great patina over the years.
6. Shaving Soap With A Sandalwood Shaving Cream Bowl
Taylor of Old Bond Street Sandalwood Shaving Cream Bowl, $16, Amazon
Generic drugstore shaving foams often dry out his skin and contain irritants. It's best to use shaving soaps, which require a brush and a bit of work to create a lather suitable for shaving, but are well worth it. Plus, Taylor of Old Bond Street shaving cream comes with its own wooden bowl.
7. A Dependable Body And Beard Trimmer
Panasonic ER-GB80-S Body and Beard Trimmer, $80, Amazon
Other trimmers win for style points, but Panasonic's ER-GB80-S wins for ergonomic design, with a rubberized grip, and convenience, with an easy-washing head.
8. Every Beard Needs A Comb
Kent Men's Handmade Comb, Set of 3 , $18, Amazon
For men with longer beards, combs quickly become a necessity for styling and keeping an unruly beard in order.
9. On The Other Hand, Every New Beard Needs a Brush
Liberty Premium Grooming Co. Beard Brush , $40, A mazon
For new beards, a beard brush is necessary for training the beard follicles and maximizing the fullness of a beard. In this regard, boar hair is the best material.
10. A Beard Needs Conditioner, Too
Beard Balm All Natural Easy-to-Use Leave-in Beard Conditioner, $15, Amazon
Beard balm softens whiskers and tames fizzy beards. This leave-in beard conditioner is handmade in Detroit with a scent of lemon peel, eucalyptus leaf, and geranium flower.
11. Post-Shave Beard Oil, For Soft And Healthy Hair
Blackbird The Present Natural Beard Oil , $42, Amazon
Applied just after washing his face, beard oil moisturizes facial hair and the skin beneath. The Present uses argan oil to soften facial hair and add body, while also brightening his beard's color.
12. Sharp Scissors For Touch-Ups
Sanguine Professional Beard Trimming Scissors, $25, Amazon
These extremely sharp scissors, made from Japanese steel, are necessary for precision grooming. And because they're black and gold, he'll immediately look like he knows what he's doing.
13. The Stand To Hold All His Gear
Edward London & Co. Deluxe Chrome Shaving Stand with Shaving Bowl, $31, Amazon
Because a safety razor can rust and a badger hair brush can clump, get him a stand for drying his tools between uses. This chrome stand features a bowl for collecting run-off from his brush.
14. Oil Based Pomade
Black and White Pomade 7 oz, $11, Amazon
A good beard can be ruined by unruly head hair. The facial is a complete package. Don't let the minimalist packaging fool you, Black and White Wax has been an icon in hair styling for decades. A dime sized dollop will provide a strong hold throughout the day that can be periodically restyled.
15. Water Based Pomade
Cool Grease Fiber Grease, $17, Amazon
For men who prefer water-based pomade (over oil) due to thin or oily hair, this pomade out of Japan has a medium hold and smells of tropical fruit.
16. Grooming Lotion For Long Hair
Baxter of California Grooming Lotion , $20, Amazon
If he can tie his hair into a ponytail, his hair is probably too long for traditional pomades. Grooming lotion is the best bet to style his hair without creating an oil-filled hairdo.
17. Because His Face Is His Beard's Stage
Perricone MD Hypoallergenic Nourishing Moisturizer, $80, Amazon
A great beard can be ruined by a peppering of skin flakes from dry, cracked cheeks. Perricone is thick, and most importantly, hypoallergenic. Because it's free of parabens, fragrance, and petroleum that are used in some other products, he won't ever break out.
Images: Fotolia (1); Amazon (17)
Bustle may receive a portion of sales from products purchased from this article, which was created independently from Bustle's editorial and sales departments.