Here's What's In Once Upon A Time x Torrid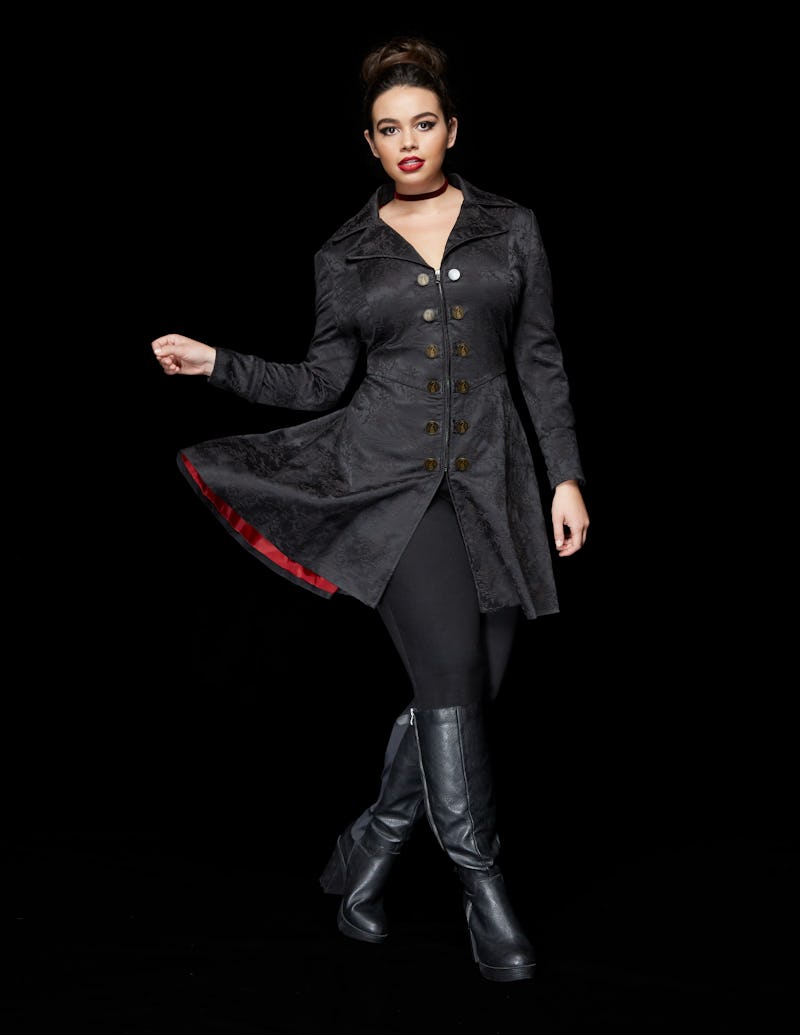 Playing dress up as a kid was basically our first foray into figuring out our personal style. Whether we were in head to toe witchy black like the Evil Queen or feminine brights like Snow White, our costume chests gave us the chance to try out all different looks, care of our favorite fairytale characters. Now, thanks to Once Upon A Time x Torrid, we can play dress up as adults, too.
Fans of Once Upon A Time (or of fairytales in general, really) can now dress like one of their favorite characters, including Snow White, Captain Hook, Emma Swan and the Evil Queen. There's a jacquard vest with an apple pattern (for obvious reasons); A pirate-style coat with boat-embossed buttons and dresses in dark velvet, tulle and lace. There are also plenty of graphic t-shirts, because the words of wisdom from the show's characters deserve to be put on display.
The collection, which launched on Monday, features seven Once Upon A Time fashion pieces, all for under $100. The collaboration comes on the heels of Once Upon A Time's season 6 premiere and the return of the Evil Queen. Like all of Torrid's pieces, the collection is designed for women size 10-30.
Take a look at a few of the highlights from the Once Upon A Time x Torrid x collaboration, and remember to stay far, far away from poison apples.
1. Snow White Jacquard Vest
Once Upon A Time Snow White Vest Coat, $74.90, Torrid.com
The detailing on this vest is apple and bow and arrow embroidery, which are basically the two most important parts of Once Upon A Time wrapped into one.
2. Regina Velvet Dress
Once Upon A Time Regina Velvet Skater Dress, $74.90, Torrid.com
Nothing says luxe fairytale princess quite like velvet, which also happens to be one of the biggest fashion trends of this season. The collection also features a purple, short sleeve version of the dress for anyone who is feeling extra royal.
3. Captain Hook's Coat
Once Upon A Time Hook Coat, $98.90, Torrid.com
With this coat, the devil (err, the villain) is all in the details. The buttons are embossed with hooks, and the red lining has an embroidered boat pattern.
4. A Tough Leather Jacket
Once Upon A Time Collection Emma Swan Moto Jacket, $78.90, Torrid.com
Modeled after Emma Swan's Armor, this leather jacket will protect you from the elements and whatever other evil you happen to come across this fall.
5. An Evil Graphic Tee
Once Upon A Time Collection Quote Lace Inset Tank Top, $38.90, Torrid.com
This is one of three graphic t-shirts in the collection, including one with Her Majesty's face and another that says, "No One Decides My Fate But Me." Hello, female empowerment.
Images: Courtesy of Torrid