The Makeup Brush Cleaning Hack You Need To Try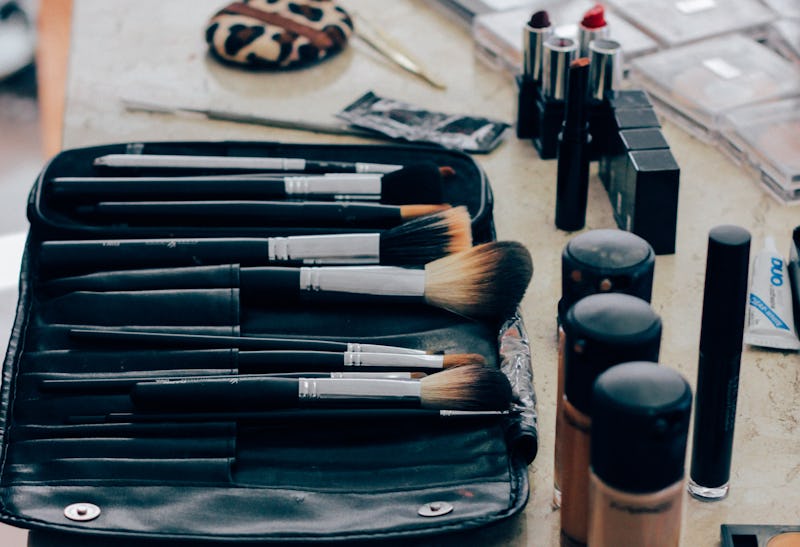 I don't use the term "hack" lightly, but dagnabbit, this is a makeup hack to know. While perusing the battlestations of experts on Reddit, I came across this fix-it for cleaning product off your brushes mid-makeup — no more rubbing them against your hand and just hoping for the best. That hardly ever works, and has ruined many a high commitment eye look. No more.
Instead, grab onto all of $2 dollars, because happiness is literally $1.99 away. Ingenious Redditor Jordyn_jordayne has rigged up a solution for all of our muddying woes, by fitting a hair donut into an old candle tin. I'm blown away. Jordyn_jordayne writes that the situation "works like a charm," and it's not hard to figure out why — swipe a brush against the hair donut's mesh, and the mesh must grab right at the pigment on the fibers, leaving you with a clean brush ASAP. One hundred times better than my "rub until it's basically gone" technique, faster, and with less of a risk for ruining everything when you get impatient.
And while it's not quite as cheap as the hand method (free), or as thorough as a full wash, I'm willing to bet the $1.99 investment is worth it. Just grab an old candle tin, of which you as a hoarder have many (just me?), snug the hair donut in, and have at it. Upcycling, gone and done it again.
H&M Hairstyling Ring Small, $1.99, Hm.com
Also great? You have options. H&M sells a light beige ring (that's currently on sale), for the immediate satisfaction of seeing all the product you're rubbing off. But if you're someone who bought the flesh-toned Beautyblender to avoid That Dirt Look, there are equally cheap varieties of brown and black hair donuts.
Zodaca Fashion Women Donut Hair Bun up do Ring Shaper Hair Ring Styler Maker, $2.99, Jet.com
TBH, I never would've guessed that such a single-use product would multitask so seamlessly. But the magic of a good hack is, you would never expect it — and it uses up candle jars. Bonus points if it's Diptyque.
DIPTYQUE 'Baies/Berries' Scented Candle, $32, Nordstrom.com
Those are the two tenets. Want to see the OG in action? Check out Jordyn_jordayne's original post. It's mind-blowing.
Images: via Manu Camargo/Unsplash; Courtesy of Brands