This Is How Homeless Women Cope With Their Periods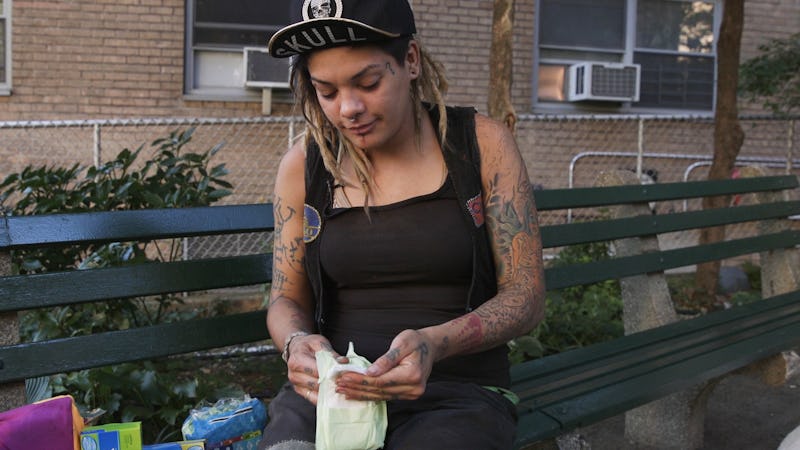 Every month, many homeless people are placed in desperate situations. If you're a woman (or a trans man, or anyone who menstruates) living on the streets, getting your period is more than just a hassle — it's a matter of comfort, cleanliness, and dignity. The latest installment of Bustle's NSFWomen docuseries talks about Homelessness + Periods.
There are 50,000 women living on the streets nationwide, and with limited access to pads and tampons, and no steady, comfortable place to shower, they are forced to get creative with ways to keep clean when they have their periods. Some are forced to steal products. Others wait for homeless outreach crews to come by with pads. Some use socks, paper towels, plastic bags, toilet paper, towels, cotton balls, or clothing in place of hygiene products.
Kailah Willcuts, 27, has been sleeping on the streets for more than eight years, and says getting her period is one of the most difficult things she faces. "Not only is it terrible, but it's also embarrassing," she tells Bustle. "Not to mention that now you have this stain on your pants. I only have the clothes that I'm wearing, so I'm standing there half naked, bloodied, you know, washing my clothes out."
In New York City, Willcuts says she washes up in public park bathrooms and goes to Starbucks for hot water and a water bottle to help with cramps. She also crafts makeshift tampons from pads, because tampons keep her cleaner and are harder to come by, and she washes bloodsoaked socks in restaurant sinks.
The city recently became the first in the country to require public schools, jails, and homeless shelters to provide free pads and tampons.
"You shouldn't have to decide between a pad and having lunch," NYC Council Member Julissa Ferreras-Copeland, whose office led the push for this legislation, tells Bustle.
But many women living on the streets think that shelters are dangerous and prefer to stay away — even if that means spending the little money they have on tampons.
"I won't do it, I can't do it," said a New-York-based homeless woman named Courtney, who declined to give her last name, about going to a shelter. "I choose to be out here in the streets."
For women like Willcuts and Courtney, feeling clean is a constant struggle which intensifies monthly into what Ferreras-Copeland calls a "crisis situation," wherein the use of makeshift products or the improper use of tampons become a health issue. Ferreras-Copeland hopes that the recent legislation will also help start a conversation about periods.
"It's about dignity and women understanding that there is absolutely nothing wrong with this process," she said. "Once we take the taboo away from this product, then we are really empowering women."
You can watch this installment of NSFWomen below. For the first 250 Facebook shares this video gets, Bustle will donate a pair of period-proof underwear, offered at cost by THINX, to Distributing Dignity, a women-led nonprofit organization which distributes pads, tampons, and bras to women who are homeless.
To help address this issue, visit Distributing Dignity's donation page.